Hostiles is directed by Scott Cooper. The film stars Christian Bale, Wes Studi, Rosamund Pike, Timothee Chalamet, and Ben Foster.
In 1892, Joseph Blocker is a military captain responsible for rounding up renegade Native Americans. Preparing for his retirement, he is given one final task by his commanding officer. Blocker is to escort an ailing Apache chief and his family back to their homeland; a task this man, who has no love for the Natives, following their past conflicts, reluctantly accepts. In their travels, his party encounters a woman who has become depressed and delusional following the murder of her family at the hands of a party of Comanches. She joins the group, but they must contend with many obstacles in their travels, including the Comanche war party that killed her family, and having to escort a disgraced soldier to his hanging.
They don't make Westerns like they used to. Hell, they don't really make Westerns much at all anymore, despite the fact that they were, decades ago, one of the most popular genres of film. Hostiles gave this moviegoer something to be excited about, and while the film does have many positive qualities, the end result falls flat due to its uneven, inconsistent storytelling, imbalance of character development, and unnecessary subplots, coupled with an excessive 130 minute run time. It doesn't help that many elements here feel like Western clichés that have been done countless times in other films, to a better extent.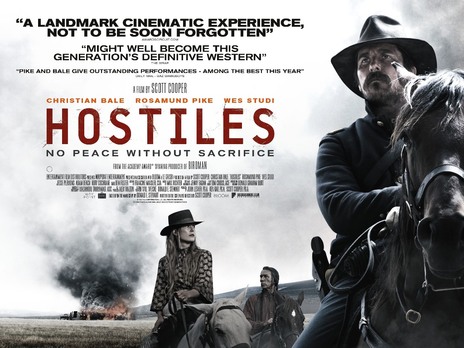 If there is a strength to Hostiles, it is the portrayal and development of its leads. Christian Bale, who of course is primarily known to audiences these days for his portrayal of Batman in the Christopher Nolan films, does surprisingly well in the lead role of Joseph Blocker. In the beginning of the movie, it is clear this is a man with no love for the Native Americans, yet seeing how he develops over the course of the movie's duration is surprisingly effective. The same can be said of Rosamund Pike, who plays a character with similar feelings regarding the Natives following the brutal attack on her family. On the other end of the coin is Wes Studi, portraying Apache chief Yellow Hawk, who wants to live out his last days in peace alongside his family, but continues to face persecution for his past conflicts with Blocker. There are scenes that depict the trauma that war violence has on one's outlook of life over the course of time, and these are quite well done.
Unfortunately, while the trio of leads is well fleshed out, the majority of the other characters, despite a few decent lines of dialogue here and there, is largely one-dimensional, due to inconsistent storytelling and subplots. Timothee Chalamet, who has had excellent parts in movies like Lady Bird and Call Me By Your Name, is disappointingly cast aside for what little of the movie he appears in. Characters are written out and, in some cases, haphazardly added to the cast throughout its duration. Ben Foster, who played a superb outlaw in the remake of 3:10 to Yuma (coincidentally also starring Christian Bale), had potential as a criminal scheduled to hang, but he is introduced too late in the film, and is out of the picture quickly enough that one can't help but wonder if his subplot was even needed. Even the final scene of conflict feels "shoe horned" in like something of an unnecessary afterthought.
The other weakness is the abundance of clichés the movie has. In many ways, the movie is comprised of things you have seen in countless other Westerns, over the past several decades. A Native American attack on an innocent home. People with prejudices and past history towards Native Americans. People who want other people off their land. Soldiers with scars inside and out from past battles. Outlaws who claimed they have killed women and children. Uneasy alliances between Natives and the White Man. Nearly everything in this movie can be likened to an older, better Western film.
It is also important for viewers to know what kind of a movie they are getting. This is definitely more of a "mood" Western than a "shoot-em-up," even though the title may imply otherwise. The scenes of action and violence are few and far between, though are quite intense in their brief duration when they do occur. If you are looking for a "gung ho" western where there are gunfights around every corner, and fast-paced action and adventure, go find another movie.
Hostiles has superb performances from its leads, but is held back by its inconsistent narrative, one-dimensional revolving-door secondary cast, and an overlong run time that doesn't offer much outside of the trio of leads to keep the audience's interest, with even its conclusion feeling like an afterthought. Those looking for a movie filled with intense gunfights are not going to be pleased with the brevity and lack of the ones that the film features, despite their intensity. Hostiles will be a decent rental title upon its home release, but it isn't likely to start a revival of the Western genre.
Rating: Two out of four stars.
DISCLAIMER: Images in this review are the property of their respective copyright holders, including Waypoint Entertainment, Le Grisbi Productions, Bloom Media, and Entertainment Studios Motion Pictures. For promotional purposes only. All rights reserved.