Uncle Drew is directed by Charles Stone III. The film stars Kyrie Irving, Shaquille O'Neal, Chris Webber, Reggie Miller, Nate Robinson, Lisa Leslie, Lil Rel Howery, Erica Ash, JB Smoove, Mike Epps, Tiffany Haddish, and Nick Kroll. The film is based on the Uncle Drew Pepsi Max advertisements which began in 2012.
Decades ago, Uncle Drew was one of the best basketball players in the business, but he and his team faded into obscurity following a series of falling outs. Years later, Dax, a team manager, is preparing for the Rucker Classic, but his star players desert him for a rival coach. Desperate to find another team to enter in the competition, Dax meets the aging Uncle Drew, who still retains much of his former talent, and goes on an unlikely road trip with the former player to find his old teammates. Drew will not play unless it's with his team, all of whom have been subjected to the elements of old age, with one who is legally blind and another confined to a wheelchair! Will the team recapture their former chemistry and thunder on the court, or will Dax's gamble on these geriatric players fail to pay off?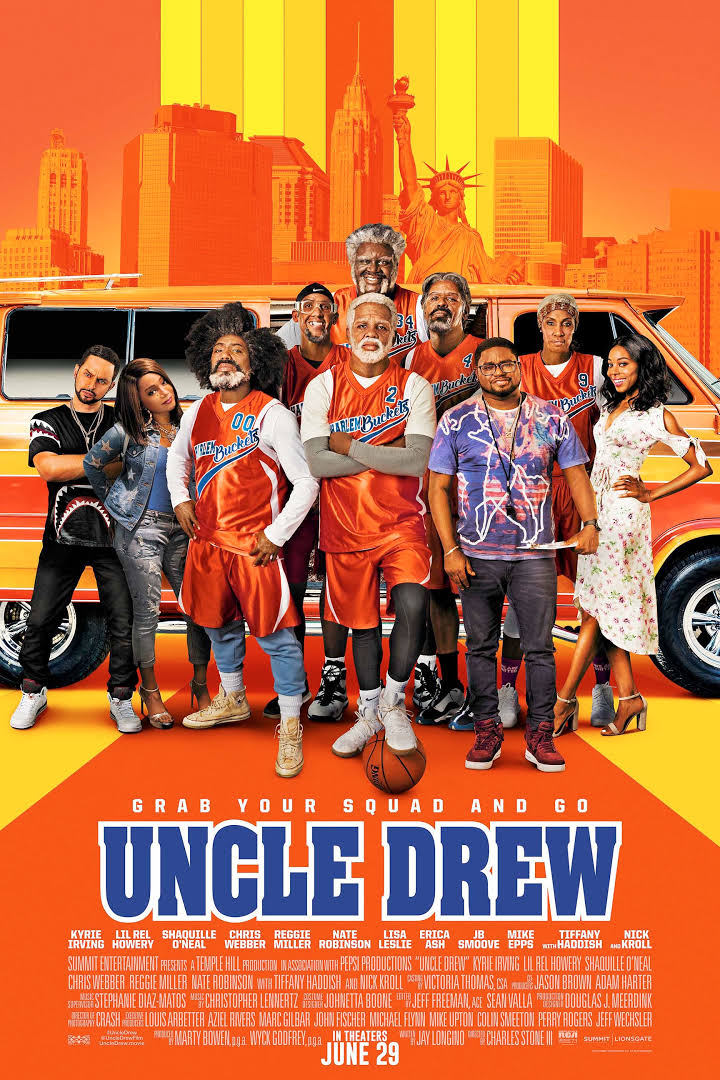 I'll be honest; this isn't a film I expected much from initially, based on trailers and TV spots. The fact that it was based on a Pepsi ad campaign wasn't exactly saying much, either. I more or less went to see it out of boredom but following its 100-minute duration, I was won over. Uncle Drew is a hilarious comedy with great chemistry amongst its cast which includes many NBA players, and the sharp script doesn't go overboard with slapstick or cheap laughs. It may be a bit on the predictable side, but it's one of the best comedies I've seen all year.
The cast of Uncle Drew is perfect for this film. Stand-outs include fast-talking Lil Rel Howery (Get Out) as Coach Dax, Kyrie Irving as the titular character, and Shaquille O'Neal as a retired player turned karate sensei. Everyone in the movie has great chemistry, whether sharing a moment of friendship or outright hatred; Howery's scenes with Nick Kroll as a longtime rival of his are some of the movie's best. Also worth mentioning is the makeup work on the players to make them look elderly for the film, which is surprisingly convincing. A comedy doesn't work unless the casting and chemistry are there, and in the case of Uncle Drew, these elements score a definite three-pointer.
I also applaud the film for not simply going for cheap laughs. This is a sharp script with hilarious one-liners and ludicrous situations that never goes overboard with slapstick or gross-out humor (there certainly are a few slapstick/physical moments but they're balanced and never become the movie's prime emphasis). Even a great cast can't rise above a weak script, but Uncle Drew is razor sharp with laughs around every corner, and the perfect cast to bring it to life, yet it retains a positive message and heroes worth rooting for. Probably the best thing I can say about this film is you don't have to be a sports fan to enjoy it.
I won't deny that the movie's a little formulaic and on the predictable side. Even if you haven't seen the movie you probably have a pretty good idea of how it will end, and what drama will ensue.
Minor narrative flaws and predictable plot elements aside, Uncle Drew does a great job entertaining audiences with its brilliant casting, writing, non-stop laughs, and endearing characters. If you want a great comedy experience which isn't overly reliant on gross-out humor and cheap laughs, Uncle Drew won't foul.
Rating: Three out of four stars.
DISCLAIMER: Images in this review are the property of Summit Entertainment, Temple Hill Entertainment, Pepsi Productions, and Lionsgate. For promotional purposes only. All rights reserved.