Skyscraper is directed by Rawson Marshall Thurber. The film stars Dwayne Johnson, Neve Campbell, Chin Han, Roland Moller, Noah Taylor, Byron Mann, Pablo Schreiber, and Hannah Quinlivan.
Former law enforcement officer Will Sawyer, who is missing his leg following a career-ending disaster, has rebuilt his life as a security consultant. When a friend puts in a good word for him to do his job at "The Pearl," the soon-to-be-opened tallest building in the world in Hong Kong, it seems like the perfect business opportunity. Unfortunately, the timing couldn't be worse, with terrorists setting their sights on The Pearl and its mysterious wealthy owner, Zhao Long Ji. Sawyer must use his knowledge and physical strength alike to fight off the terrorists and rescue his loved ones.
There's absolutely nothing original about Skyscraper; it borrows more than a little bit from every other action thriller you've ever seen. From Die Hard and The Towering Inferno to the countless Hitchcock dramas about the wrongfully accused, almost everything you see here, you've seen somewhere else. And yet, I ended up liking this film more than I thought I would due to the charismatic, entertaining performance of Dwayne Johnson, a superb supporting cast, and some spectacular, suspenseful action scenes that are some of the best seen in a thriller of recent years.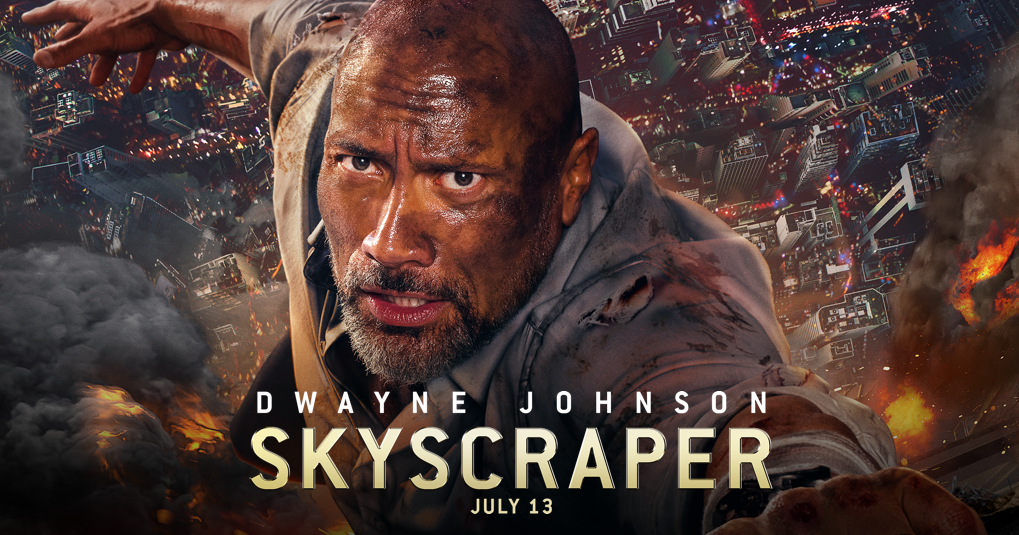 Okay, let's get my issues with this film out of the way first. There's nothing original here at all. If you've seen other action thrillers, you've seen this movie. One man against a group of terrorists. A burning building. A sinister terrorist with a foreign accent. Life-or-death moments of suspense. Rescuing hostages/family members. Technology gone awry in the wrong hands. Convenient plot twists. Well, you get the idea. There isn't anything in this movie you haven't seen done better in some other production.
And yet, I actually LIKED this film. Dwayne Johnson is fun to watch in everything from a comedy to an action film, and Skyscraper is a surprisingly good use of his talents. His backstory and motivation are cliches, yet this is a hero audiences will find themselves rooting for, who's always ready with an action-packed sequence or a funny one-liner. When the action sequences happen, they don't disappoint. Yeah, you'll have a feeling of deja vu the whole time you watch this film. But you won't be bored.
The supporting cast is surprisingly good as well, which includes Neve Campbell as the wife/mother figure (who gets a few action scenes of her own!) and Chin Han (The Dark Knight) as the owner of The Pearl building where the bulk of the movie takes place. One can't argue with the casting and the performance these actors and actresses bring to the big screen.
Many will bash Skyscraper for its lack of originality, and they aren't necessarily wrong. But if it's a big dumb popcorn movie you're looking for, look no further. The action scenes, casting, and performances all shine through, even if other elements of the movie don't. There are better movies out there, but there are far worse ones too. Moderately recommended.
Rating: Two-and-a-half stars out of four.
DISCLAIMER: Images in this review are the property of their respective owners, including Legendary Pictures, Perfect World Pictures, Flynn Picture Company, Seven Bucks Productions, and Universal Pictures. For promotional use only. All rights reserved.