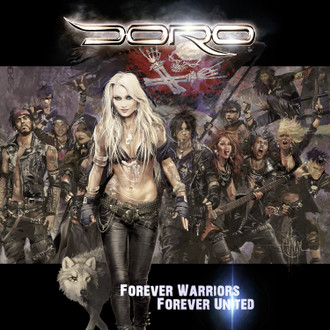 DORO
'Forever Warriors, Forever United'
(Nuclear Blast)
Doro Pesch is German Metal Royalty – of this there is no doubt.. From the earliest of days fronting Warlock, where she had to fight her way through the male dominated club circuit straight through to her thirteenth solo effort, the double album, 'Forever Warriors, Forever United.'  The 'Warriors' disc is supposedly the heavier of the set, while 'United' is made out to be the more melodic.  In reality, they're so similar musically that the fat could have been cut off to deliver one fantastic album, rather than two "really good" albums.  .
Disc One's ('Forever Warriors') opening track "All For Metal" is a straight up celebration of the genre and gets your blood rushing from the onset and "Bastardos" adds fuel to the initial fire with a double kick drum workout that leaves the listener short of breath.  Amon Amarth vocalist Johan Hegg duets with Doro on the creepy, "If I Can't You No One Will," which is slated to be the second single from the package.  "Turn It Up" is an anthem written for the stage while "Blood, Sweat and Rock n' Roll features a cutting verse and a cheesy sing – a – long chorus that will have festival crowds screaming their lungs out.  A cover of the early Whitesnake classic "Don't Break My Heart Again" falls a bit short, although I can't put my finger on why.
The 'Forever United' half of the deluxe effort once again kicks matters off in fine style with the driving "Resistance" which crashes into the mid tempo ballad "Lift Me Up," which is a nice little number while "It Cuts So Deep" is another ballad, which you've heard a million times before and usually done much better than this.  "Love is a Sin" features a fantastic chugging riff trying to break free of the ridiculously cheesy spoken word intro, which rears it's ugly head as the second verse kicks in and a third time beyond that, ruining what could otherwise be one of the albums's strongest tracks.  Lemmy's legacy is honoured twice on this album.  First in a track that was penned specifically for the man, "Living Life to the Fullest," an epic homage and in a straight up cover of Motorhead's "Lost in the Ozone," which Doro does a more than admirable job of tackling, adding her own flair and emotion to.  You do get the feeling that, as she sings the lines, "wash over me, watch over me" she's appealing to the man himself.  A fine ending to an otherwise run of the mill affair, taken in full.
PHOTO CREDIT:  Album Cover for Doro "Forever Warriors Forever United" and band promo shot courtesy Nuclear Blast – for promotional use only
VIDEO CREDIT: Doro- For All Metal – courtesy the Nuclear Blast You Tune Channel-  Subscribe for more Nuclear Blast Artist videos here: NUCLEAR BLAST YOU TUBE CHANNEL