NEKHRAH –  'Cosmic Apostasy' (2017)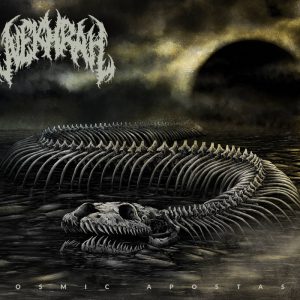 Acheron 01:51 instrumental
Cosmic Apostasy
Closed Casket Funeral
Foredoomed
The Face of Pain
Nekhrotise
Acts of Troth
Let There Be Nothing
This is the debut full-length from Nekhrah, a death metal band from the island nation of Cyprus. Formerly known as Impalement, the only other music from this band would be a three song digital-only demo 'Let There Be Nothing' released under that name.
The Single
When receiving the link to the single "Nekhrotise" I was a little worried when I noticed that the opening riff went on for a full minute and ten seconds. As awesome of a riff as it is it's the first quarter of the song. Wasn't a good sign.
Giving the album a chance, I checked out the rest of the album and was treated to a pretty damn good death metal record. Plenty of catchy and brutal riffs and a runtime that's less than thirty minutes. Not a long time by any stretch of the imagination but pretty much a perfect length for a fast paced and unrelenting listen as this. To put this in perspective, I had listened to the entirety of the album in less time as it took for my girlfriend to pick her son up from school.
Conclusion
Musically a fairly meat and potatoes death metal album. If the meat is juicy and delicious and served with a loaded baked potato. The vocals I'd have to compare with Lamb of God's Randy Blythe from the 'Burn The Priest' and 'New American Gospel' recordings if only in a lower register. Less screeching and honestly better here.
They aren't quite a melodic death metal band. Or technical enough to be a tech death band. But they sit somewhere in the middle that it shouldn't be too much a stretch for for a fan of either mirco-genre to find something here to love. All and all this is a safe bet for a fan of death metal.
Find Nekhrah and their album 'Cosmic Apostasy' on here on bandcamp.