Adelitas Way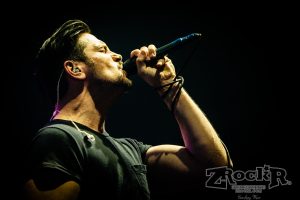 If you want to talk about hard work, persistence, and consistency in a band within the Las Vegas scene... you should absolutely be looking at Adelitas Way. This band is another prime example of part of the rock scene that is very much alive. You just have to come out and see it. With Rick DeJesus fronting, Tavis Stanley ripping on the axe, Andrew Cushing throwing it down on bass, and Tre Stafford putting the hit on his drum kit, these guys pull off some very unique, high energy performances.
Images from the set at Brooklyn Bowl, March 23, 2019
The Vegas four piece put on two killer home shows recently. The first one being at Brooklyn Bowl with our hometown heros, Taking Dawn, for the Rock Honor:Police Unity event; and the second being a bit more intimate, at the Hard Rock Cafe on the strip. While the Brooklyn Bowl show was more of a quickie event; the show at Hard Rock Cafe provided an extended set list, and a much more energetic crowd. (The HRC show featured songs from EVERY single album they have released dating back to 2009.)
Images from the Hard Rock Cafe show, April 6, 2019
Vibes

On some personal notes, I will say that musicians speaking on stage isn't something that everyone cares for... However, every time I've seen Rick DeJesus speak on stage in front of all the fans, there's an overwhelming feeling of unity. The dude truly loves what he's doing. (All those guys do, really.) And the fact that he takes the time to tell people what he's about; that he wants you to feel the music and connect with it on personal levels, I always think that's special.
What It Takes

Leading up to the show at the Hard Rock Cafe, the band extensively promoted the release of "What It Takes". The track premiered exclusively on SiriusXM Octane on April 3rd. It was released to all other digital outlets two days later on April 5th, and was the opening song for their HRC setlist. Adelitas Way has broken streaming goal after streaming goal with these singles that they release. They've also got no issues getting those screenshots from their dedicated fan base around the country, (and world, respectively.) to get you at least wondering what the fuck is up.
Tour and new music!

What exactly are the guys up to right now? Well... along with getting ready to hit the road for their "What It Takes" tour that kicks off April 17th in Houston, TX; (Which by the way, fans… you WILL NOT have to pay for a meet and greet from these guys. They don't believe in that shit and they'll gladly hang out and talk with you after their sets. FANS REJOICE!); according to Rick (via the HRC show), Adelitas Way are getting ready to release even MORE music. Keep in mind they just released 'Live Love Life" in November. (See Spotify) With this statement, it is claimed that this will be the best album they have released yet. The guys are claiming this next record to be some of, if not the best material to date. And they do it for YOU GUYS: the fans.
Go check them out!

So what are you waiting for? Hop up onto those streaming services and check out some of the music Adelitas Way has to offer. They're one of those rock bands that's pretty difficult NOT to vibe along to. Catchy songs, relatable lyrics, and all around great sounding music. No matter where you sit in the genre as a rock fan, I think these guys have something they can offer you. And if not, well… I guess ya can't win them all. I have a pretty extensive list of bands from my Las Vegas hometown that are definite suggestions... and these guys are absolutely on that list!
All live photos taken by Courtney Ware for ZrockR Magazine 2019. ALL RIGHTS RESERVED.