Tom Hanks, Tim Allen, Annie Potts, Joan Cusack, Wallace Shawn, John Ratzenberger, Blake Clark, Don Rickles, Estelle Harris, Tony Hale, Keegan-Michael Key, Jordan Peele, Keanu Reeves, and Christina Hendricks star in Toy Story 4. Josh Cooley directs the film.
Andy has gone off to college, and his two prized toys, Woody and Buzz Lightyear, now belong to Bonnie, a shy and emotional young girl about to start kindergarten. The toys, including the odd Forky, made from a plastic spork by Bonnie at her kindergarten orientation, set out for a trip in an RV, traveling to a small town with a traveling carnival and an antique show. As the other toys get to know and introduce Forky to the world of being a toy, Woody reunites with his old flame, Bo Peep, hanging out in the vicinity of the antique shop. When Forky disappears, old and new toys alike must work together to reunite him with Bonnie. But there are other challenges the group must face, including a doll with a busted "voice box" who wants to steal Woody's still-functional one.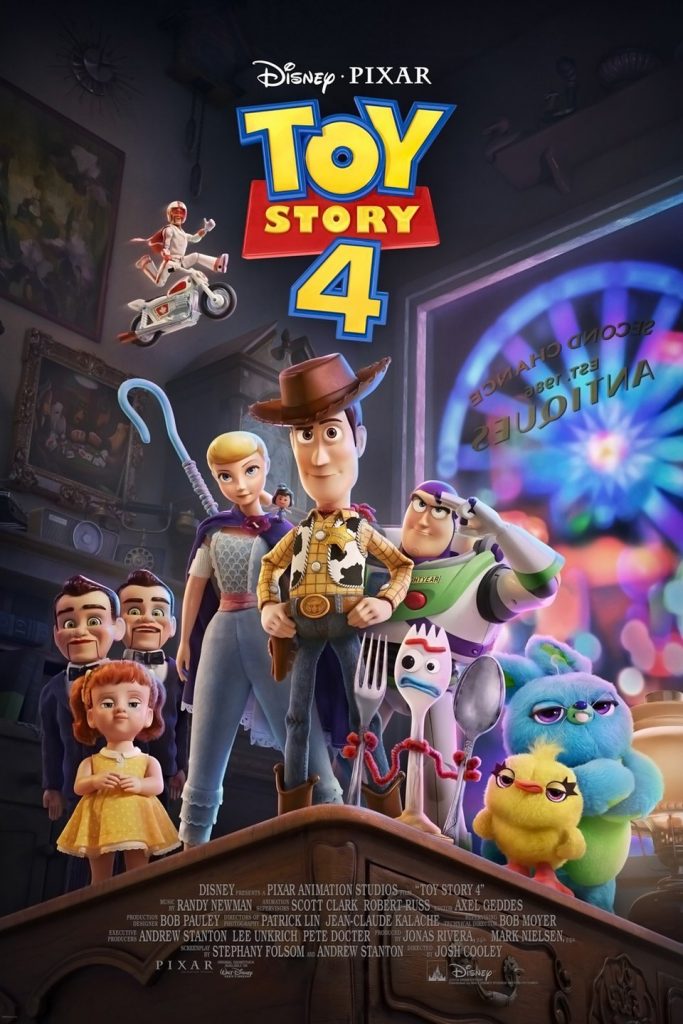 Okay, how many animated franchises of the Western World actually make it to four theatrically released installments? I certainly can't think of any other! As a fan and critic alike, I was worried this series would jump the shark with its fourth movie; the fact Pixar created three high-quality films in this series with plenty of original concepts was satisfactory enough, and quite unexpected unto itself. While the fourth installment is a little too busy and tries to bring too many new characters and plot elements into the fold, it's a surprisingly sharp story overall, packed with funny and emotional moments sure to appeal to young and old. Pixar does right by the now 24-year-old franchise, finding ways to keep things fresh. Above all, it's a good movie and, just fun to watch, with a breezy 90-minute running time.
What truly impresses me about the Toy Story movies is the way Pixar's animators and writers and an A-list voice cast manage to bring these toys to life, in every sense of the words. Central characters Buzz Lightyear and Woody, still voiced by Tim Allen and Tom Hanks, respectively, still feature prominently, but the floodgates are opened for plenty of other new toy characters, ranging from a talking doll with a defective voice box, to ventriloquist dummies as menacing as the villains from any horror film (but don't worry; the film's still perfectly suitable for your little ones). The real standout, new to the cast, is Keanu Reeves voicing Duke Caboom, an Evel Knievel-esque "daredevil" toy, compete with motorcycle and ridiculous poses and catchphrases. Is there anything Mr. Reeves can't do? Also joining the cast are Keegan-Michael Key and Jordan Peele as a pair of "carnival prize" dolls who steal every single scene they're in. The old and new alike come together splendidly.
I'll also give the fourth film credit for not simply rehashing elements of the earlier movies. In many ways, this is a more adventurous and daring story, with an ending I'm surprised (in a good way) the filmmakers opted to go with. It's amazing that all these years later, the folks at Pixar are still able to make quality original films, including ones with characters we've already seen many times before. As always, Pixar's greatest strength remains their ability to create a product which will equally appeal to kids and adults, thanks to colorful characters and a well-written script covering the emotional and hilarious alike. Listen closely for cameos from the likes of Mel Brooks, Carl Reiner, Betty White, Carol Burnett, Flea, Carl Weathers, and Bill Hader.
Admittedly, it's not a perfect film, and it'll never dethrone the simplistic charms of the 1995 original, even if the story is that much more ambitious and better animated. The biggest issue with the movie is, particularly in its third act, it becomes a bit too much. There are new toys left and right, and the overall story gets a bit muddled with so many subplots, characters, and far too much going on. It's fast and frantic and still enjoyable, but it's one of those instances, at least later in the film, where a "less is more" approach would've proven beneficial.
My criticisms here are minimal. Toy Story 4 is a surprisingly worthy entry in what is now a four-film series, keeping these characters' journeys and exploits fresh and appealing for young and old alike. Definitely recommended.
Rating: Three stars out of four.
DISCLAIMER: All images in this review are the property of their respective copyright holders, including Walt Disney Studios Motion Pictures and Pixar Animation Studios. For promotional use only. All rights reserved.