80's college punks Camper Van Beethoven and their 90's Alt/rock alter ego Cracker rode into town and stopped at the Brooklyn Bowl July 23rd.
Leaving Springfield.
The show was opened by Locals Leaving Springfield. I have had the pleasure of performing at the same bill with recently. Their style of poppy rock, reminiscent of The Replacements fit perfectly. It set a nice ground work for the evening.
Camper Van Beethoven.
Camper Van Beethoven took the stage first. Violinist Jonathan Segel opened the set with the memorable riff of The Status Quo's "Pictures of Matchstick Men".
The band sounded tight, with lead vocalist David Lowery stopping to tell stories of the bands career in the early 80s. Seigel punctuated the tales with funny one liners, such as recalling the first time the band played Las Vegas. They went to Circus Circus and dropped acid.
Camper is more of a jam band, in the vein of Grateful Dead, than most people would remember. And while their hit "Take The Skinheads Bowling" is pretty straightforward garage punk, other songs such as "Tania", "We Saw Jerry's Daughter" and "Hippy Chix" would veer into Jam Band territory, with tasteful leads by guitarist Greg Lisher.
The band even threw a medley in that defied genre. Their song "S.P.37957" morphed into "Kashmir" and then into "Hava Nagila (yes, the traditional Yiddish song) into "Dazed and Confused". Somehow it made its way back again. It was a highlight of the set for me.
The band hit on another of its minor hits "Club Med Sucks" off their first album and closed the set with "Surprise Truck".
Gallery.
Acoustic Break with David Lowery.
Singer David Lowery stayed front and center as the bands changed and performed a song off his forthcoming solo CD. Although the title "Mexican Chicken" my seem like a joke, there was nothing funny about this song. A sad, morose tale of love lost, it brought a tear to my eye and David sang it full of emotion.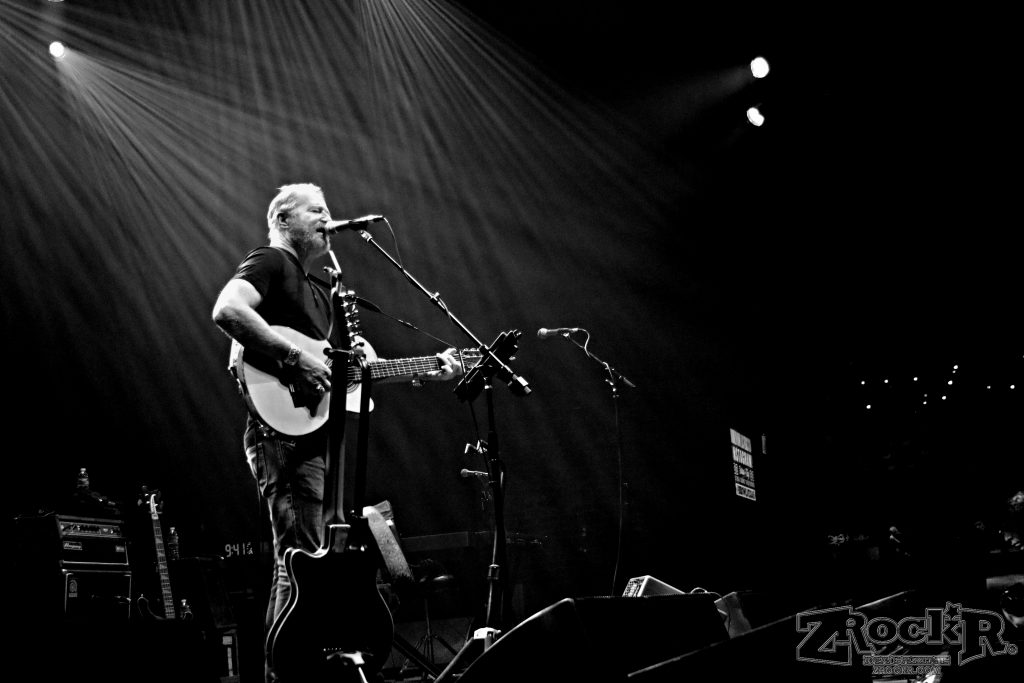 Cracker.
Cracker took the stage next. Although everyone in the rather small crowd knew it, not many in the general population know that Cracker and Camper share lineage.
Hitting the stage to a Jerry Garcia cover "Loser", it is almost hard to tell where one band ended and the next began. By the time they got to their mega hit "Low" and other popular tracks such as "Get on it" and "Euro Trash Girl" it's obvious what the biggest difference between the two bands are: Guitarist Johnny Hickman.
Hickman has a cult like status among the fans and a guitar style the reminds me of Tom Petty's and the Heartbreakers' Mike Campbell, and song craft.
While both bands are quirky lyrically, there's a a certain dark sarcasm with Cracker's songs that appeal more to the masses; especially growing up in the cynical 90's.
The band played a full 90 minute set of deep cuts and popular tunes leaving the crowd full satisfied. Don't judge either band by their more well known hits, the deep cuts give you a fuller story. I would recommend you check them out.
Gallery.
Writer's Spotify.
Do you want to know what else Dominick is listening to? Check out his Spotify playlist on ZRockR!
PHOTO CREDIT: All photos by Stephy Hayward for ZRockR Magazine, All Rights Reserved.