Attention Beastlings! Swedish heavy metal band, Arch Enemy, is another I'm incredibly eager to see.
The band will be coming along with At the Gates and Grand Magnus in support of Viking Metal band Amon Amarth. Check out our pre-show coverage of them HERE.
Band History.
This band is originally a supergroup. Arch Enemy is managed by former vocalist Angela Gassow. However, they are currently fronted by Canadian vocalist Alissa White-Gluz. Adding to the lineup is founder and guitarist Michael Amott, guitarist Jeff Loomis, drummer Daniel Erlandsson, and bassist Sharlee D'Angelo.
These guys (and gal) formed in 1995. Yeah, it's been that long. The band powered through line up changes until former vocalist Angela Gassow joined in 2000. With Gassow's addition of heavy vocals, the band propelled forward.
The addition of White-Gluz has only added to the band's success. And with good reason.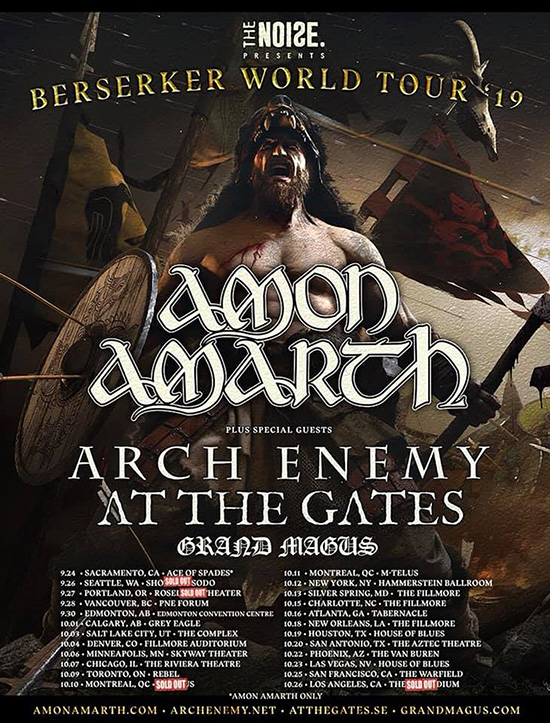 Music.
The latest release by the band is the album Covered in Blood. This is a compilation of covers with an Arch Enemy twist.
I look forward to hearing songs from 2017's Will to Power and 2014's War Eternal. I'm even stoked to take a trip back to 2005's Doomsday Machine.
These guys have insane energy and I honestly can't wait to see their setup and show. My ears are more than ready to hear Gluz's growls and screams live.
See you in the pit.
For tickets, visit the House of Blues website HERE .
Spotify.