It would not be October without the sweet, sweet vocal stylings of Michale Graves. While Graves has an extensive music career on his own and with others, he is best known for his tenure in the Misfits.

Before I go any further into this article, I want to make one thing clear…
Unpopular Opinion on Danzig vs. Graves
If you came here to see Danzig bashing happen, you won't. If you came here for Graves bashing, you won't see that either. There's nothing worse than people bitching and moaning and arguing over who was the better fit for the band. Even more so, it's fucking stupid when people give other fans shit for liking/not liking one or the other.

What Glen Danzig accomplished with Misfits was obviously iconic, and obviously he is an icon on his own too. I'm glad he reformed with the band and is doing his thing with them. I had the pleasure of seeing Danzig in 2006 and he's great live.

However, what Michale Graves did in just 5 years and two albums not only breathed new life into a band that had died out a decade earlier, but he brought new fans into the mix. You can't tell me that songs like "Mars Attacks" or "Descending Angel" aren't fucking amazing. American Psycho and Famous Monsters were two amazing additions to the band's legacy. So, get the fuck out of here with your bullshit pitting fans against each other. It's dumb and accomplishes nothing at all.
Michale Graves.

Back to the topic at hand…

I had the pleasure of seeing Graves at the Beauty Bar (RIP) in 2014 and getting to chat with him a bit. This show was an acoustic set and consisted of just him. No makeup, no pretension. There is actually video of it up on YouTube.
He performed songs off of his solo album Wanderer, which he was kind enough to literally just give me a copy of. He was extremely down to Earth. I hate to say it, but getting the opportunity to meet him prior to his set made it much cooler. It's always a bummer when musicians are assholes, but Graves was a class act.
He also performed some of his more well known Misfits songs such as "Dig Up Her Bones" and "Saturday Night". You wouldn't think that Misfits could be beautiful, but his stripped down renditions made it so.
Unfortunately, on one of his last trips through Vegas, Graves had equipment and merch stolen literally right outside of the venue. Whether or not it was recovered, I'm unsure.
What I am sure of is that Vegas is stoked to have him back, and I'm stoked too. I'll see you fiends down at Dive Bar on October 27th!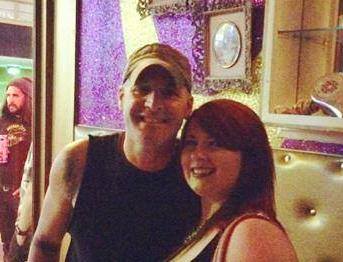 Tickets to this show are just $13.00. So you have no excuse not to be there. For ticketing information, visit HERE .