I flew out from Vegas to Oakland for Rock the Ship as a fan and wasn't disappointed. Flights were cheaper so I flew in same night of the first show and had to rush to get my stuff put away in the room we had, and then we were off.
Rock the Ship: Night One.
First night was opened by Lenny Lashleys Gang of One, playing as a full electric band as opposed to a normal acoustic set by Lenny, Unfortunately I missed out on this by minutes due our flight being later.
I hung out front smoking while we waited for the next band to set up and was greeted by 2 random older skins who were super friendly; making a kid in a city he doesn't know a lot of people in feel a little more comfortable.
Next up was the Bar Stool Preachers from England; playing an upbeat ska set that had the crowd dancing along the entire time.
Back out to the smoking patio. Same thing. New encounters and some familiar faces now.
Night One Cont.
Up next was Bad Cop/Bad Cop from California. The fat wreck band played their set of pop punky anthems and had the crowd having a blast.
Back to the front. More smoking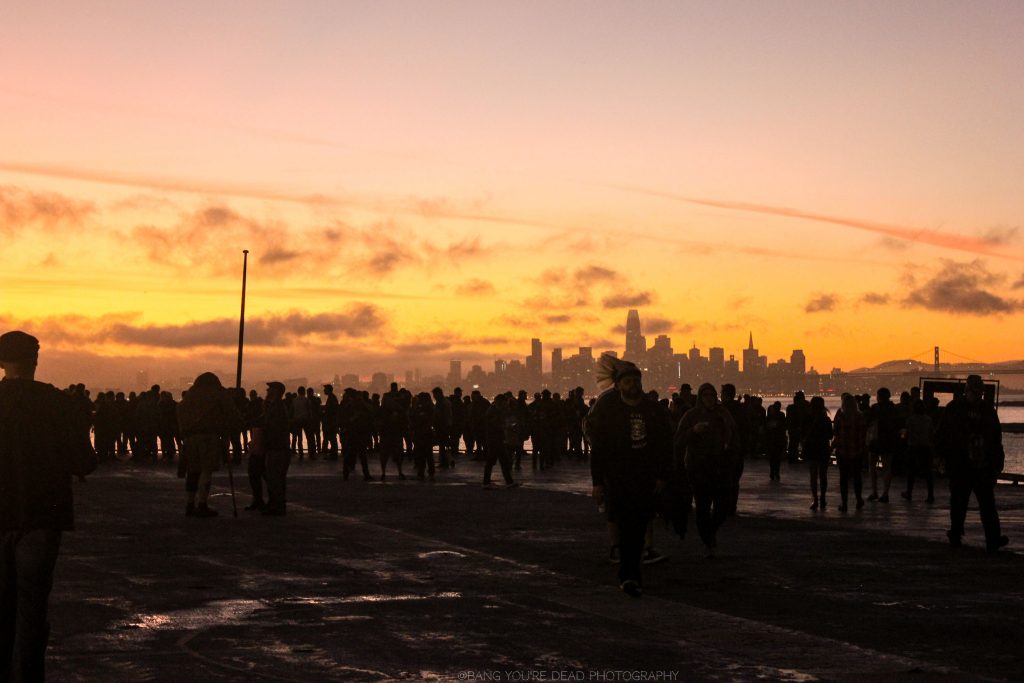 Final band of the first show; CJ Ramone played a set of Ramones covers and some new stuff. Like any time you hear these songs, you can't help but sing along.
Also noticeable, Lenny Lashley and Pete Sosa back in their second band of the night and probably needing a nap.
All in all a fun show for the first night and leaving me pumped for the next show.
Rock the Ship: Night 2.
After exploring for a bit, I made my way to the Starline Social Club for the second show of the weekend.
It was set up different then the first night and was kind of confusing at first, but after a few seconds of going the wrong way that was fixed and we were in.
First band of the night was the Complicators from San Francisco and local to the Bay playing a fast and fun oi set. I had never heard them before, but they made a fan out of me.
Same deal as before out front to smoke and bullshit and that's always where new friends are made.

Up next was Grade 2. All the way from England. These boys brought another fun oi set. I had seen them before, but it was my first time seeing them in a smaller venue. Was worth taking the time to catch them.
Smoking again.

Back up to the venue for the Harrington Saints. Another oi band local to the Bay. They brought a harder oi set of classics and some new stuff. I had been trying to catch them for awhile, and it was nice to finally see them especially in their own scene.
Smoking and hanging more and more.
Time for "the new" Darkbuster from Boston. The second night's headliner. And Lenny and Pete's 3rd set of the weekend. They played a set of favorites and it was a sing along the whole time.
They even snuck in "Grandma Was A Nazi" at the end sending everyone off in a comedic note. Didn't think I'd get to see them again so soon and hope I get to see them again in the near future. Having chicken and waffles after the show was pretty rad too.
Rock the Ship: Main Event.
Next up was the main event. 6 bands on an aircraft carrier. Truly a new experience for fans of this kind of music and it was time.
When we arrived we were greeted by a 90 foot banner quoting the evening's headliner Cock Sparrer.
As we made our way to the deck we encountered many stairways but got to walk through the middle dulled with old planes and other historical artifacts from the ships history. It was cool to see all of that as an extra not really expected.

We made it to the deck before the first band of the day went on and explored everything a little bit. It was now time for Territories all the way from Australia. They played a fun set and set everything off in a nice way as people started making their way aboard.
Territories Gallery.
Smoke Saga Continues.

After a trip to check out merch, smoke and do a quick interview with Dick Lucas of Subhumans (that's for another time), we made our way back to the stage for The Drowns to catch a fun set from the Tacoma based band.
The Drowns Gallery.
Second time getting to see them and totally won me over with this set.

Smoke smoke smoke. 

Back to the stage for Monster Squad. They don't play very often so getting to see them again was a pretty fun time. All smiles around during their set and circle pits of many as the wind pushed everyone around.
Monster Squad Gallery.
More smoking. Cause that's what half of us do I guess. 

It was supposed to be Off with Their Heads next, but due to an accident in Canada they cancelled their tour. So up next was Street Dogs all the way from Boston. I don't know what can be said that hasn't already. They always put on a great high energy show as singer Mike McColgan flies around the stage and crowd. Also noticeable is Lenny and Pete's 4 and final set of the weekend.

More smoking cause we suck.
Street Dogs Gallery.
Subhumans on a warship? Who would of thought they would ever see that? Why and what would bring that to us? Pirates Press did. And they played a great lengthy set of basically all favorites and crowd sing alongs. It was the first of many times seeing them in the next week and a near perfect set.
Cock Sparrer.
I didn't go smoke after Subhumans cause Cock Sparrer was next and they are probably my favorite band. I get the same level excited every time I see the and every time I've gotten to have a different experience. Every time it's amazing and one of my all time favorite shows and this one delivered just the same.

I asked a friend involved with the show if I could come closer and they let me which I never expected nor really ever ask but it's really a big deal to get that experience. 

Cock Sparrer played a 20 song set of all favorites and crowd sing alongs and it was an incredible time. Any time I turned around I had a random friend I made behind me or next to me singing along, and it's always moments like these I cherish the most. Then it was over and time to leave the ship.
Except it wasn't over.
Cock Sparrer Gallery.
Rock the Ship After Party.

We went back to our room and dropped off the merch and rested our feet for a few and made our way to Eli's Mile High Club for one of the after party shows.

Kicker was taking the stage as we got inside. An Oakland local band with a transplant from the oi vocals. Making them seem a very British band with his slang and mannerisms. They only got to play 10 mins or so before ending abruptly. Next up the surprise band. Subhumans again in probably the smallest venue I've ever seen them. The played a short 10 song set that was rushed due to a sound curfew but was still fun and high energy nonetheless.

Time for sleep. Feet are hurting by now. One show to go and sad for it to be ending. 

The Final Night of Rock the Ship.
Back to Starline Social Club for the ending of it all.
Up first of the two band lineup was charger. Matt Freeman from Rancid's new band. They played a charged 45 minute set of Motörhead-eseque songs that had our sore feet moving.

Out to smoke and say bye to some people.

Back inside for the final band of the weekend. The Old Firm Casuals featuring Lars Frederickson from Rancid.
They also played a 45 min set of music that was fun and very Motörhead and Gbh influenced. It was a short night and seemed like Lars just wanted to go home, joking, "I got to get home to my baby sitter", but also kind of warranted after flying in from playing at Madison Square Garden the night before.

Went out for final goodbyes then the Uber back to the room for the final night's ending.

It was a great trip. I look forward to whatever they have planned for us in 5 years.
Thanks Pirates Press.
PHOTO CREDIT: All photos by Holly Ann Wood/Bang You're Dead Photography - Used with Permission.