If there was one tour that I was massively disappointed about being canceled when all the shut downs started happening; it was 1000% THE METAL TOUR OF THE YEAR. This tour features thrash heavyweights MEGADETH, new wave of American heavy metal bands LAMB OF GOD & TRIVIUM, as well as Swedish heavy metal band IN FLAMES. This tour hits Las Vegas on April 9, 2022 at the Michelob ULTRA Arena, which is located right by the Mandalay Bay casino on Las Vegas Blvd.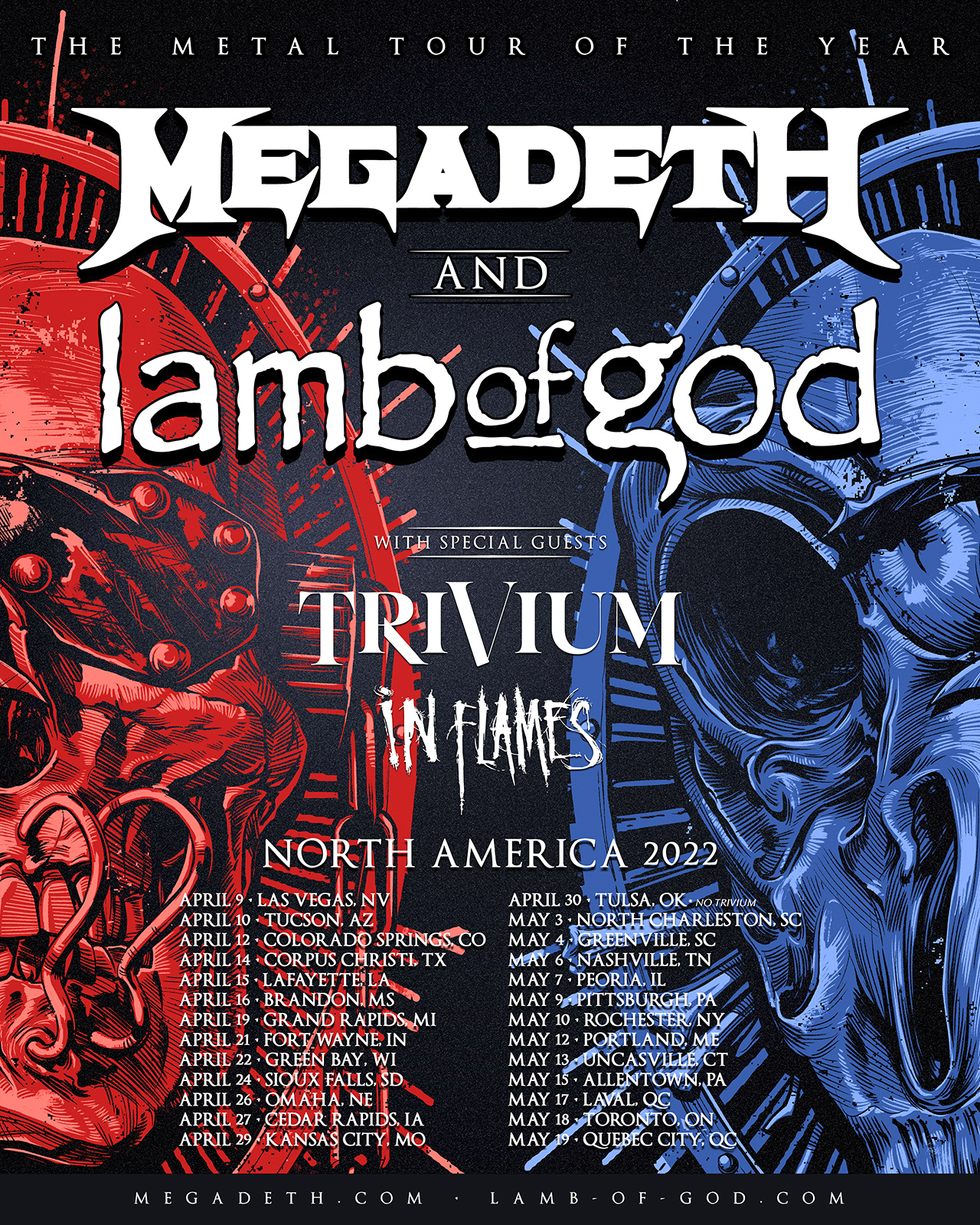 This is now the second leg of this tour. (Originally the first run of The Metal Tour of the Year contained more dates, and when the dates were rescheduled; there was a slightly different line up and about half of the original dates gone. Here we are with our second leg of the original released lineup, and the rest of those missing dates.)
I could go on and on about how much I personally love these bands; and I swear I've listened to my husband talk about Matt Heafy (Trivium) and his black metal project so much that my head could explode. HOWEVER, I personally AM most excited to see Trivium come back to Vegas after so long. I have not seen them since maybe 2007 when they toured as direct support for Atreyu. 
MEGADETH
The last time we caught MEGADETH was at The Pearl at the Palms in 2017. My husband and I are fans of now former bass player Ellefson and his times and contributions to the band; so we'll see how their dynamic is without him. I don't think I've actually seen Megadeth perform without Ellefson, honestly. But I digress. The last release Megadeth put out that wasn't a remastered album or live album was DYSTOPIA, which was released in 2016. (Read Taylor Carlson's review HERE) Megadeth usually puts on a pretty good show full of all their best and most popular songs, I don't expect this to be any different, nor do I expect to be disappointed. 
LAMB OF GOD
LAMB OF GOD is one of my favorite American heavy metal bands. I've always thought there was something very special about them. Or maybe I'm just drawn to the products of Groove Metal that my favorites (Pantera); have paved the path for. I am always amazed by vocalist Randy Blythe as an artist himself, because of his fandom of hardcore and how he has stated that he never set out to do metal. But GODDAMN he is good at it. Not everyone agrees with me when I talk about artists and musical progression, and I don't really care. But I do love Lamb of God's growth through the years. 
Sometimes metal can get repetitive and difficult to be innovative in; and don't even get me started on the gatekeepers in the world of metal. (cue massive eye roll) VII: Sturm Und Drang (released in 2015) has a track titled "Overlord"; which is what I'm referring to when I talk about some different progression with these guys. I love that track and the layers that it has vocally. Otherwise, LAMB OF GOD just has this sound that I feel is unique to them and I can pick them out and enjoy it every time I hear them, no matter what album it is. (The live album, "Killadelphia" is still probably my most favorite though.)
It's been a few years the last time Lamb of God were here, I can't remember the last line up, but I want to say it was an opening slot for SLAYER out at The Joint maybe? These guys are always killer live. They do not disappoint in the slightest. (Though I would love to hear them play Black Label again just to see the whole GA floor explode.)
TRIVIUM
As I mentioned above, I'm pretty excited to see Trivium again after so long. They also, like Lamb of God, have a pretty interesting progression through their sound as the years have gone by. I do love their screaming and metalcore-type of vocals and that's probably what drew me to them in the first place years ago. But I also really love Matt Heafy's general clean style too, and his growth that's happened there. Their latest release, "In the Court of the Dragon" (2021) has some elements that very much remind me of 2006's release, "The Crusade." (Arguably one of my favorite records by them, while my husband is more privy to 2005's "Ascendancy" and pieces of 2008's "Shogun.")
Because it's been so long since I've seen Trivium perform; (I just occasionally watch Matt Heavy on his ever active TWITCH channel) I couldn't tell you what we were to expect as far as their set goes. There has just been so much growth and change through their discography that I have yet to see live; but I do hope that they still bring an energetic live show. 
IN FLAMES
In Flames are another one of those bands, like the rest mentioned here, that I found years and years ago when I was in high school. I couldn't tell you how I found them, to be honest. It could have very well have been through my husband, though. (Yeah, we go back that far.) The first song I heard by them, like probably a lot of other people, was "Only for the Weak" off of 2000's "Clayman" release. (Parkway Drive has a song that sounds very, very similar to this on their "Reverence" album. I once had to backtrack through my shit and double check to make sure. But honestly I think those guys are pretty heavily influenced by In Flames anyway so there's that.)
I actually believe that a lot of metalcore; especially bands who've incorporated synth/melodeath into their sound; would not exist for bands like In Flames. (And At the Gates for that matter… but that's a different conversation entirely.) I would say these guys are definitely one of the more underrated bands of this bunch; and I say that because they got their start in 1990, and it's now 2022… WHY are more people not talking about their sound and how it's found all across blends of metal and metalcore music? Come on people… I digress. The last time we caught In Flames was at Brooklyn Bowl in October of 2018, and I was disappointed that more people were not in that venue to see them perform. They were wonderful live!
Overall…
Now that I've covered a lot of my thoughts about these bands individually, I'm going to re emphasize how disappointed I was that this was postponed the first time… HOWEVER… I am absolutely thrilled to be able to see this particular line up as it is. I made sure that I got my tickets, and if you're into any of these bands, I would suggest getting on it and making sure that you have yours as well! 
TICKETS FOR THE METAL TOUR OF THE YEAR!
Have a listen to a whole playlist of the bands on THE METAL TOUR OF THE YEAR below!
Live photos of Megadeth and In Flames by Courtney Ware for ZrockR Magazine