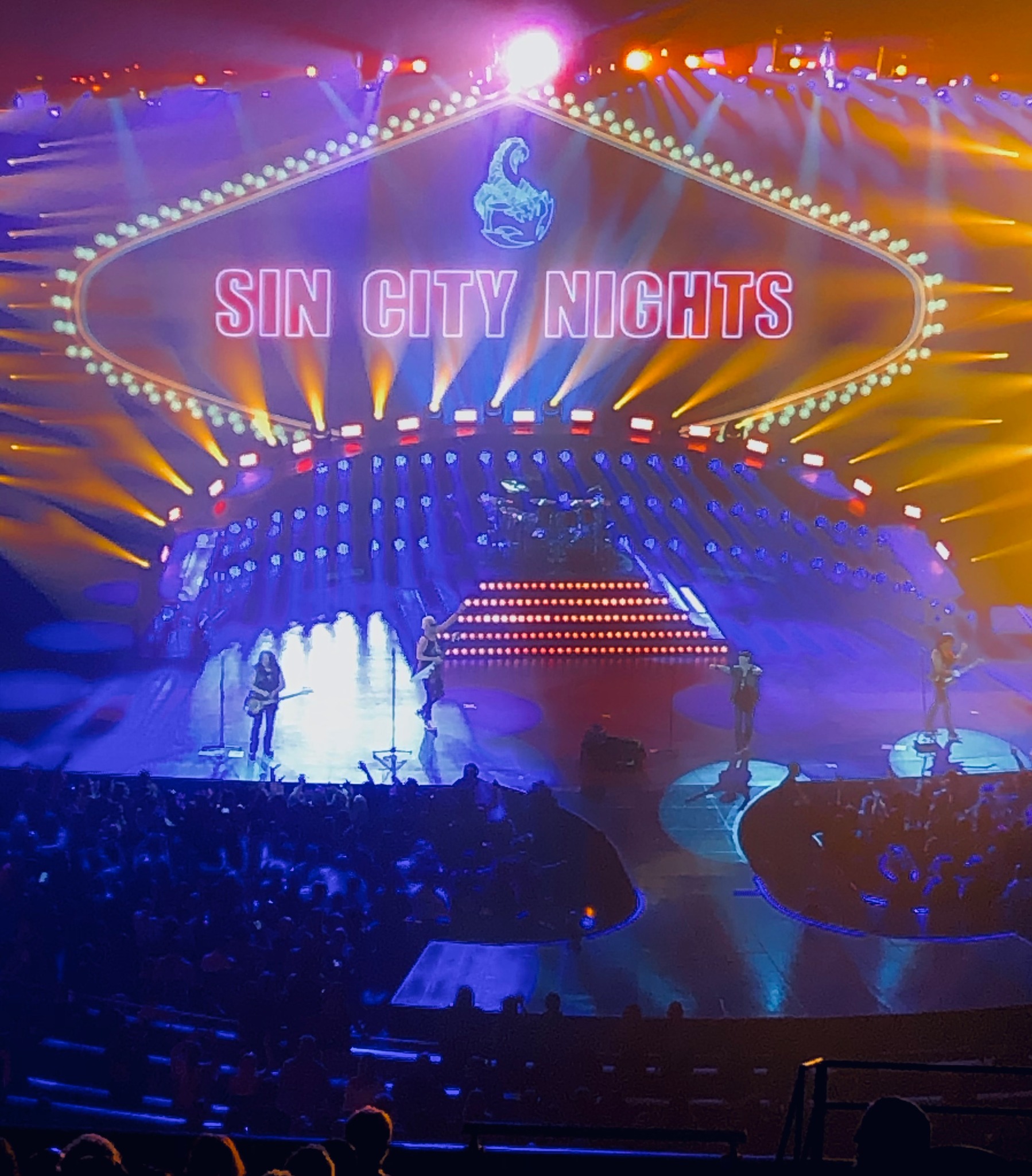 DISCLAIMER: This review covers both the concert as well as the Trunk Nation Vegas Invasion event. I took all photos myself with my phone. The Vegas Invasion event suffered from poor purplish lighting, and I was seated in the highest/back row for the concert itself. I have edited/cropped/filtered these photos to look their absolute best, but there are obvious limitations here. These are the best photos I have from both the event and the concert.

Scorpions and Skid Row played the Zappos Theater at the Planet Hollywood Resort on Saturday, March 26, 2022. This was the first date of an ongoing residency that extends into April. The residency was delayed several times due to the pandemic.

At long last, rock and roll is returning to the world and in a big way. The long-delayed residency at Planet Hollywood for Skid Row and Scorpions has finally arrived. Two of my favorite bands, and something I knew I wanted to go and see when the time would finally come. At last, that day is here. And there was even a Trunk Nation Vegas Invasion Q&A event earlier in the day, which was something else I absolutely wanted to get in on.

One minor piece of unpleasant news I need to get out of the way early in this article. After years of being one of the hold-outs, Planet Hollywood now charges for parking. This is a definite slap in the face to local music fans. If nothing else, it should be free for local residents. But let's put that behind us and move on with what you surely came here to read.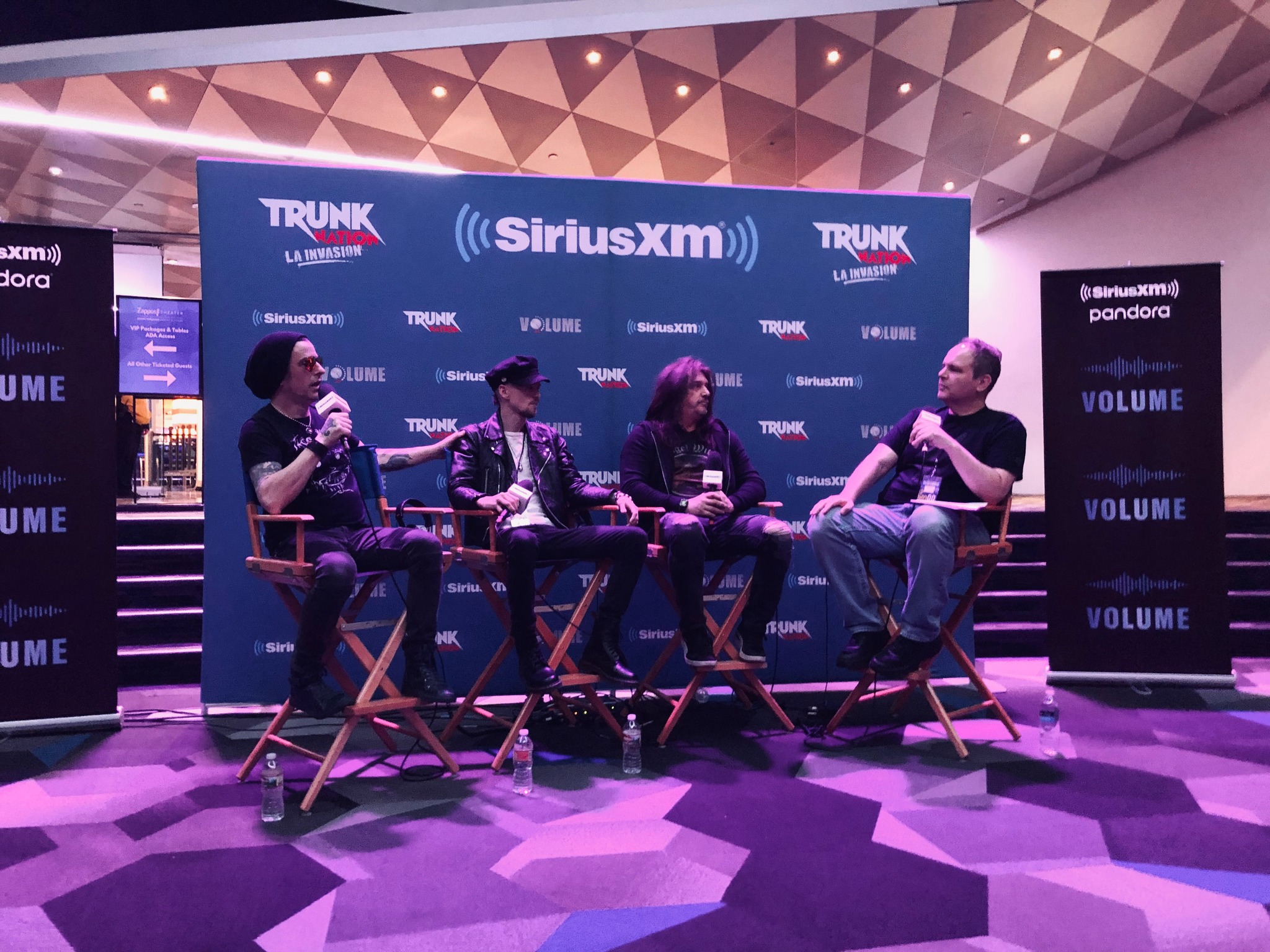 The first thing to cover is Sirius XM Volume's Trunk Nation event, hosted by rock/metal media personality Eddie Trunk, who now lives here in Vegas part time. Info on this event had been a bit scattershot, with many things being last-minute developments shared on the air and his social media channels. Essentially, the way this worked is that wristbands for the event would be given to the first 30 or so people outside of the theater at around 12:30 PM, with the actual Q&A lasting from roughly 3:00-5:00 PM. Doors for the concert would open later in the evening. A ticket for the concert was not required to attend this event; you only needed to get one of the wristbands, though that was first-come first-served. A major surprise to me was how many people were visiting town to see the band; I don't think I talked to a single person who lived here in Las Vegas!

I got to the theater bright and early and saw no other people (apparently, quite a few people had gotten there early and were "coming and going" do the relatively uncrowded nature of things that early on). Starting around 11:00 AM, a pretty long line formed. I'd fortunately arrived before most of the other patrons, and by noon there was a pretty large line forming outside of the theater entrance. Joel, Eddie's radio producer/assistant, began passing the wristbands out at a time between 12:00 and 12:30, which was actually earlier than the advertised time. This created a lot of irate posts on social media from people who are told the distribution would happen at 12:30. Not surprisingly, many last-minute arrivals couldn't be accommodated. Upon getting a wristband, you could leave the theater area and come back at around 2:30 PM for admission to the theater lobby for the event. I used this time to grab lunch; the Zappos Theater is located in Planet Hollywood's Miracle Mile Shops, so there's no shortage of dining choices there.

Upon the lucky attendees with wristband being admitted, Eddie Trunk eventually emerged to enormous applause, introducing the event and explaining how things would work. One of the biggest delights would be hearing that audience questions would be welcomed during both band's times with Mr. Trunk. The production crew encouraged loud applause, but they would've had it even without asking for it. This was an enthusiastic bunch who clearly loved all Trunk has done for rock and roll, not to mention both bands on the bill, getting ready for the first night of the residency. Trunk mentioned that this segment would air as a "recorded" show on one of his Volume episodes in the coming week.

Three of Skid Row's five members came on first; bassist Rachel Bolan, guitarist Dave "Snake" Sabo, and new lead vocalist Erik Gronwall (the missing members were guitarist Scotti Hill and drummer Rob Hammersmith). The conversation with Eddie went to some interesting places, including Bolan and Sabo's beginnings and meeting their fellow rock stars back in the day, as well as new vocalist Gronwall's inspirations, his battles with an illness, and how he admired the band in his younger years, including former classic vocalist Sebastian Bach being one of his idols and influences. One of the biggest shocks was hearing that Gronwall was only 34 years old; I never thought I'd see someone younger than myself fronting Skid Row! Did I mention that this would be his first live show with the band ever? The audience members had a handful of questions that the trio of Skid Row guys were happy to answer.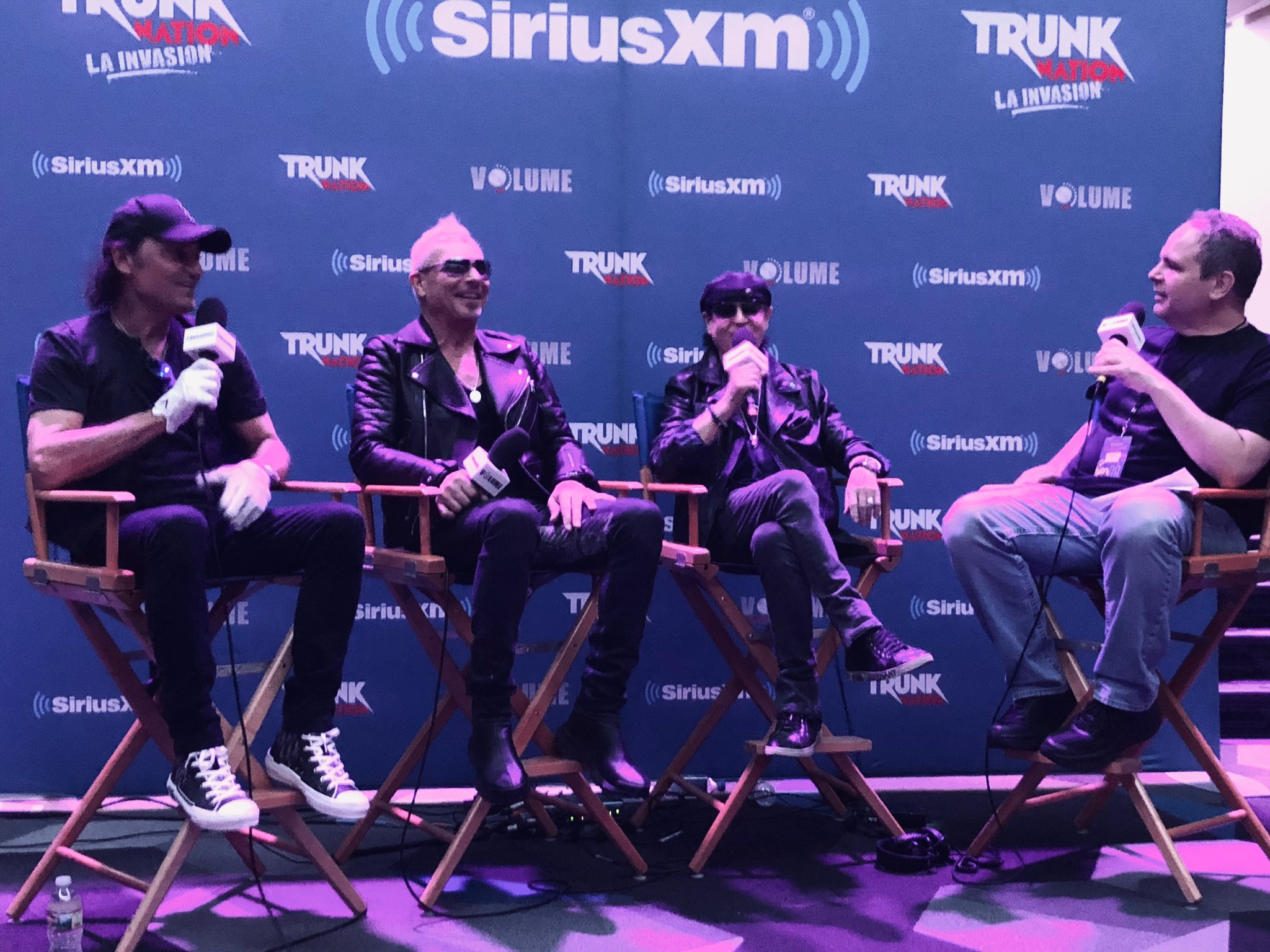 When Skid Row's members left the lobby, three Scorpions members emerged to take their seats next to Eddie; vocalist Klaus Meine, rhythm guitarist and band founder Rudolf Schenker, and lead guitarist Matthias Jabs (the missing members were bassist Pawel Maciwoda and drummer Mikkey Dee). These are the three longest lasting members of the band, with Schenker being the band founder, Meine being with the band next longest and appearing on every album, and Jabs being in the group since 1979's LOVEDRIVE. Much of the conversation with the group revolved around the way the pandemic in the world had impacted their plans, including delays of the residency and how this time was used to record their newly-released studio album, ROCK BELIEVER (which I've also reviewed on this site). One of the biggest surprises the band announced was that this night's concert would be their first gig since the pandemic started, over two years ago! Like the Skid Row guys, they were happy to answer some audience questions; I myself asked Rudolf Schenker a question about a song he'd done lead vocals on and if he had any plans to do this again in the future. Following this, the event was dispersed and the audience members were sent back out into the mall/casino lobby, to return later for the concert itself if they had a ticket. Many, many thanks to Sirius XM/Volume/Eddie Trunk/and the artists themselves for putting on this exciting intimate event with some of the rock and metal world's most beloved performers.

Initially Queensryche was supposed to open the Vegas residency for Scorpions (as they had done at the 2016 residency at the now-defunct Hard Rock Hotel and Casino) but with the 'Ryche taking on the task of opening for Judas Priest on their current tour, Skid Row stepped up to the plate to provide support. Skid Row retains 3/5 of their classic lineup; guitarists Snake Sabo and Scotti Hill, and bassist Rachel Bolan. Behind the drum kit since around 2010 has been Rob Hammersmith, and taking the lead vocalist mantle for the first time even of a live stage with Skid Row was former HEAT vocalist and SWEDISH IDOL winner Erik Gronwall. Gronwall was not only performing with the group on stage for the first time, but also opening for one of the biggest and longest-lasting rock bands in the world.

No pressure, right?

I'd be lying if I said I didn't have some initial doubts about a new singer fronting the group; I'd honestly been quite impressed with their performances of recent years with Dragonforce vocalist ZP Theart, and was surprised to hear he wouldn't be joining the band on stage or for their new album. Eddie Trunk broke the news on his Volume show earlier in the week, just days before the residency was to start, also premiering a new song with Gronwall's vocal, "The Gang's All Here." To say this news came as a surprise was an understatement, though I won't deny that the new song made me optimistic as it's probably the track the band's made in recent decades that comes the closest to capturing the feel of the glory days when Sebastian Bach fronted the band.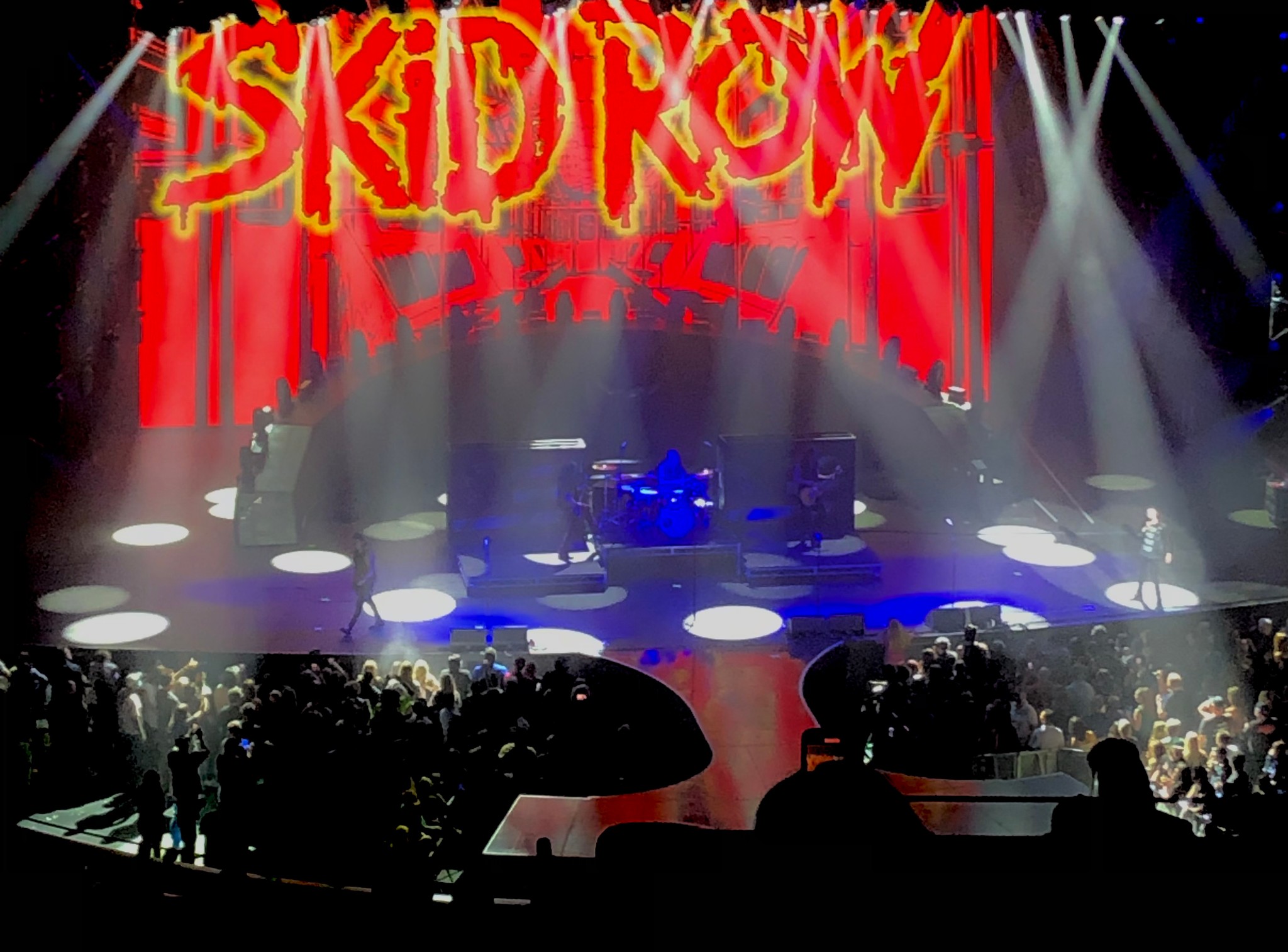 At 8:00 PM, the lights in the theater went down, and a red spotlight show set to the Ramones' classic "Blitzkrieg Bop" playing over the speakers got the audience pumped before the Skids took the stage, Upon the intro concluding, the band tore right into the title cut from their classic 1991 sophomore album, SLAVE TO THE GRIND. If Mr. Gronwall was anxious about his new gig with one of the hottest bands in the land, he sure as hell didn't show it. This guy wasn't cowering behind a mic stand. He was front and center, literally in the crowd's face, belting out these songs with unrivaled enthusiasm and energy. While I think it may take him a while to fully find his footing with the group and develop a perfect stage chemistry with his bandmates, he's off to a damn good start. It disgusts me when I hear people say that "it isn't Skid Row without Sebastian Bach." Especially when this kid was front and center pouring his heart into these classic cuts and resurrecting them for an audience ready to bang their heads.

Also not to be overlooked is the rest of the band. The twin guitar attack of Hill and Sabo has never diminished, and it shined brightly on this evening in Sin City. Rob Hammersmith has been the band's ever-reliable timekeeper who pounds away like no other for over a decade now. And who could forget Rachel Bolan, long one of the best bass men in the business? I'm optimistic for this incarnation of the quintet, and I hope to see them at least once again before the residency ends.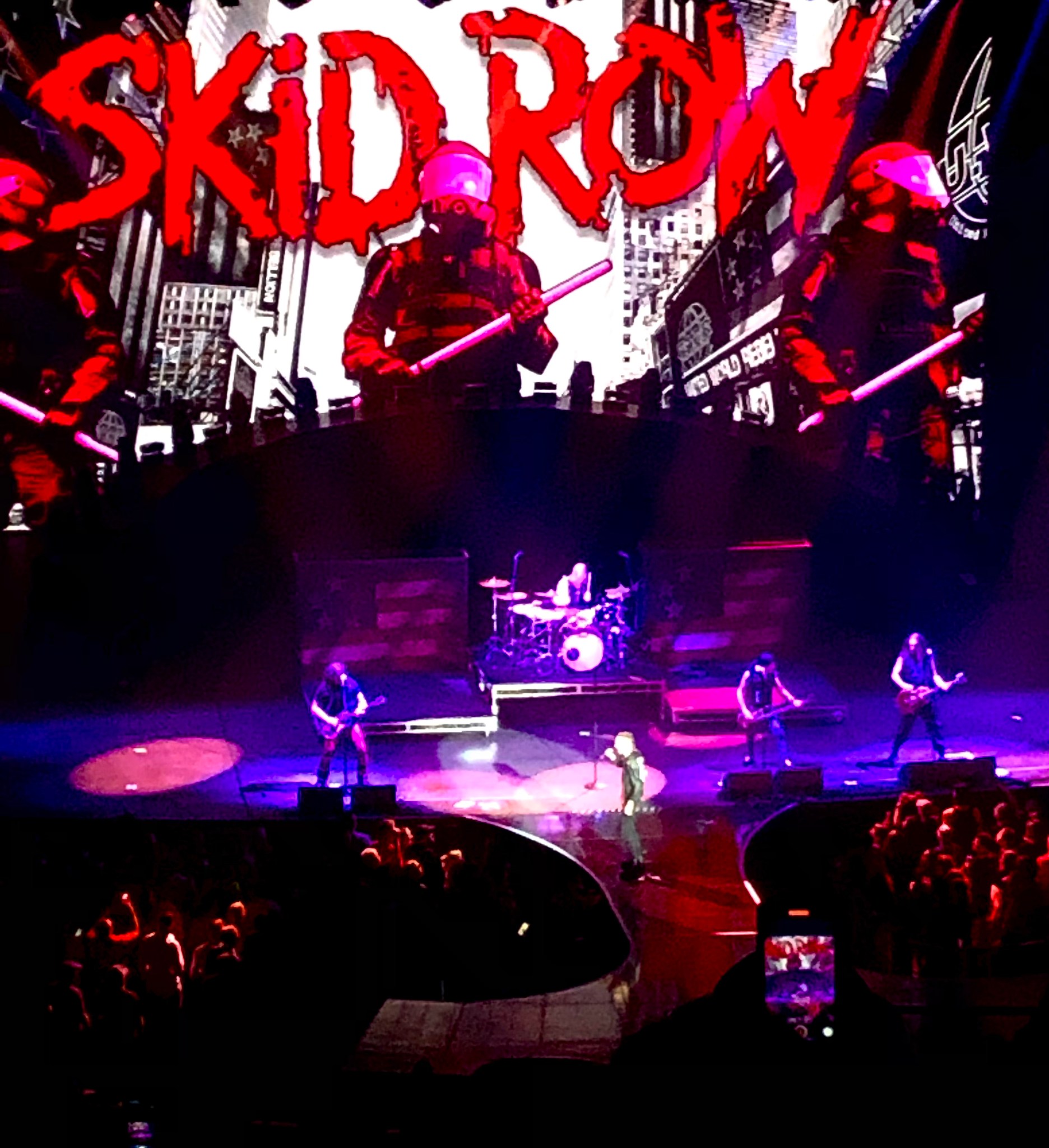 Unsurprisingly, the setlist was mostly Skid Row classics from their first two albums, SKID ROW and SLAVE TO THE GRIND. Classics like "I Remember You," "18 and Life," and closer "Youth Gone Wild" got the crowd pumped, and we even got to see the first live performance of the group's new song, "The Gang's All Here," which fit in alongside the classics surprisingly well; the group stated a new album featuring the song will be coming out in October. If there's one issue with being the opening band, it's the brevity of the set. We got nine killer songs, and a set this brief means not all the classics can make the cut. Sadly, this meant not getting to hear my all-time Skid Row song, "Makin' a Mess." I personally would've swapped out the recorded Ramones intro for the band's cover of that group's "Psycho Therapy," on which Rachel Bolan does lead vocals, but the group made great use of the limited opening set time they had. I'm glad to see the Skids are still on fire, with an energetic and entertaining frontman having taken up the mantle. Needless to say, I'll be reviewing the new album when it comes out.

Skid Row's setlist:
-Slave to the Grind
-Big Guns
-18 and Life
-Piece of Me
-Livin' on a Chain Gang
-Monkey Business
-I Remember You
-The Gang's All Here
-Youth Gone Wild

We then come to the headliner for the evening – Scorpions! Formed in Germany in 1965 and releasing their first studio album in 1972, they're one of the longest running rock bands of all time, having continued to perform all around the world. The quintet currently consists of founding member/rhythm guitarist Rudolf Schenker, vocalist Klaus Meine, lead guitarist Matthias Jabs, bassist Pawel Maciwoda, and drummer Mikkey Dee. Schenker formed the band and has been in since the beginning. Meine is the second longest-serving member, having appeared on every album by the band. Jabs has been in the group since 1979, filling the position formerly held by Michael Schenker and Uli Jon Roth. Motorhead drummer Mikkey Dee joined the band, replacing former drummer James Kottak in 2016, ironically just in time for their previous Vegas residency. The group recently released ROCK BELIEVER, a brand new album of original material that was largely recorded during the pandemic.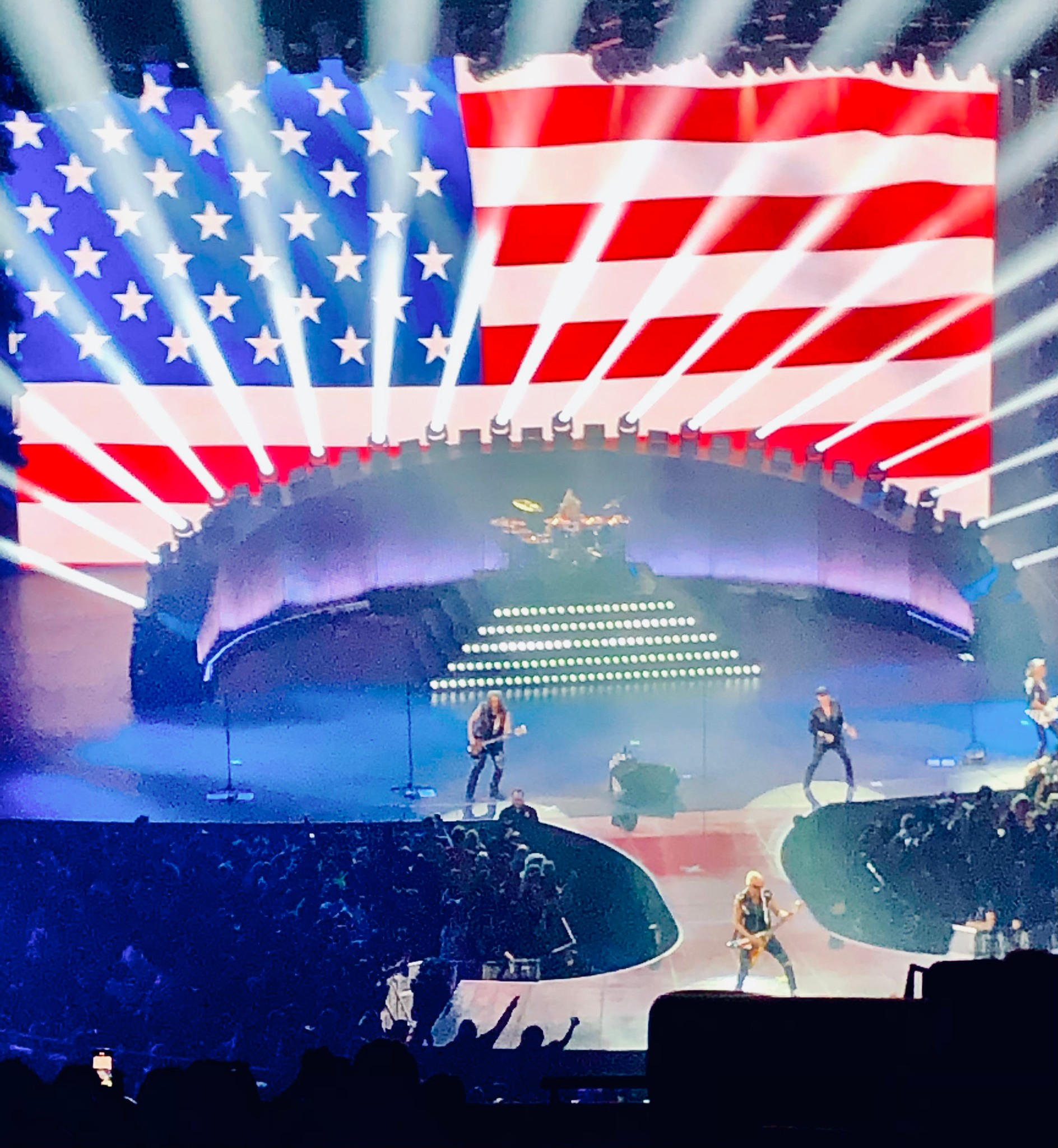 When someone asks me what my favorite band is, my typical response is that I don't have a favorite band; I have about 200 of them. But I can say without hesitation or reservations that Scorpions land in my Top Ten. As a longtime fan, I was eager to see what the band's setlist would consist of. Would it be classic hits? Deep cuts? Selections from the new album? Perhaps a little bit from all of those categories? It was essentially a mix from each of those batches, and while a few of my favorites didn't make the cut, it was a satisfying selection of tracks overall. The group did mention they may be modifying the setlist for future performances on the residency.

Let me start by heaping the obligatory praise on vocalist Klaus Meine. This guy has what's arguably the most distinct voice in the music world. Whether singing or speaking, when Klaus makes himself known, there's absolutely no doubt as to who you're hearing the voice of. Even in his 70s, he's still an amazing singer. Guys 20 years younger have destroyed their voices with their vices, but Mr. Meine still sounds incredible. This is especially surprising considering he lost his voice when recording the BLACKOUT album in the early 80s and needed surgery to get it back. No one brings the vocal thunder like this guy. One of my favorite rock/metal vocalists of all time. We're damn lucky to still have him on the live stage, and even luckier to still have him giving the best performances imaginable.

This was the band's first concert since the pandemic, meaning they hadn't played in over two years on a live stage. But right from the first moments of their set starting, you wouldn't know that at all. The chemistry between the guys in this incarnation of the band has never been stronger. From more emotional moments with the band voicing their support for Ukrainian people to a hilarious delay in a song starting that resorted in some verbal humor from Klaus, you can tell these guys love what they do. It makes all the difference when musicians like one another and have this chemistry, and it was well reflected in the power of this performance.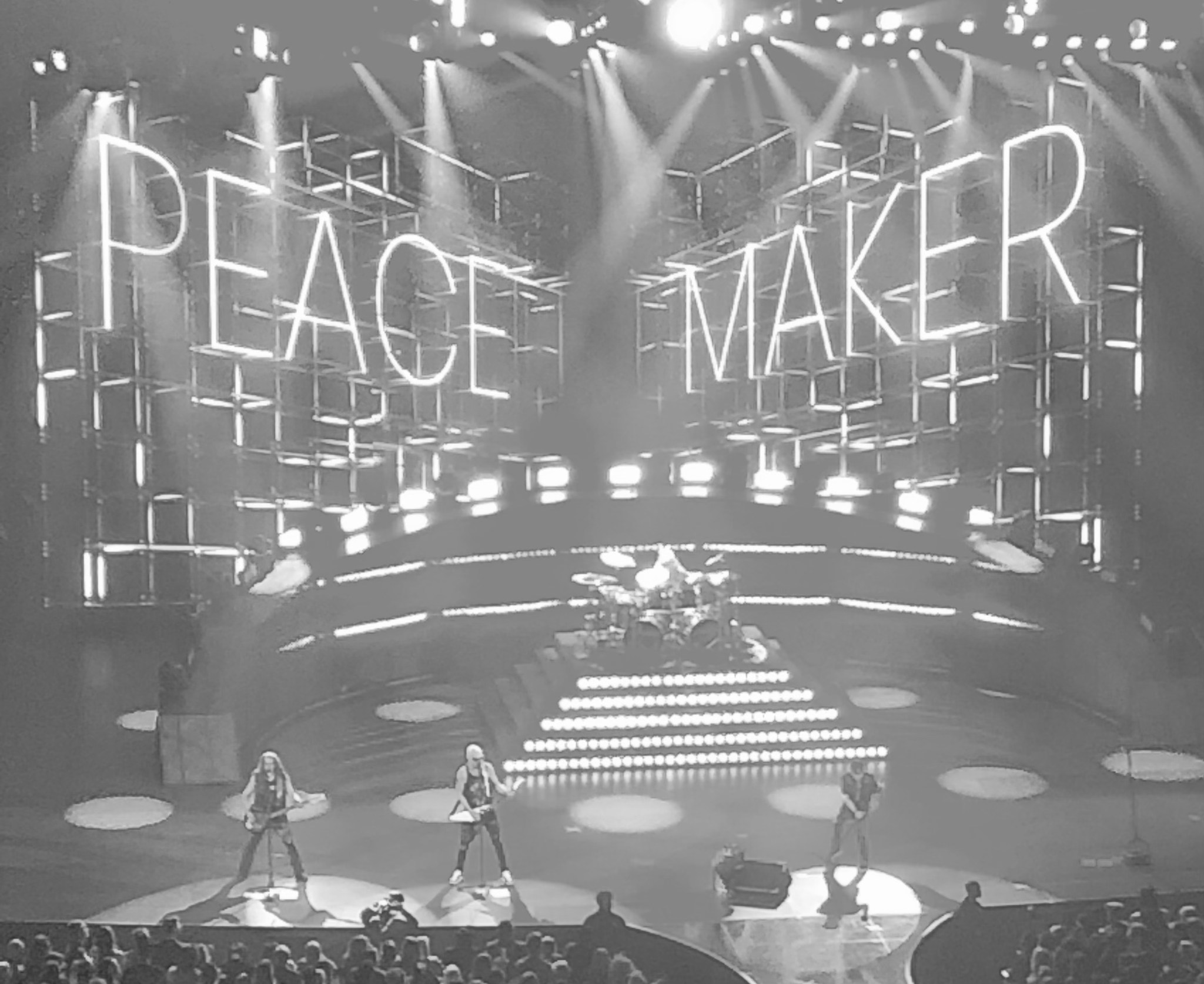 Even the band's set was practically a band member with its stunning and relevant visuals, not to mention the lighting array and how it was utilized. These guys could play on a plain stage with no frills whatsoever and still put on the greatest concert of all time, but this further enhanced the atmosphere and the songs.
As the band just released the ROCK BELIEVER album, some cuts from it made it into the setlist, including "Gas in the Tank" which was used as the show opener, as well as tracks like the title cut and "Peacemaker." Obligatory hits were aplenty, including "The Zoo," "Wind of Change," (which had some modified lyrics in tribute to people in the Ukraine), "Big City Nights," "Blackout," and the closing encore with a one-two punch of the band's biggest hits, "No One Like You," and "Rock You Like a Hurricane." We even got a fair amount of deep cuts and minor hits, including "Make It Real," "Bad Boys Running Wild," and "Tease Me Please Me." The highlight of the entire set for me was the legendary instrumental "Coast to Coast," with even Klaus taking up a guitar and joining the band at the front of the stage for a few choice moments.

When your catalogue covers literally half a century, it's hard to make a setlist. For the most part, I think this was a great and well-balanced list that had a generous assortment of classics, new songs, and deeper cuts, though there were a few surprising omissions. Not hearing the title cut from LOVEDRIVE, "Holiday," or "Still Loving You" was a bit disappointing, and I really would've liked to hear at least one cut from the Uli Jon Roth era; the past Vegas residency actually had a Roth-era medley that was easily my favorite part of that gig. Still, I stand by my opinion that this has been one of the greatest nights of rock and roll in 2022 so far; I truly hope to see at least one more of the shows before the residency ends.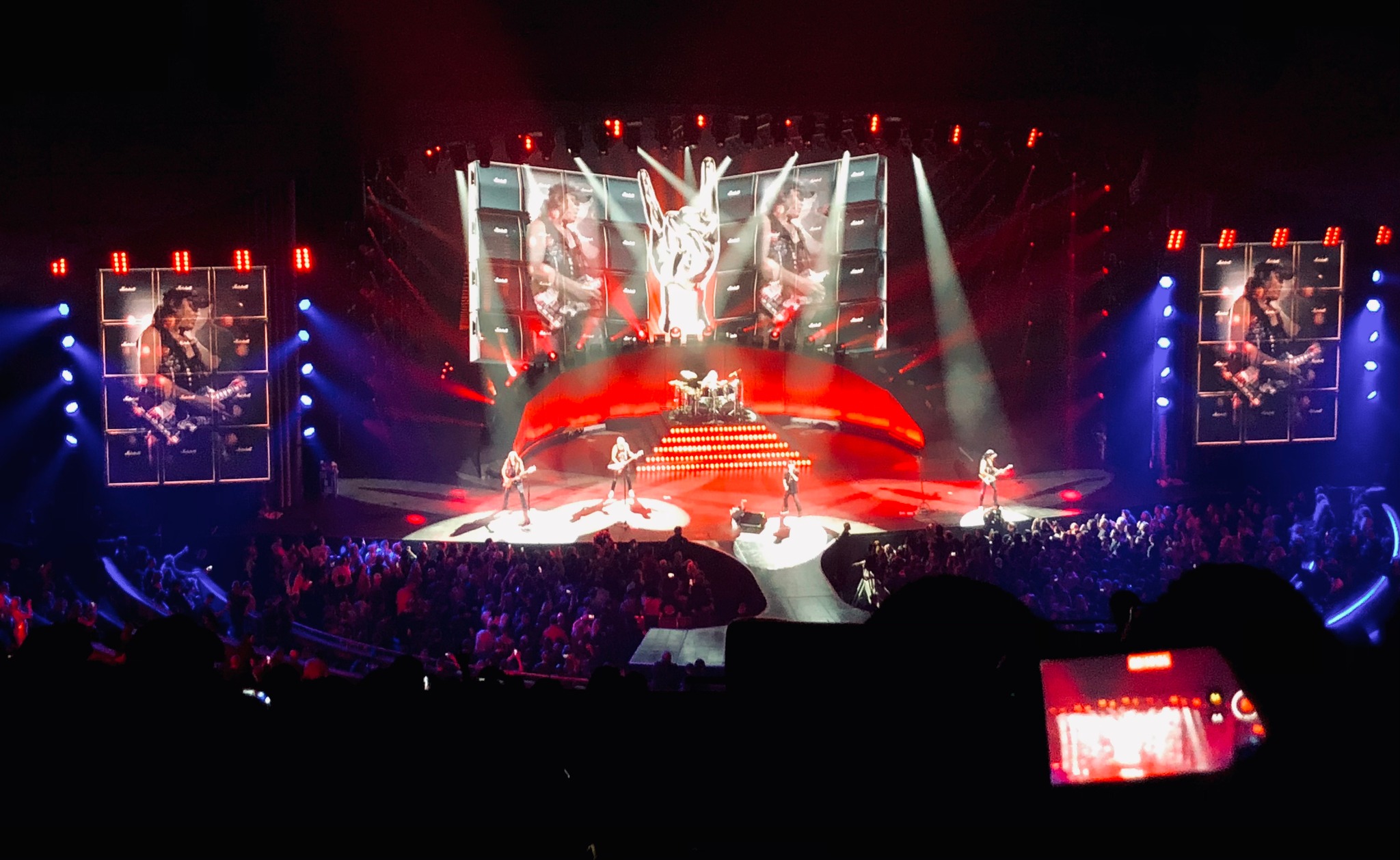 Scorpions setlist:
-Gas in the Tank
-Make It Real
-The Zoo
-Coast to Coast
-Seventh Sun
-Peacemaker
-Bad Boys Running Wild
-Delicate Dance
-When You Know (Where You Come From)
-Send Me an Angel
-Wind Of Change
-Tease Me Please Me
-Rock Believer
-Big City Nights
-Drum Solo
-Blackout
-No One Like You
-Rock You Like a Hurricane


What an epic day this was, combining an intimate Q&A session with, of course, the concert itself. What was to be experienced here spoke for itself. Scorpions aren't going anywhere despite proclaiming a farewell way back in 2010, but if they can keep making new albums this good while still tearing up the live stage, I'm not complaining. Skid Row are on fire with a new lead vocalist, and I can't wait to pick up their album when it arrives this October. If you live in or will be visiting Vegas during these residency dates, you owe it to yourself to go. You won't be disappointed!

ADDITIONAL SCORPIONS PHOTOS: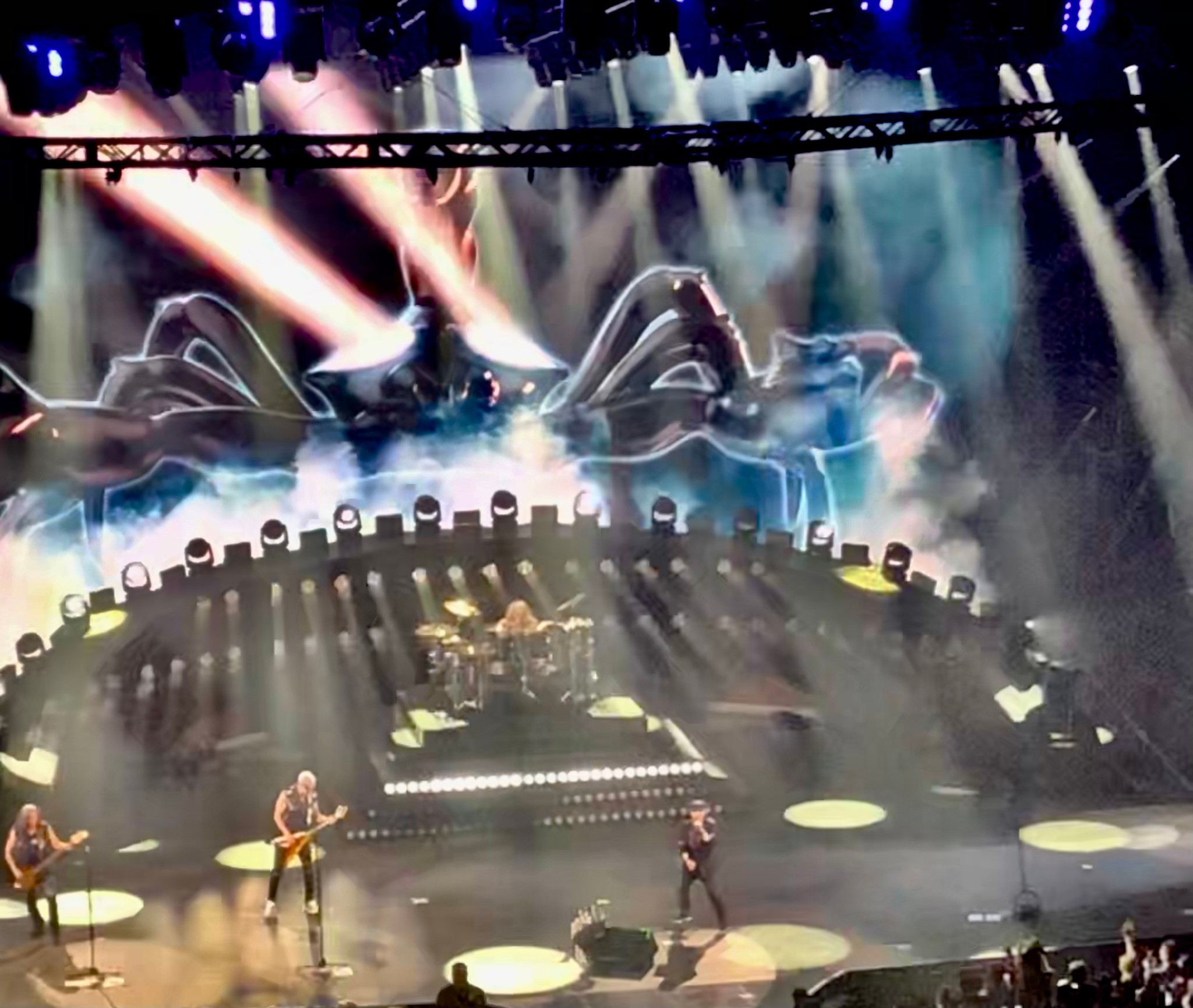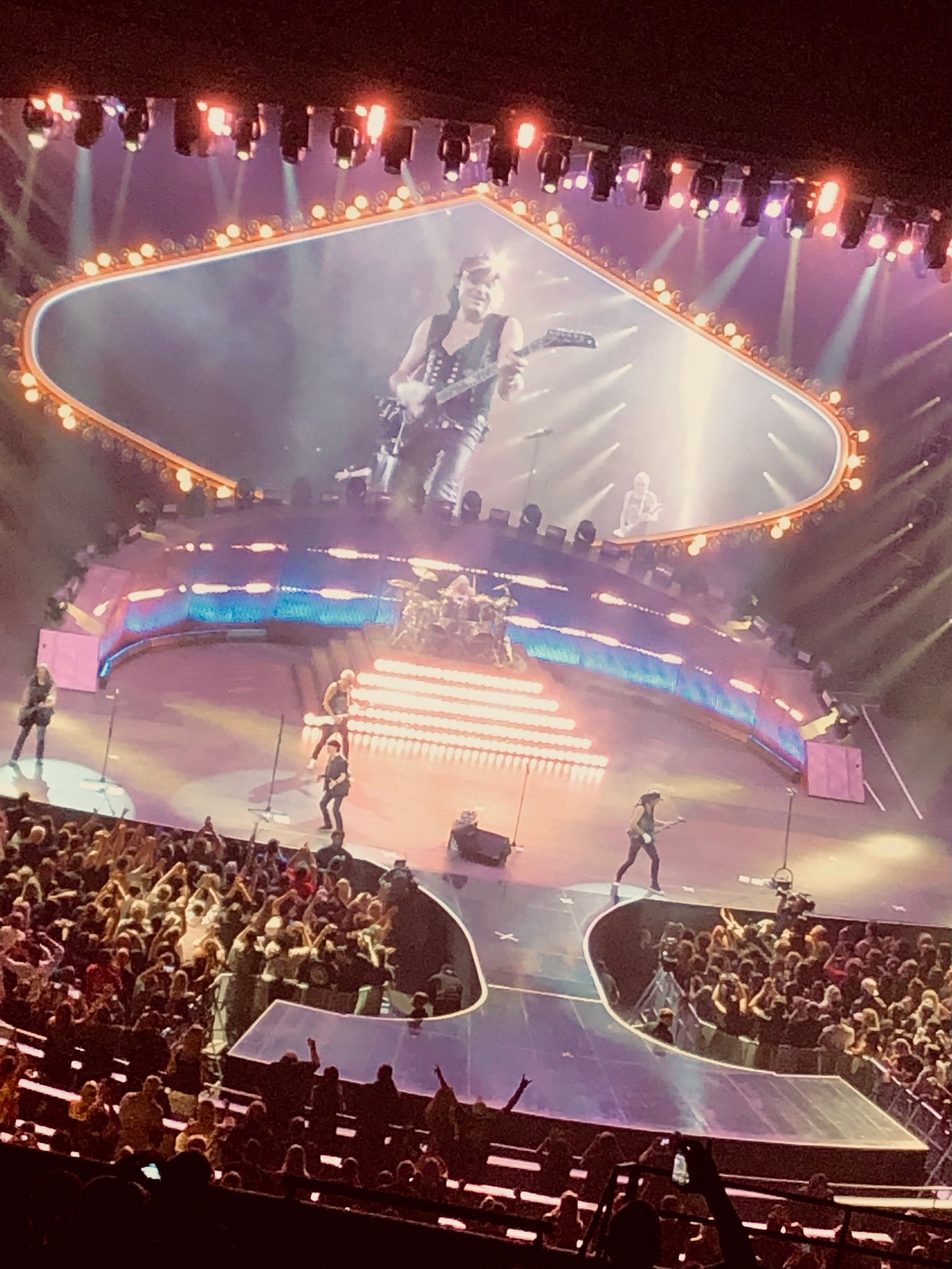 All photos by the author.