On June 10 the TWO DECADES OF DESTRUCTION tour will be kicking off in Las Vegas at the House of Blues inside the Mandalay Bay Hotel & Casino. This tour features metalcore heavyweights AS I LAY DYING & deathcore veterans WHITECHAPEL; plus SHADOW OF INTENT, BRAND OF SACRIFICE for the second half of the tour; (June 24 – July 17) and some of our very own Las Vegas locals, OV SULFUR for the first half (June 10 – June 23).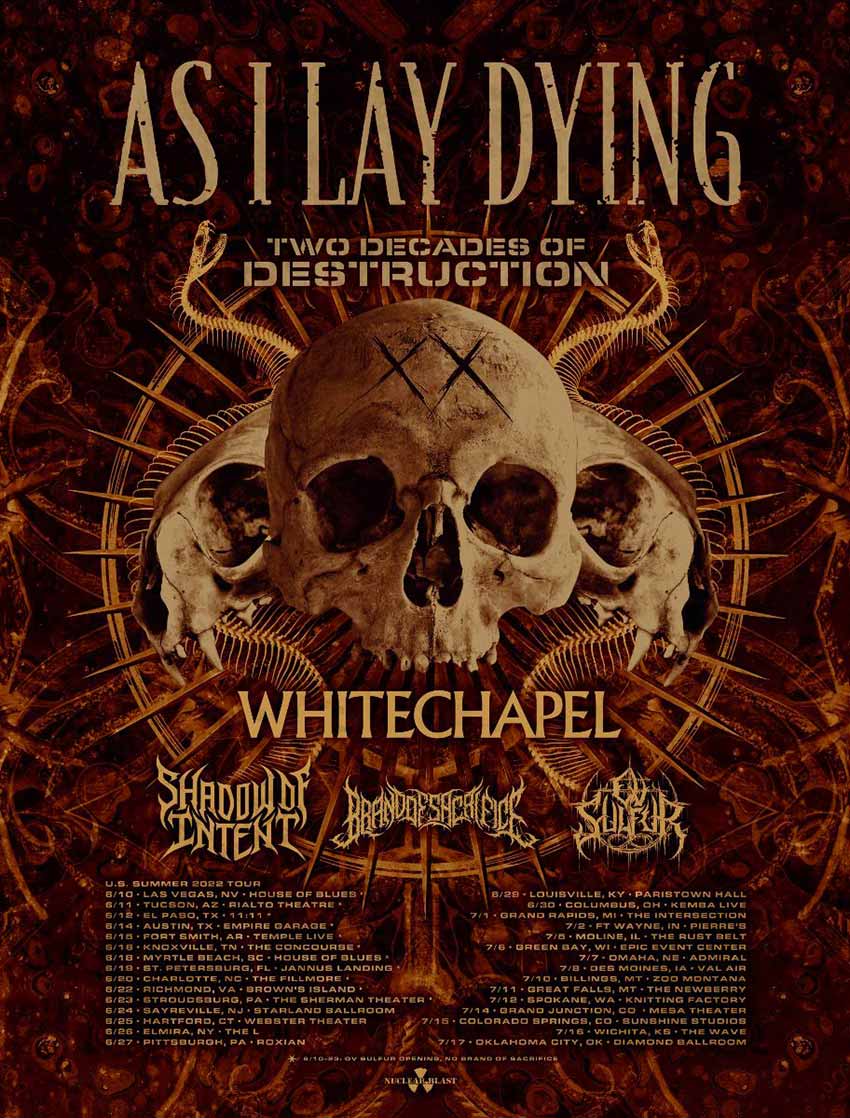 I have written about As I Lay Dying before. And I will stand by the fact that they are always really solid live. Though I'm interested in seeing the possible different dynamic with guitarist Nick Hipa out of the picture. I couldn't find anything about another guitarist replacing him either for the tour or permanently. With that it looks as though Phil Sgrosso might be holding all the weight there with all the guitar parts. (If you'd like to read my history run down + review of the band's last show at HOBLV; click HERE and HERE.)
*UPDATE* on 5/16 announcements from the As I Lay Dying camp came through and announced Josh Gilbert's departure from the band. Ryan Neff from Miss May I will be filling in on bass and back up vocals. And filling in for the secondary guitars will be one of my personal favorites, Ken Susi from UNEARTH. These two talented fill ins are very much a treat and we are excited to see them hit the House of Blues stage this tour!
Ov Sulfur
Because I have such a deep rooted love for my Vegas bands, I really wanted to touch on Ov Sulfur here. These guys splashed onto the scene, and I honestly did not see it coming! As I mentioned in my review of their debut show at FCC last year; I saw vocalist Ricky Hoover dominate the small venue that was The Farm (if you know, then you know.) with his former band, SUFFOKATE. But Ov Sulfur is definitely a different beast, and that can be said for Ricky as well. Long gone is the skinny scene look, with the big stretched earlobes. Now it's the beefed up muscles, and more hair than I remember back in 2009. I'm not complaining, though. Ricky looks good and healthy and I'm always happy for things like that.
I'm also just going to drop in here and mention that I met guitarist Chase Wilson way back when I worked at Hot Topic (so sometime between 2007-2011, I couldn't tell you exactly when, ha.), and I am also really proud of his growth as a musician, and as a human in general. To be literally killing it on this level is absolutely amazing to see and I am insanely proud of that.
At any rate, this blackened deathcore outfit is NOT one to miss, so when this date comes up, you better get down on that floor early! I don't think they'll NOT play their single "OBLIVION" that features Tim Lambesis, especially on this tour. It's a great track on record, and it's even better live. So get out there early and support this Vegas band!
Shadow of Intent
I am totally guilty of not checking out Shadow of Intent earlier on. After hearing their latest single, "Blood in the Sands of Time" featuring Chuck Billy from Testament, I am kind of disappointed in myself! Shadow of Intent formed in 2013 in Connecticut. (I had my first child in fall 2012 and admittedly did not check out a lot of new music from 2012-2015, and for that I apologize, I was just so busy!) Regardless, in today's scene terms, these guys SLAP. They have a slight element of thrash, which I really love, but also are clearly on the metalcore/deathcore spectrum. Which I also love. I don't find too many bands that blend those genres so seemlessly. I say that as I am currently sitting here just naturally headbanging in my living room as I write this.
Obviously intrigued, I absolutely went over to our friend Annie's site to see if she had any coverage of these guys and LO AND BEHOLD! Her review of their set from their 2019 run with Despised Icon makes me excited to see these guys live. I was supposed to go to that show and I'm disappointed that I was unable to. At any rate, I think these guys have a number of elements that just about any fan of deathcore/melodic death metal/metalcore can get into. Absolutely one to check out, especially if you like a sound that's similar to what The Black Dahlia Murder does, and other bands of the like.
SHADOW OF INTENT OFFICIAL WEBSITE
WHITECHAPEL
Having been a long time fan of deathcore outfit, WHITECHAPEL, I had seen them a number of times back when the scene was just blowing up, as well as another time at the Hard Rock Cafe where my friends in Asylum of Ashes opened for them. I also could not resist waiting around to hear their set from the last Las Rageous! (Big thanks to Chris Babbitt from Taking Dawn for that- I worked for him that day.) After all these years I can't ever find much wrong with these guys, but that's literally just my personal opinion. (I know my husband feels differently, but whatever man!)
I'm definitely excited to see these guys hit the stage again. They always deliver energy filled sets and provoke a crazy pit experience. Their place on the Two Decades of Destruction tour is well deserved and I can't wait to see what they bring to the stage this time around.
Check out their latest album "Kin" which was released last year!
TWO DECADES OF DESTRUCTION – What to expect?
I'd say that we're in for a really great night of metal with the Two Decades of Destruction Tour. The bands are all fitting when it comes to the main lineup; and the secondary lineups, Ov Sulfur for the first half and Brand of Sacrifice for the second half will definitely give fans their much needed fix! As mentioned above, regardless how you feel about As I Lay Dying, the guys put on a really great show, and having seen them literally a dozen times since they came up onto my radar, I don't expect anything less than greatness from their live show.
Also- I didn't mention Brand of Sacrifice here in this piece, but definitely head on over to their site and socials and check out their music below! They also fit very well on this bill and I am excited for those dates on the second half of the tour that get to experience them!
Tickets for this tour can be found on the band's websites, and the Vegas date tickets can be found HERE.

SEE YOU IN THE PIT!