July 6, 2022: A very warm Wednesday evening brought neoclassical melodic death/thrashers EXMORTUS to The Usual Place in Downtown Las Vegas. Exmortus (Whittier, CA) is currently in the middle of their West Coast tour with support from Portland, OR based SILVER TALON; and Oakland, CA based HATRIOT. On this date we saw support from local hard rock heroes TAKING DAWN, and melodic death metal badasses, MYNAS.
This was actually a very special show, as it was Exmortus bassist, Cody Phillip's birthday! Birthday wishes were sang, and the crowd seemed infinitely pleased the entire night.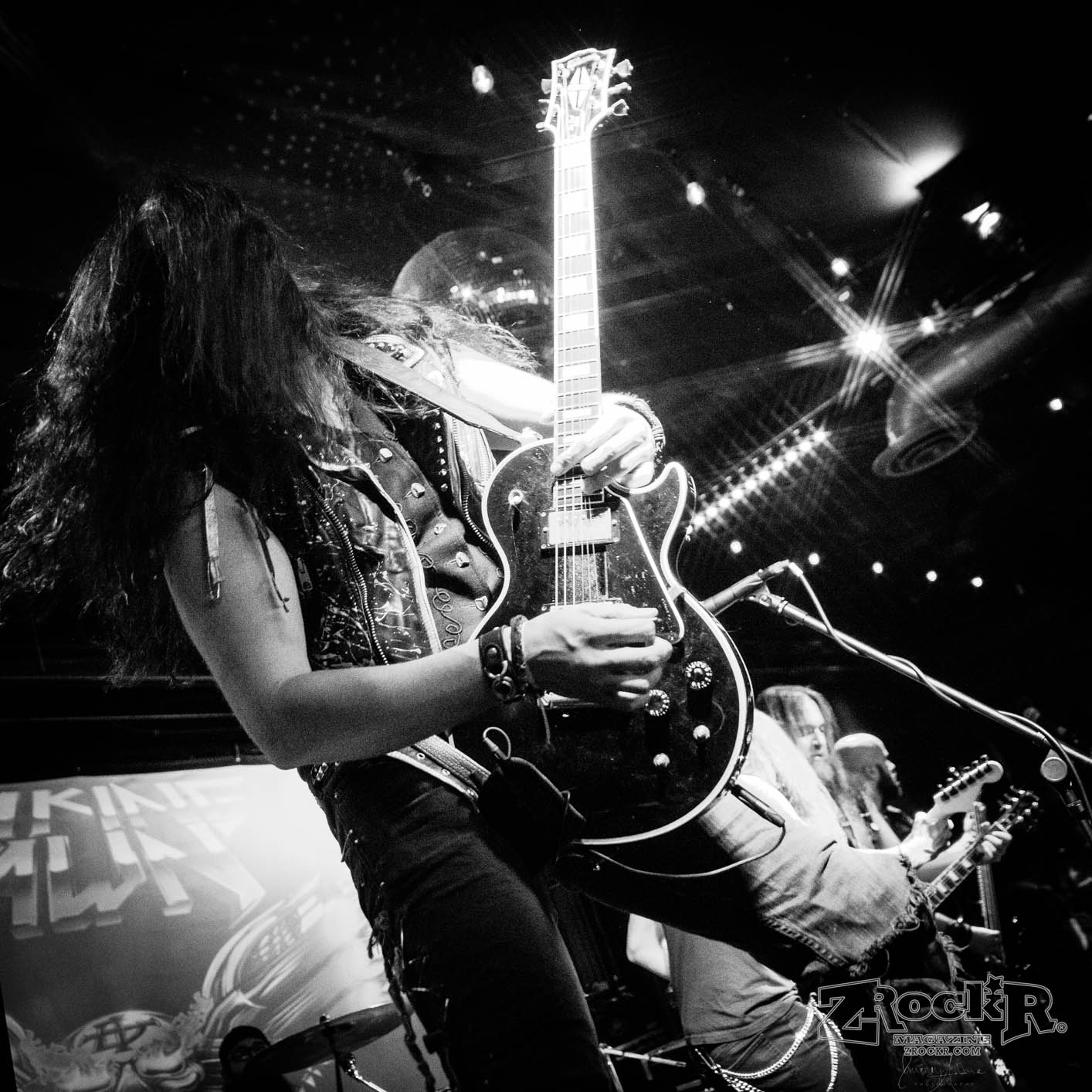 TAKING DAWN
I'll try not to be overly biased here. By this point it's known throughout the scene how much I love these guys and how much work I do for them. This night was pretty special though. Despite not having their regular members on the stage, they still managed to completely crush their set and leave fans in awe.
Filling in on bass while Andrew Cushing is out on tour with Adelitas Way we got to see our old friend, Ernie Rodrigues, ex-Sicosis; and Mynas' Mauricio Silva. He pulled double duty this night as well! As I mentioned, this set was special.
Taking Dawn is notorious at this point for closing out their set with their cover of Fleetwood Mac's "The Chain"; HOWEVER! Tonight they dug up something a bit more metal. We saw the guys perform "V", which by the way is my husband's favorite song by them. I'm bummed he had to miss it, but I did video record it for him so there's that! It was definitely one of those moments you had to be there for. Who knows if they'll pull that out of the vault again in the future!

Check out Taking Dawn's latest music video, "FREE" below!
MYNAS
Mynas is another local metal band that I am very partial to so it's hard to not be biased with them as well. There's no question that these guys just completely dominate, though. I've seen them on a number of different stages through the years and every time there's just this great chemistry and energy on the stage.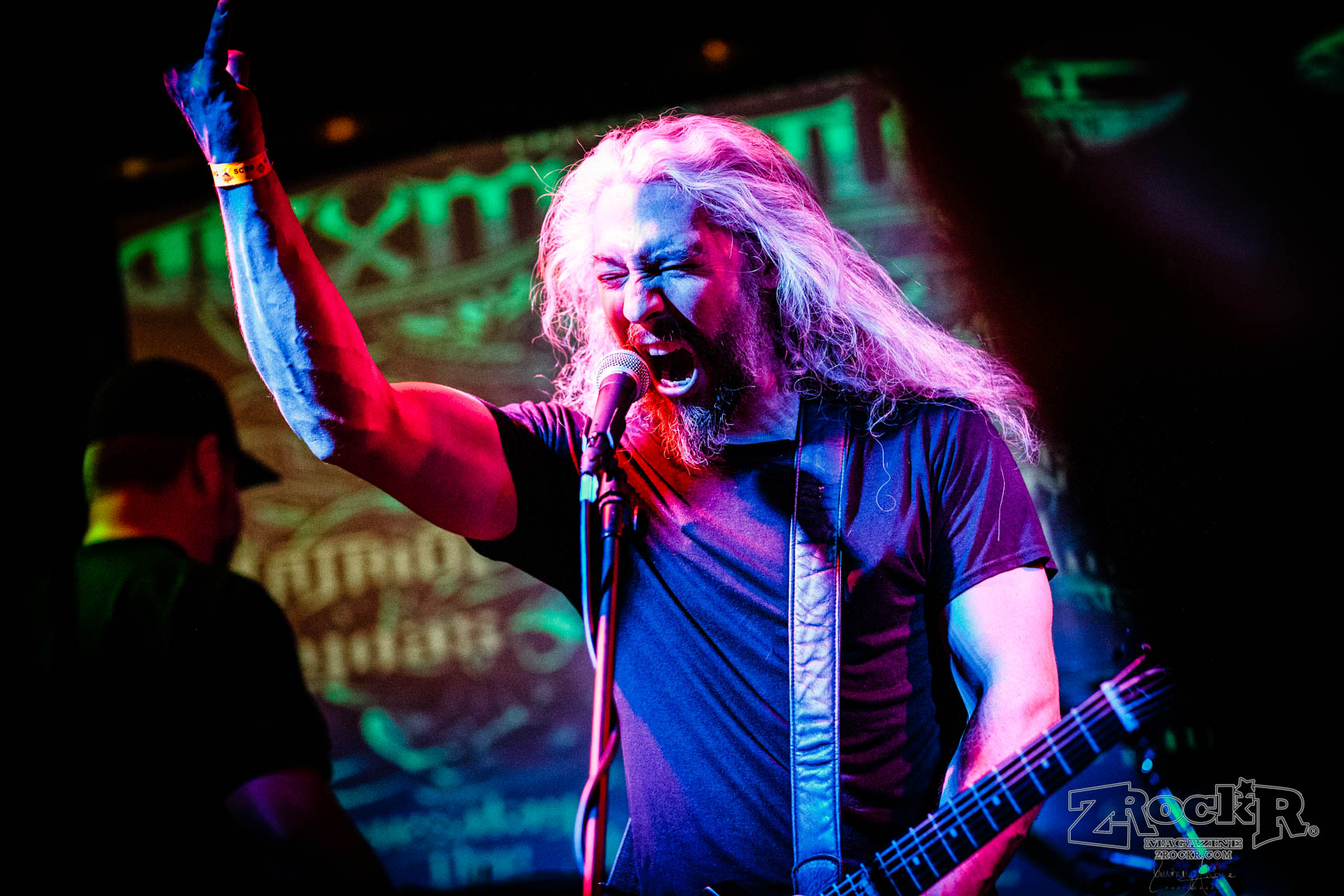 They're also REALLY fun to photograph, so there's that too.
About halfway through Mynas' set, I saw Taking Dawn's Chris Babbitt completely rocking out in front of guitarist Jeff Pritz. He always does this, and I always love it. TAKE NOTE, FRIENDS! Support your fuckin' friends.
As mentioned above, drummer Mauricio pulled double duty this night drumming for both Mynas AND Taking Dawn. Quite amazing! He didn't look too tired after both sets, but I know that's gotta be very exhausting. He did it all very well though!
To read up more on my coverage of Mynas, check out the review of their latest self made album, VIOLENCE as well as a full gallery piece of their last co-headlining show with Claustrofobia a couple months ago!
Check out Mynas' latest music video, "RISE" below!
Silver Talon & Hatriot were both new names to me prior to this evening. But it's definitely not the first time that Vegas Rock Revolution has brought me something new and interesting to get into. Both bands slayed thier sets in different ways, and a full floor did not seem disappointed in the slightest.
Silver Talon brings a bit more of a melodic classic metal sound to the forefront. One that easily anyone into hard rock or general metal can get into with ease. Channeling elements from power metal, these guys are definitely for anyone who is into bands like Judas Priest or Nevermore. All members on the stage brought the high energy that absolutely goes hand in hand with power metal in general. Their catchy melodies and mythical lyrical content makes it easy to nod your head and drift off to a more magical state of mind.
Hatriot on the other hand definitely has a bit of a heavier approach to their overall sound. I found myself really loving the thrashy elements more than anything. It really reminded me of some kind of blend between Pantera mixed with the aggression of Hatebreed.
The thrash elements really make a lot of sense, seeing as Exodus front man Steve Souza is listed as a former member. But his two sons, Cody and Nicholas are perfectly continuing on a new level of thrash and a fresh sound that sometimes lacks when it comes to thrash metal. (That's not a stab at thrash at all, I love thrash metal, however I recognize that some sounds can get repetitive.)
At any rate, these guys will perfectly fit in to collections alongside Exodus, Testament, Death Angel, and Slayer. Or really on any thrash metal playlist that you've got!
EXMORTUS
Exmortus has been very active on their socials and promotion of what's to come in their realm. So naturally, since I've seen them a couple other times on Vegas Rock Revolution bills, I was excited to see that they were hitting Vegas on this tour. The last time I saw them was at the (now gone) Bunkhouse right up the street, and the last time we covered them was at The Dive bar with Hatchet and Immortal Guardian, along with another time at House of Blues opening for Yngwie Malmsteen.
You won't find any real complaints from me in regards to their set. All four Exmortus guys absolutely kill it every single time and if you missed it, well. Shame on you.
Drummer Adrian Aguilar is one of my favorite drummers, honestly. His energy is almost unmatched by a lot of bands of similar size. Jadran Gonzalez and Chase Becker (who is also in WARBRINGER, which…. fuck yeah. No other commentary needed. He's bitchin'.) vibe off eachother so perfectly that there was a point in the set where they played eachother's guitars in this contorted pretzel like position. I don't recall seeing them do that in the past so it was definitel a highlight, and just overall really awesome. Philip Cody can be seen consistently swinging his long hair around in unison with Gonzalez and Becker (and Aguilar, his hair doesn't stop flipping around either!), and the energy never seemed to fizzle out the entirety of their performance.
The evening ended for me with an awesome event flier, as well as signatures from all of Exmortus. I left a very, very happy metalhead!
The guys have been performing a new single due to be out in August called "Oathbreaker", you can pre-save that single HERE!
All live photos by Courtney Ware for ZrockR Magazine 2022. ALL RIGHTS RESERVED.