October 10, 2022 – If you've never seen Gwar before, I feel bad for you. Seriously. Are they for everyone? Absolutely not. Are they for the easily offended? Nope. But it's all in good fun. So if you dig monsters, bloody messes, and ultra high energy with some unexpected surprises; they're a show that's going to leave a definite imprint on your memory!
Nekrogoblikon
Kicking off the night for us were Nekrogoblikon. What a name, right? The band is a 5 piece with a little extra GOBLIN that runs around the stage with them. (So, 6 dudes on the stage.) The John Goblikon acts as a cheerleader pretty much, and is the band's ultimate hype man. Provoking interaction from the crowd and creating a really unique experience. I had caught these guys from afar at Warped Tour a few years back, but did not grasp the scope fully of their live experience until this night. They're definitely a band worth checking out if you see their name on anything. And I mean, you could NOT miss their name anyway.
Crobot
Next up on this bill is Crobot. While I had never heard these guys musically, (and I missed them when my friends opened up for them at Vamp'd earlier this year), I have to say I am disappointed in myself for not giving them a whirl sooner. Their set starts off with a big egg looking fixture in the middle of the stage. After the intro is done, their vocalist pops out of it very excitingly! Off to the side of the stage another fixture designed as a monster sits and breathes out fog throughout the set. This created a very visually interesting and fun environment to witness, especially from my perspective in the photo pit. There's one word that comes to mind when I think of this hard rock band now that I've seen them perform: MAGICAL.
GWAR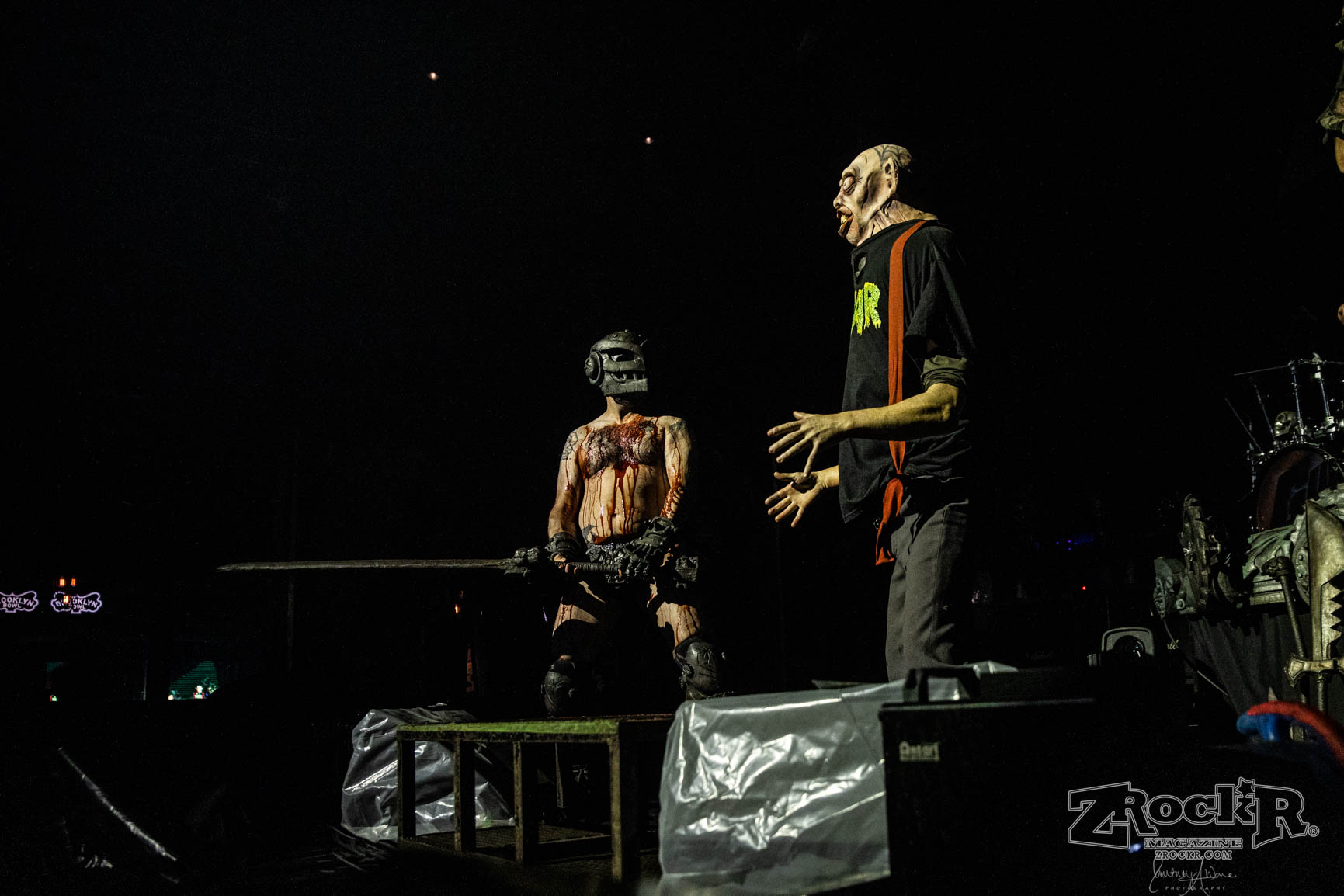 I'm going to preface this with saying that I've only seen Gwar one other time at a much smaller venue in Downtown Las Vegas. This time, just like the last time, the venue's most important areas are covered for what's to come. By this point in the night, the venue is decently filled. (It was a Monday – which is hard to pull off sometimes in this city.) Fans in the front row could be seen eagerly waiting, white t-shirts and all.
Before the band starts, a video documentation of comedic history played on the display screens on the stage while the rest of the venue is completely dark. After the video plays, the first victim walks out on stage to start getting the crowd amp'd up for the show. Not long after, we saw our first sprays of fake blood shot all over the front row (and beyond). And it's all downhill from here. Nowhere in the venue is safe after that first blood is spilled into the crowd!
Front Row Crowd Photos:
Other highlights from this set include Gwar cutting of the hands of Putin, delivering a baby while disembowling its' mother, and killing off Biden and Trump after Trump explains that there are top secret documents in his ass. If you're familiar with these guys and their live shows…. you know that no topic is safe. They regularly are vulgar and express themselves with what some people would see as crude humor. BUT like I said earlier, this is all part of the show. And it's all in good fun.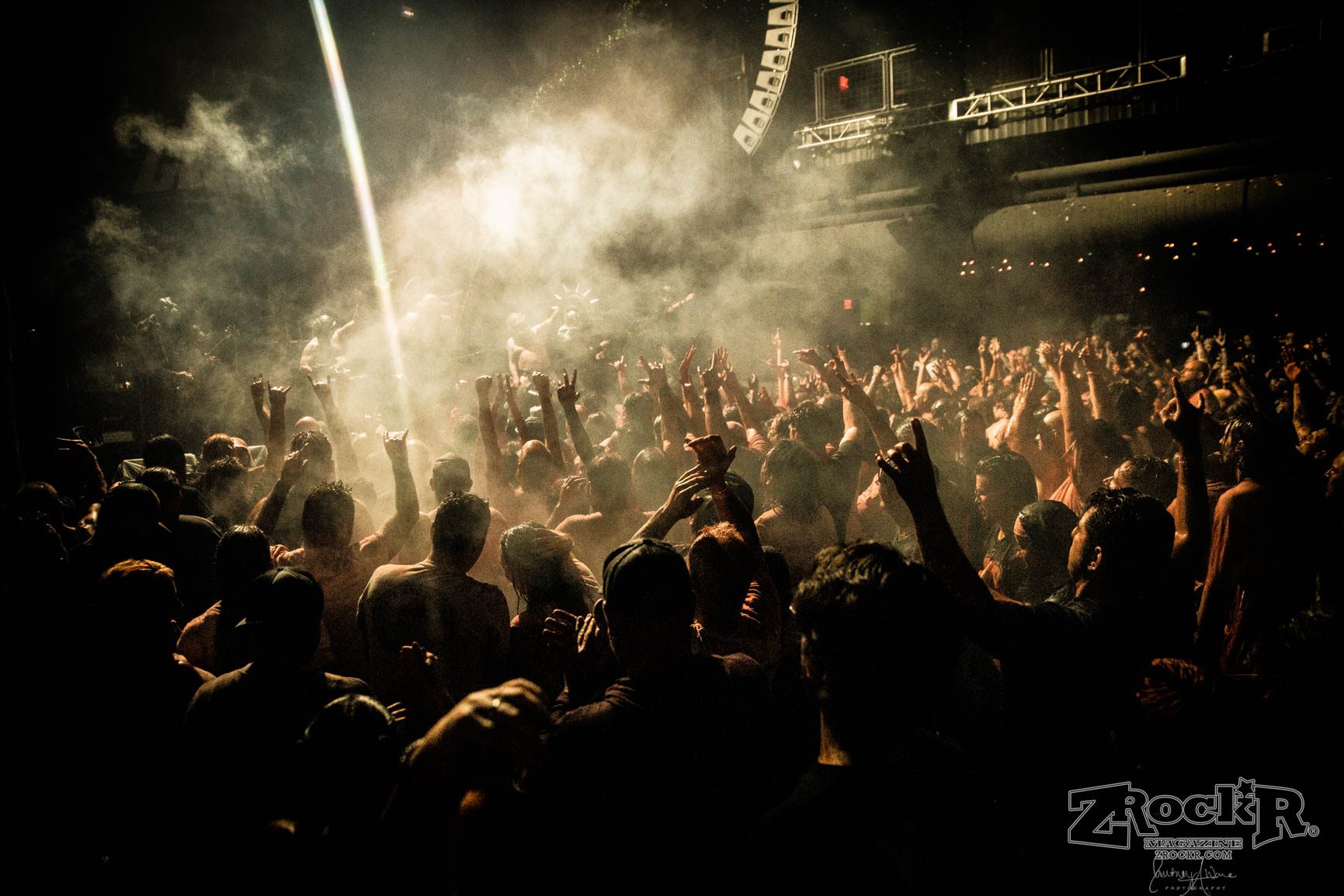 The entire set stayed high energy and happy fans could be seen throughout the venue all evening. I couldn't help but chuckle as I walked out of the Brooklyn Bowl Las Vegas that evening, my hands and forehead red from the fake blood, along with all the other fans; and the Linq Promenade tourists staring in confusion as everyone came out of those doors.
I have zero negative things to say about Gwar and their live shows or music. They are a necessity in the metal genre, and they are a MUST SEE for everyone, in my opinion! So go see them.
Until next time!
All live photos by Courtney Ware for ZrockR Magazine 2022. ALL RIGHTS RESERVED.