It is not a blasphemous rumor (pun intended) that when it was announced that Depeche Mode would be coming to Las Vegas, I waited like a hawk for tickets to go on sale so I could snag a pair for myself.
With the passing of founding member and keyboardist Andy Fletcher last May, I figured, "Well, that is that, and I can add DM to the list of bands I will never get the chance to see." Luckily, I was proven wrong as vocalist Dave Gahan and the band's jack of all trades, Martin Gore announced the first leg of their 2023 tour. In the last week, a second leg has been announced, with Depeche Mode returning in December, but we will see how broke I want to be this year before I get those tickets. I am lucky enough to be checking them out on the first run.
Anyway… Depeche Mode will be coming to the T-Mobile Arena again on March 30th. We caught them on their 2017 tour, which you can check out the review for here. In preparation for the show, I figured I'd toss together what I am looking forward to (hopefully) hearing.
The band has been around since 1980, so I know not everything is going to be doable, but a gal can dream.
10. policy of truth
When I was about twenty, I got dragged along with some friends to see the band Paramore. Not one of my favorites, and even less so was their opening band, whose name escapes me. They ended up performing a cover of "Policy of Truth", a track I absolutely love from 1990's Violator. It was absolutely God awful. I remember looking around at the kids in the crowd enjoying it, and screamed out as loudly as I could how if they liked "this shit" they should educate themselves on the actual song and band who originally did it. For that reason alone, I need to see the song performed properly at least once in my life. As a result, I am hopeful it will be in their March set.
9. condemnation
1993's Songs of Faith and Devotion was an album that not many kids can say helped shape their music taste as a toddler. When this came out, it was played religiously in my house, and I remember this track fondly. It is one where I can close my eyes, and I could walk you through the entire apartment we had when I was young. "Condemnation" sparks core memories.
8. enjoy the silence
I feel I would be crucified if this was not on the list. Also off of Violator, I think when someone mentions Depeche Mode, even to someone who is not a fan or knows nothing of the band, this song immediately comes to mind. It has become a staple of the band's history.
Almost as recognizable as the song itself is the video. So much so that when my husband and I first began dating, we were playing charades. He grabbed a chair and would walk to one end of the room and sit down, looking forlorn. He repeated this a few times before I realized he was acting out the video, which just goes to show you that not only did I end up marrying someone with good music taste and sense of humor, but how you cannot have a DM show without this track.
7. just can't get enough
For me, I don't think I can leave a Depeche Mode show fully satisfied without hearing "Just Can't Get Enough" off of their 1981 debut album Speak & Spell. If anyone tells you goths can't be happy and that all DM music is depressing, turn this on for them. Without this album, and the success of this track, I don't think electronic, industrial, or goth music would have evolved into what we know and love today.
6. behind the wheel
Also shaping the future of electronic and industrial music, in my opinion, comes 1987's Music for the Masses. Foreshadowing, maybe? While everyone gushes over the other single from the album, "Strangelove", which is a great tune, don't get me wrong, I'm all about "Behind the Wheel".
5. It's no Good
Jump forward a decade to 1997's Ultra and you get the one single off of the album. You know that meme that was created of Lois from Family Guy? No? This one: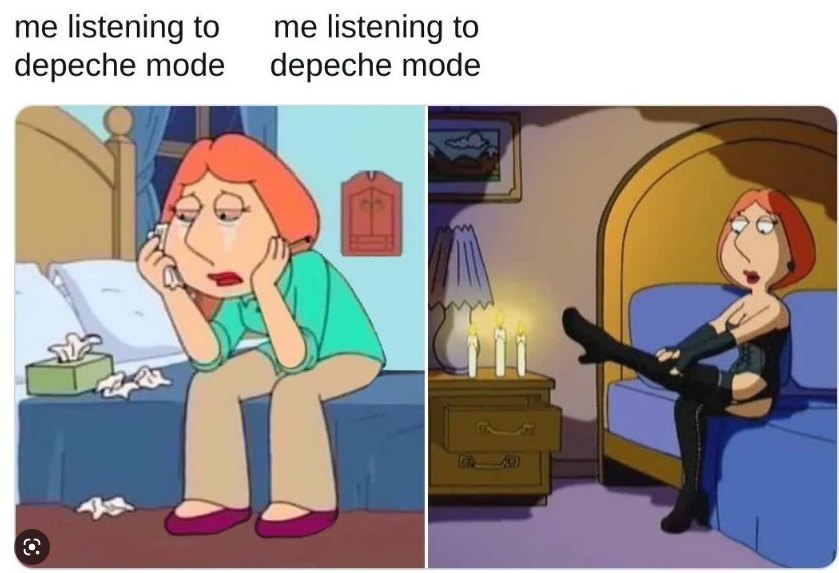 This song was probably the inspiration for it.
4. Clean
I'm not entirely sure why this song does it for me, but it does. I feel like it is highly unlikely for it to be played, but that's okay. That's probably why I'd die happy if they actually did it.
It's a deep dive into Gahan's mind after his battle with addiction. Much like many of the other DM songs, it's raw and real.
3. Master and Servant
You know how a song can take you back in time? "Master and Servant" off of 1984's Some Great Reward does that for me. That's what happens when you're raised on DM.
2. One Caress
You just can't have a top 10 list for Depeche Mode without having a Gore-centric song listed on it. This is a must-hear/see for me on March 30th.
This surprisingly non-single off of 1993's Songs of Faith and Devotion, which I just realized turns 30 a week before the show, can hurt me over and over and over again. It slides through your ears right into your heart and soul, and I'm ready for it.
1. Halo
Last, but certainly not least, is not only (in my opinion) the best song off of Violator, but the best Depeche Mode song ever. I remember seeing the video at a very young age. Maybe I was around 6 or 7? So, for the past 25+ years, it's been my ultimate favorite song. It is the go to for me, no matter my mood, especially when I'm driving on a cold night.
When it comes up on my shuffle while I'm working, even as I am listening to it as I type this out, I can't help but dance a bit. It is a perfectly written song lyrically and instrumentally.
It needs to be played at the show. If I get to finally experience Depeche Mode live and don't get to hear this, I will leave heartbroken. That's okay though, because when it comes to Depeche Mode, don't we look forward to getting our hearts broken over and over again?
Upon checking the Depeche Mode site, it looks like there are still some tickets available for the upcoming March 30th show! You can also get tickets for their upcoming December show as well! Check out the band's page here to find out how to get tickets to a show near you!
MEDIA CREDIT: All videos used for promotional purposes only and are copyright of Depeche Mode and their label