THIS MONTH the Chaos and Carnage tour returns to Las Vegas! This year the tour features co-headliners DYING FETUS and SUICIDE SILENCE. Both these bands have played this tour since its inception, and with all the dates selling out, (I saw this on last year's run too) it's definitely anticipated to be one of the best metal events of the year.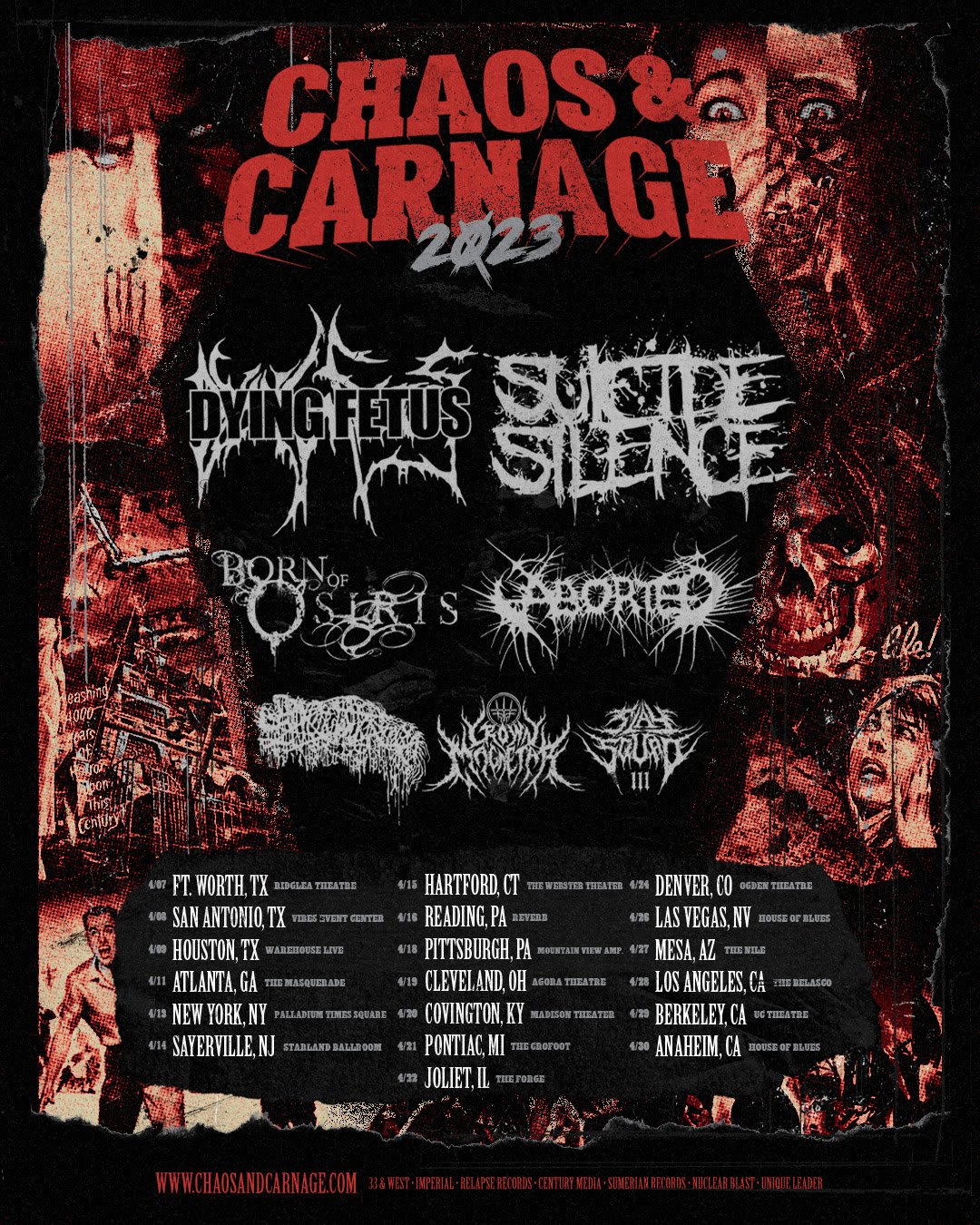 Supporting Lineup:
Also playing this year are Slay Squad, from Rialto, California; these guys bring a very interesting blend of metal and hip hop. They have branded themselves as "Ghetto Metal" which is pretty interesting. Their song, "X" was produced by Morgoth (Michael Montoya), who is relatively well known in the metal scene on his own, but he also performs with symphonic deathcore band, Winds of Plague. These guys definitely bring something fresh to this kind of scene, I definitely recommend checking out their interview on Chris Garza's podcast if you think this is something you can get into!
I saw Crown Magnetar for the first time last year. They played Backstage Bar & Billiards downtown opening for Oceano on an off date right before they went out with Carnifex for their 15 years of 'Dead in my Arms' tour. These guys absolutely blew me away that night. They are of more of a modern wave of deathcore, and they bring something very special to the genre. If they keep up what they're doing, there is no doubt in my mind that they will be a band to remember in the future when reflecting on deathcore.
Official Links | Facebook | Instagram
Sanguisugabogg are a relatively new band to the scene, but because of their name alone they have sparked serious interest and curiosity from fans and critics alike. Their logo is damn near impossible to read, and their music is intense and heavy as fuck. I had heard their name floating around, but more recently they have been a big topic of discussion on Jamey Jasta's podcast and they'll also be playing the revival Milwaukee Metal Fest memorial day weekend this year. I'm very interested in seeing what these guys bring to the stage, and to this tour.
Official Site | Facebook | Instagram
Aborted & Dying Fetus
All the way from Belgium we also get to see Aborted. Aborted was founded by vocalist Sven de Caluwé in 1995, and he is the only consistent member of the band. I'd say that Aborted and headliner Dying Fetus are arguably the heaviest bands on this year's Chaos and Carnage. Both have roots that go back to the 90's and they are both staples within the brutal death metal scene. Both these bands specifically are a treat for those fans who are craving that heavier grindcore/death metal sound!
Fun fact… I saw Dying Fetus on the 2009 Summer Slaughter tour and I almost got trampled in the pit because it was SO rowdy. I had never experienced anything so intense up until that point. I'm in mosh retirement, but definitely stoked to watch this energy from the sidelines!
Aborted : Official Site | Instagram | Facebook
Dying Fetus : Official Site | Instagram | Facebook
Born of Osiris
Born of Osiris is another one of those bands that I don't think I've seen since The Farm days. It was a co-headline tour for them and All Shall Perish. (All Shall Perish is no more. Vocalist Eddie Hermida took over the vocal duties for Suicide Silence after Mitch Lucker passed away, for those who don't know.) Unfortunately I can't remember if I actually saw them at this date, and I swear I've seen them other times, but because I have not kept up with them, I have no real opinion about them. And I actually like it this way. It helps me rediscover things and gives me a fresh perspective. All their singles I've heard are solid, and I'd say they're an appropriate addition to this year's run, but they also bring something maybe a bit more technical to this group of bands, as they offer more than just deathcore chugs and breakdowns.
Official Site | Facebook | Instagram
Suicide Silence
Suicide Silence are one of my favorite bands. I've discussed them pretty extensively in other pieces I've written and if you keep up with me then you know this already. This Chaos and Carnage tour is another album cycle for the guys. "Remember… You Must Die." was released on March 10th and it is a banger of an album. We see Sucide Silence return to some of the more brutal sound of their roots, (ie The Cleansing) while also adapting to the more modern sounds of the genre. It is for sure an album that any long time Suicide Silence can appreciate. I'd say there's also been some pretty serious growth on vocalist Eddie Hermida's end, as well as their newer drummer, Ernie Iniguez.
"Remember… You Must Die" was released on Century Media records and DAMN. You guys, Century Media has been killing it with these releases.
Anyway, I've been seeing Suicide Silence perform since I was a teenager, and I can't say I've ever been disappointed in their shows. I loved them at 19, and I love them now in my 30's. I look forward to seeing this cycle, I expect the pits to get crazy and the venue to be full of that energy that I love so much.
Official Site/Store | Instagram | Facebook
See you in the pit, Vegas!
For more info head on over to the Chaos and Carnage official site, or the House of Blues official site!
Check out some highlights from last years Chaos and Carnage:
Check out the full galleries from 2022 HERE.
Live photos from 2022's Chaos and Carnage by Courtney Ware.