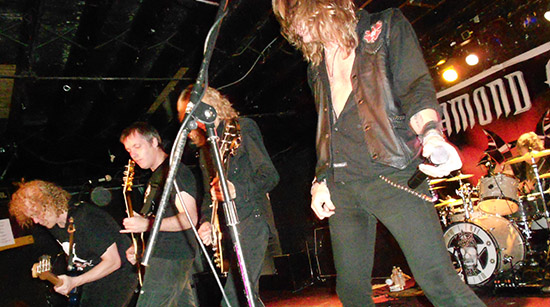 Diamond Head have always been one of my favorite bands ever since I got my grubby hands on the 'Lightning to the Nations' album when I was a teen and they are one of the most influential to many of the heavy bands in the industry that a lot of us listen to. A major influence on the likes of Megadeth and Metallica (who covered quite a few songs of theirs in the earlier years). So when I heard I could fit the NWOBHM icons into my USA holiday schedule I jumped at the chance to see them. And knowing that they were playing alongside another iconic English band who are just as significant in the genre in their own right in Raven I knew I was in for something special.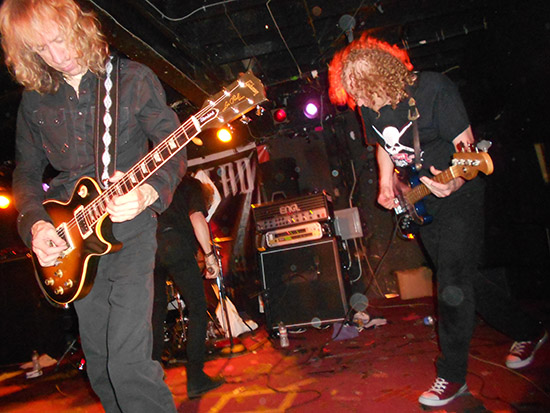 I arrived when opening act Volture were on stage and I must say, they were a pretty solid opener and I enjoyed them quite a bit especially towards the end of their set and I'm looking forward to hearing more of their music.
But when Raven hit the stage I was surprised at the power this band has live for a three piece, especially as an older band they had tonnes of energy and covered all bases with songs off the 'Rock until you Drop' 'Wiped Out' 'Stay Hard' and "Walk Through Fire" albums among others.
Everyone seemed to be right into them and rightfully so. They finished just as strong as they started and left you wanting more. All three members seemed spot on and even the high-pitched vocals which are hard to pull off at times(especially for a lot of older dudes) everything sounded fantastic, everything gelled and the show was a classic.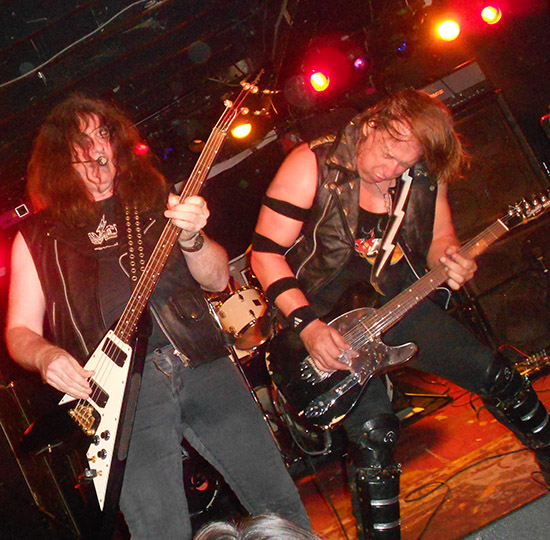 Then it was time for Diamond Head to hit the stage and even though they were without their usual front man for the past decade or so in Nick Tart, the band had the perfect replacement in Chas West (The Jason Bonham Band, Lynch Mob, 3 Legged Dogg & Tribe Of Gypsies) . The original longtime singer of the band in Sean Harris was always my favorite but even though its debatable I think the band still sounds just as good with either of the other vocalists fronting the band.
If anybody knows Diamond Head you know the strong point in the band is mainly the ear piercing killer riffs and solos from guitar main-man Brian Tatler, he along with the others didn't disappoint.
They played all the classics from the likes of 'Its Electric', 'Lightning to the Nations', 'Sucking my Love', 'The Prince', as well as a bunch of other classics then left your voice broken after encoring with their most popular and well known song in 'Am I Evil'.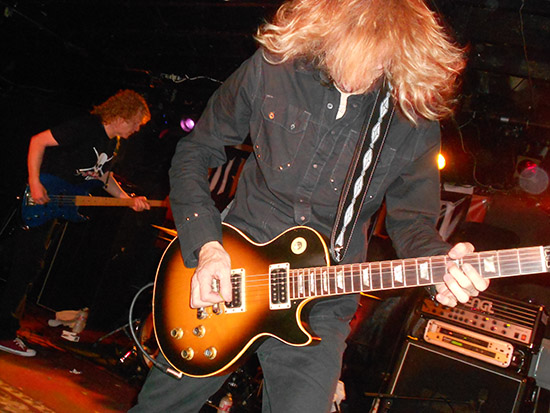 Diamond Head have been one of those bands that should've been bigger but due to mismanagement, bad decisions and various lineup changes their success hasn't reached the potential that they probably deserve.
A lot of people just know them for the songs Metallica covered of theirs and that's unfortunate.
But at the end of the day they are still definitely one of the better heavier bands out there and the music will always stand the test of time. It was a killer gig and I hope to see all the bands on that night again sometime soon! m/ AM I EVIL…. YES I AM m/
~Ben Pithie
PHOTO CREDIT: Ben Pithie   © 2013 Ben Pithie/ ZROCK'R MAGAZINE