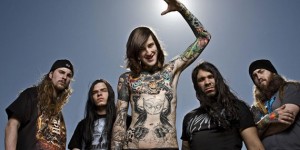 The metal scene will forever be scared by a night in late 2012. The day after Halloween there had been news that the lead singer of Suicide Silence, Mitch Lucker, had been in a fatal motorcycle accident in Huntington Beach, California. He had been taken way too soon at the age of 28 after drinking at a Halloween party and driving his Harley at excessive speeds down an almost residential street. I've heard that he was going around 80 miles per hour, and when I had visited Huntington to see some friends we had driven past the exact spot where the incident occurred. I couldn't believe that anyone would even have the capability of going that fast down that street. That night on November 1st a candle light vigil was held where friends, family and fans all joined to mourn Mitch's death and celebrate his life. Mitch's wife would speak that night and she had stated that she had tried to stop him from leaving, saying "Just seriously, for us, don't leave." She had also stressed that he was a great man but how upset she was that he had also left his 5-year-old daughter Kenadee without a father.
Weeks after the incident would lead to a benefit show named Ending is the Beginning on December 21, 2012. Do you still remember that date? Yeah, the day the world was supposed to end. They would have the remaining band members of Suicide Silence team up with a collective of vocalist in the metal scene including Austin Carlile from Of Mice and Men, the former vocalist of Suffokate Ricky Hoover, Tim Lambesis of As I Lay Dying, plus many more. The show would end up benefiting Kenadee Lucker's future education and would start the Kenadee Lucker Education Fund. I had heard from friends that were at the show that it had been a sad, yet meaningful performance. Each vocalist that was featured took time to say words about how Mitch had impacted their lives and would then perform songs with the band in his honor. To further benefit the Kenadee Lucker Education Fund, there would also be memorial shirts and wristbands sold that would fully go towards the charity and also get the purchasers name put on a tribute wall that is posted on the bands website.
After the benefit show it was not known how the band would continue. Would they break up or would someone take Mitch's place to continue his legacy? This question was answered about a year later with a Facebook post on October 2, 2013. The band had posted a video of the song You Only Live Once with a new vocalist that had the title "Suicide Silence Will Continue…". There was mixed emotions in the comments on the post. Most people were apprehensive of the fact that someone would try to take Mitch's place, while others were ecstatic that the band would be able to move forward with new material.
Message boards were flying with rumors of who the new singer would be, and then two days later we would get another post saying that All Shall Perish's Eddie Hermida will be taking the helm. Again, many fans were still disappointed that Mitch was being replaced, but through the message that the band included in the announcement I would find it hard to continue to think that. They had said that Mitch and Eddie were close and that after Suicide Silence and All Shall Perish toured on the Spreading the Disease Tour in 2006 the two had "remained long-time friends and we felt that if the band were to continue it should be with someone Mitch knew personally and respected both as a friend and an artist." and continued to say "Every time we step on stage it will be in his (Mitch's) honor & for his legacy." I have personally been a fan of both bands for quite some time, and have had the honor to not only meet Mitch at an Extreme Thing festival, but to shed blood for both groups in the pits. One of the most brutal wall of death's that I've been in was at that Extreme Thing for Suicide Silence, and I will never forget it.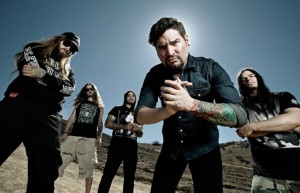 Weeks later we would get another update from the band saying that they were scheduled to be in the studio to record a new record with producer Steve Evetts, who worked with the band on their latest album The Black Crown and even demos with original lineup before Mitch died. They had said that, "This will be the grittiest, most meaningful piece of work we've ever stood behind." then go on to note, "Here we are a year later prepping for the nastiest, heaviest, most disgusting work we've ever done. Expect the unexpected. This is for Mitch." Also on the anniversary of Mitch's death it would be revealed that the Kenadee Lucker Education Fund had risen over $11,000, and also the location of Mitch's grave so fans could pay their respects.
It seems that everything is moving quickly for the newly reformed Suicide Silence. They have even announced that they will be playing the Soundwave Festival in Australia with Alice in Chains, Korn, Whitechapel, The Black Dahlia Murder, and many more. I love that they have stressed that this is all for Mitch's memory. There is no way I would think that just because the remaining members had lost a good friend that they would just give up on what they've created. I cannot wait to hear this new material and once US dates are set I know I will be spilling more blood for this band, and I wouldn't have it any other way. Mitch Lucker will be missed eternally. Not only as a musician, but as a father, a husband, a friend, and an icon to many. "Legends never die, nor do the memories. R.I.P Mitchell Adam Lucker."
Photo Credit: © Suicide Silence- all rights reserved