Deicide. Where do I start with this band? They have been a pioneering and unstoppable force in the death metal scene for almost 30 years. Hailing from Tampa, Florida, they were part of the new wave of the early Florida death metal scene that was rising in the late 1980's. They have also been a subject of heavy controversy considering the nature and lyricism of their music. In all this, Deicide has still pressed on, showing that they have a very strong and wide fan base. Their music is brutal. Way brutal. Composed of heavy, fast alternate picking, courtesy of Guitar players Jack Owen (previously of Cannibal Corpse), and Kevin Quirion, consistent time signature changes, low guttural vocals, and high shrieks, courtesy of front man Glen Benton, all combined with drummer Steve Asheim and his insane use of blast beats and double bass passages.
Before Deicide came onto the stage, I had a chance to talk to and take a picture with the legendary Jack Owen. There is a misconception that given the genre of music that these musicians play, their attitude reflects upon the type of music, often thinking that they are evil, and not actually nice people. That couldn't be further from the truth.
The opening of Deicide and their set list could not have been more fitting. Opening with "Homage for Satan", this is unarguably one of Deicides most famous tracks within the last 10 years, coming from the 2006 album The Stench of Redemption. Without any stop, the band quickly morphs into one of my personal favorite tracks, "Dead by Dawn", hailing from the 1990 album Deicide. I could feel the power in the band, as well as the sense of unity with everyone who was watching and head banging. This intensity increases throughout every song, as the band covers songs ranging from most of their albums, skipping a period from 1999 until 2004. Continuing with tracks from the 1995 album Once Upon the Cross, 1997's Serpents of the Light, and 2004's Scars of the Crucifix, they land on the title track from their latest record In the Minds of Evil. I bought this album the day it came out, and it is one of the band's best works since the 2006 album The Stench of Redemption.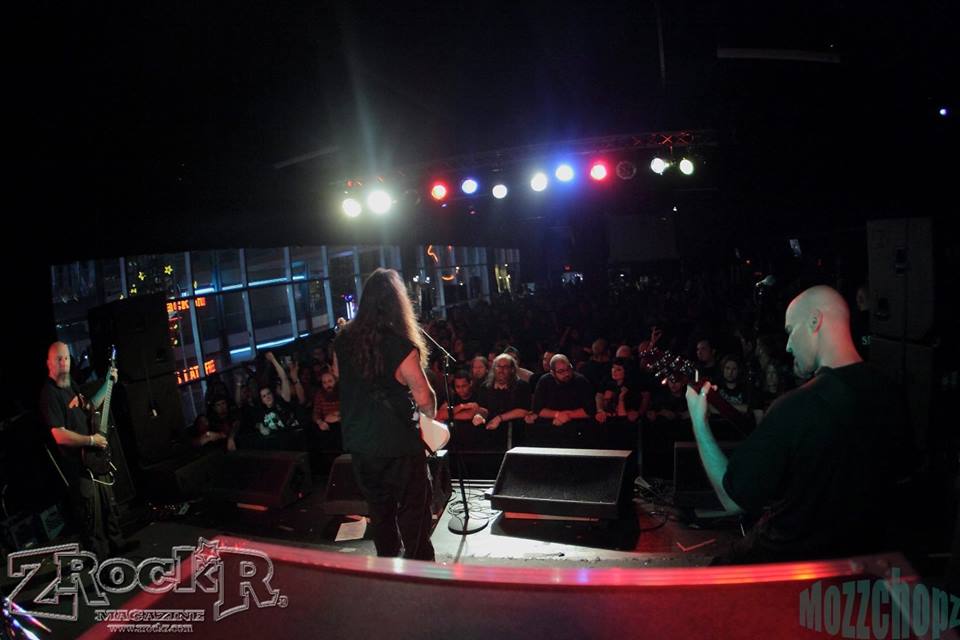 The sheer intensity this band delivers is nothing short of horrific as well as just plain badass. Continuing to play through their catalog, they land on the moment I had been waiting for during the entire show. They land on the track "Dead but Dreaming", from the 1992 album Legion. This is by far my favorite album, as well as one of my favorite tracks from the album. The song starts off with a bludgeoning, heart palpitating intro of sheer ferocity, making its way through a maze of frequent time signature changes. As the chorus takes hold, to myself as well as everyone else around me mimicking it, the energy is nothing short of one hundred and ten percent. I saved all of my energy for this one moment. There was not a better time to enter the pit and thrash heavy with my fellow brothers of the local Vegas metal scene.
The show at this point is too awesome for words. I was not expecting Benton and company to play another song off of this album, but boy, I was taken by surprise when they commenced the ritual of "Trifixion". As the band continues to smash through their set, it unfortunately starts to wind down to an end. The last track that was played was a big fan favorite, as well as what seems like an actual ritual to Satan. This track is entitled "Sacrificial Suicide", coming from the 1990 album Deicide. They could not have chosen a better song to end show with. This is where I found some of the most energy during the duration of the set. The pit was at its peak, and everyone was chanting the lyrics; "Dammed to tell, end of my life, wrath of god - Satan. Sin my soul, blesses with fire, throne of stone - Satan I must die, in my wake, seventh gate – Satan suicide, end my life, I must die – Satan." It definitely sounds better when you listen to the song, and have the melody in your head.
I have been a fan of Deicide since I started getting into the realm of death metal. They have been a part of the base of building the foundation of early death metal, as well as influencing many bands to come in the later years. The show was great, the energy was there, and everyone was united. I don't expect anything less from the many more times I will be seeing them.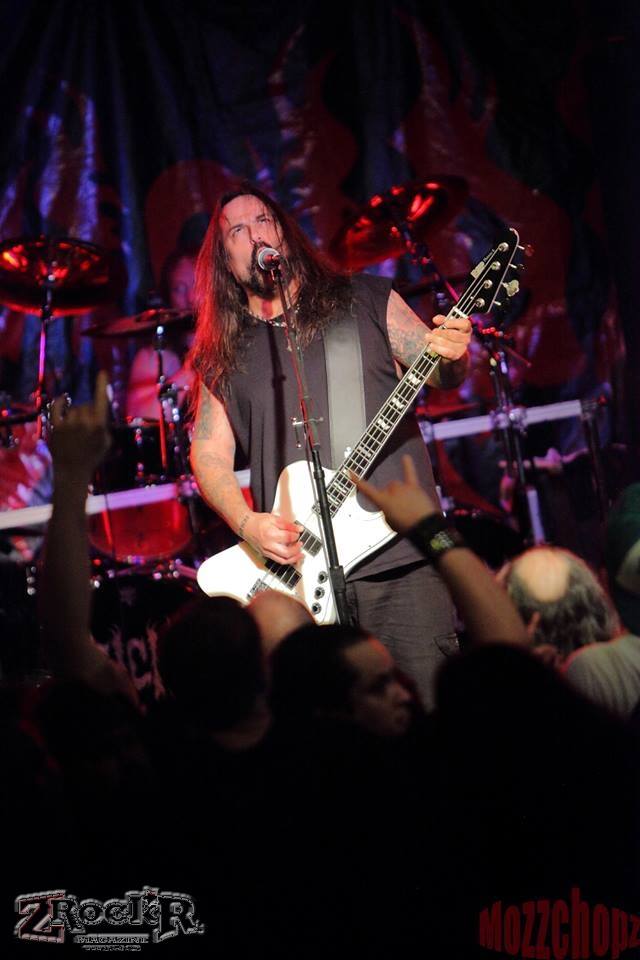 Not only was Deicide the star of the show in my eyes, but so where the supporting acts Hate Eternal, and Svart Crown. I have been a huge fan of both of these bands for quite some time. With Hate Eternal featuring a member of one of my favorite bands, Erik Rutan, there was no way they could disappoint a lover of death metal. Erik Rutan was the guitarist for the also influential, Florida based death metal band Morbid Angel. Hate Eternal played one hell of a set, with the ferocity of their music sparing no one.   Covering songs from a range of their albums, the energy was just as much their as it was for Deicide. Incredible band, incredible sound is how we like it. Svart Crown is a band that is in their own league. Hailing from France, these guys combine a genre of music that has only been accomplished successfully by the few bands that have tried it. They fuse a very dissonant type of metal, utilizing very odd time signatures, dissonant sounds, and diminished chords. They will melt your face off. Not to mention some of the coolest dudes I have had the privilege of meeting. Some of Vegas' local talent was there to support the show as well! Shout out to Pillars of Creation and Spun in Darkness for showing these out of state bands what the Vegas metal scene is made of.
Photo of Matthew Leiman and Jack Owen © Matthew Leiman
All photos of Deicide ©Mozzchopz / ZRock'R Magazine