Joe Lynn Turner, best known for his stints in Rainbow and Deep Purple, is still active in the music business, and making a mark on his followers. To this day, the legendary vocalist is continuing to do his own thing, having recently recorded new records with Rated X and Sunstorm. In fact, it is with Turner that Ritchie Blackmore's Rainbow achieved their greatest period of commercial success. Demand for Turner's vintage material is still high, with this year having seen releases of a Rainbow concert from 1981, and a solo Turner show from 1985.
Though Turner is from New Jersey, he does not commonly play American tours/shows; he and his music remain more popular abroad, particularly in Europe. Fortunately, in the midst of a new solo tour, he decided to rock the States all over again, including a long overdue stop at Vamp'd in Vegas! This was my fourth time seeing Turner in concert; I had seen him play a John Zito Jam night at Vamp'd in 2013, guest with Raiding the Rock Vault that same year, and perform with a supergroup at the Extreme Guitar show in early 2015. As a die-hard fan of just about everything Turner has ever done, I certainly was not going to pass up the opportunity to see him in a small and intimate venue!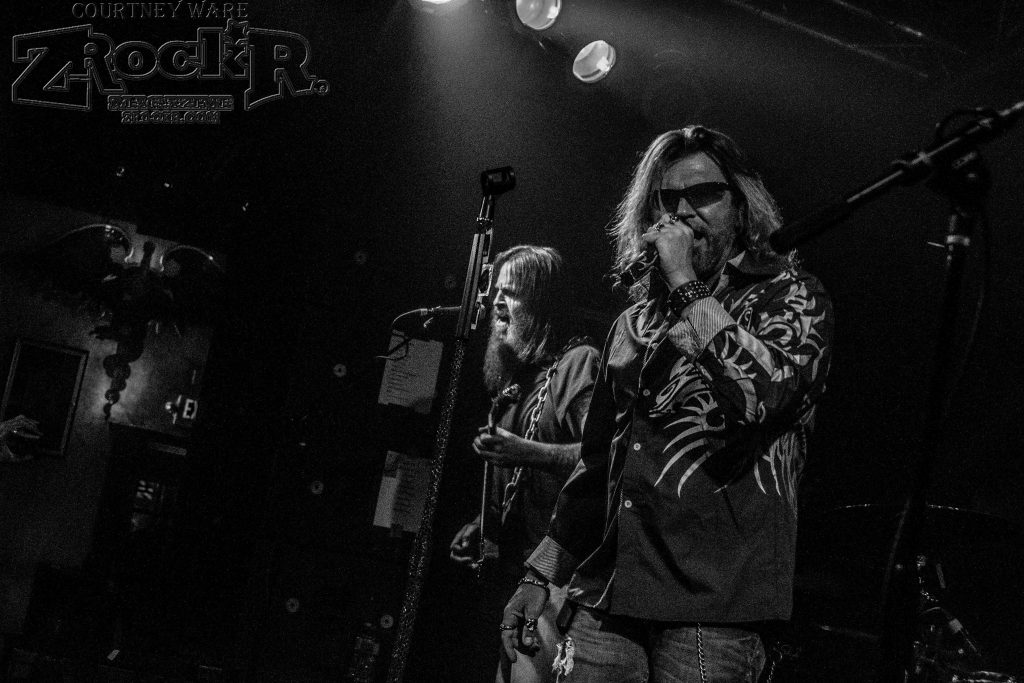 With Turner's reputation and all the albums he has recorded with various artists over the years, it is always interesting to see what he performs in concert. After all, with a list of career achievements and commercial successes that is nothing to scoff at, he always manages to impress his audience in a number of ways. This particular fan was curious to see what he would give the audience on this particular evening. For the show, his band consisted of guitarist Steve Brown (Trixter), bassist Sean McNabb (Quiet Riot, Dokken), keyboardist Eric Ragno, and drummer Matt Starr.
This certainly was not my first time seeing Turner perform, but I was all the more eager for the evening since it was just he and his solo band. Not a special guest appearance with another band or live stage production, but a standalone Joe Lynn Turner show once the support act's set concluded.
Local favorites TailGun got things off to a great start. These guys do an awesome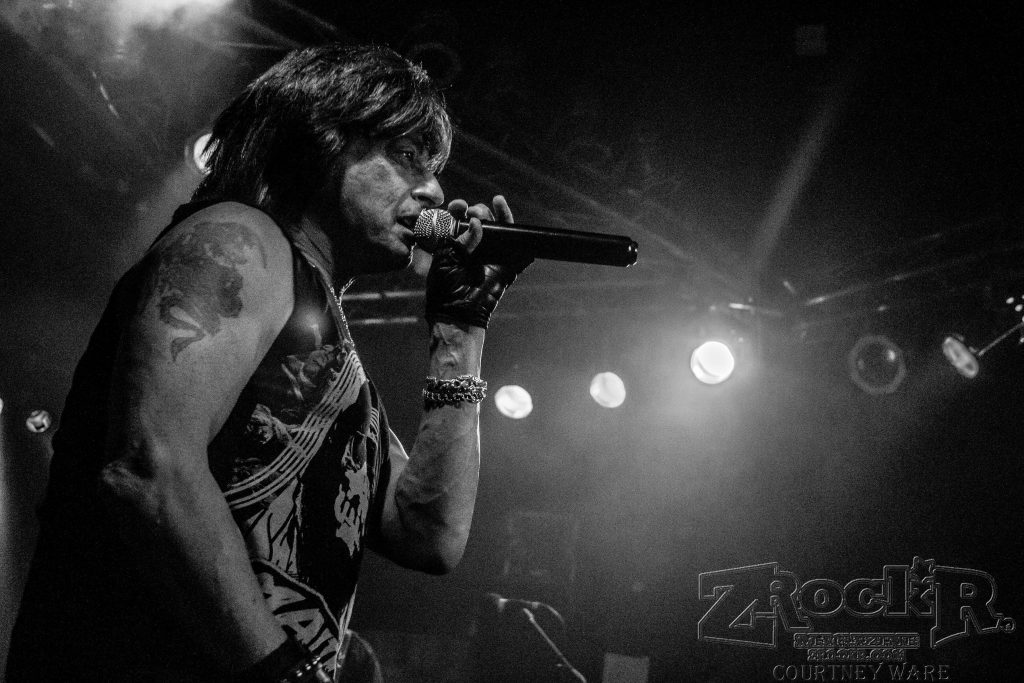 job shelling out classic-style hard rock, with the best of the old and new worlds alike. They just released their debut album a few months back, and are well on their way to continuing their musical supremacy in the City of Sin. Always looking forward to seeing what these guys have on the agenda next; 2016 has been kind to them so far and things seem to be continuing in a positive direction all around!
Turner's set got off to a surprising start with the vintage recorded "Somewhere Over the Rainbow" dialogue from The Wizard of Oz; a very nice touch that helped give this show the vintage, classic feel it needed. The set was mostly comprised of Turner-era Rainbow songs, but there were a few other surprises thrown into the mix as well. Someone who asks if this man can still rock will be pleased to know that the answer is a resounding YES.
The setlist, despite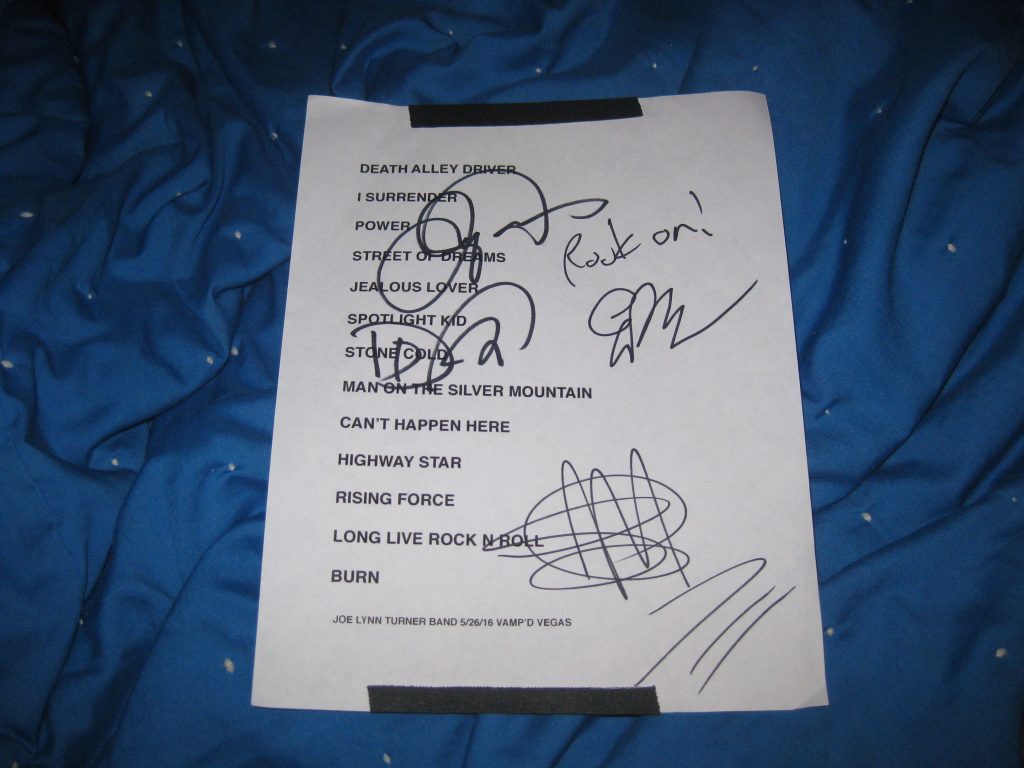 a few minor missed opportunities I will discuss later, was excellent, kicking off with one of my all-time favorite Rainbow songs, "Death Alley Driver." All the Turner-era Rainbow classics were there, including "I Surrender," "Jealous Lover," "Stone Cold," "Can't Happen Here," "Spotlight Kid," and "Street of Dreams." Deep Purple was represented with "Highway Star" and "Burn." Turner's days as a singer for Yngwie Malmsteen were represented in the form of "Rising Force." A few Dio-era Rainbow cuts were even thrown in for good measure! Fans in attendance were clearly pleased with what they saw and heard.
Okay, as much as I loved this show, I DO have to nitpick the setlist a little. Firstly, there were no tracks included from Rescue You, Turner's 1985 solo debut. "Losing You" would have been a great addition to the set. It would have been nice to have heard "Heaven Tonight," Turner's big hit from the Malmsteen years, as well. The last quibble is that the Deep Purple songs included did not feature any from Slaves and Masters, the 1990 DP release that was Turner's lone contribution to the band's catalogue of albums. "King of Dreams" or "The Cut Runs Deep" both would have been great additions to the set. No newer songs, including Sunstorm or Rated X material, were included either. Of course, these are strictly personal nitpicks, and they hardly worked against this superb gig.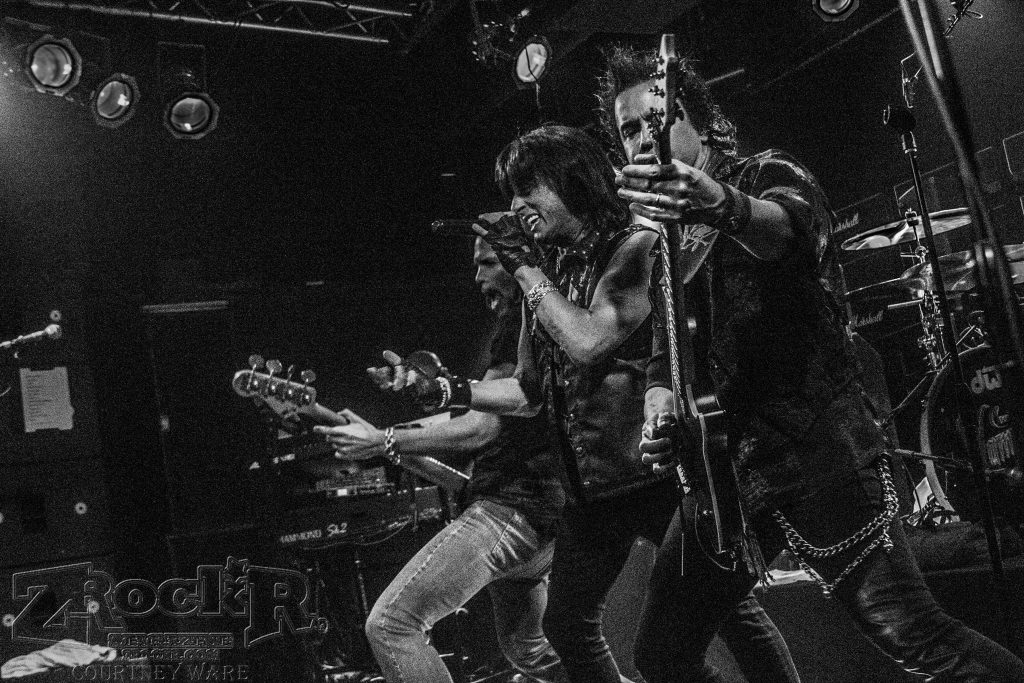 The actual performance itself was one of my favorite of the year. Being a fan of the classic Turner era of Rainbow, getting to hear these songs sung on stage by the original singer, in a small, intimate venue, was a sight to behold. Turner's backing band was solid, including Trixter guitarist Steve Brown, who beautifully proved just how underrated he is. It was also great to see Sean McNabb on bass; this guy is a criminally underrated player who never seems to get the credit he deserves. The band claimed they had never played together (or even rehearsed!) prior to the gig, but it sure as hell did not show. This was a tight band that appreciated the source material and more than did justice to it; certainly no easy task!
Joe Lynn Turner has long been one of my favorite rock vocalists, and with a great backing band in his corner, he made this one of the year's most memorable nights of rock and roll in Vegas this year so far. You should not pass up a chance to see the legendary Rainbow vocalist in his element.
PHOTO CREDIT: Photos of TailGun & Joe Lynn Turner by Courtney Ware for ZRock'R Magazine – ©ZRock'R Entertainment, LLC – ALL RiGHTS RESERVED