Michael Schenker Fest is the fourth Michael Schenker Blu-ray Disc release from Inakustik, following a 30th anniversary show, a live Temple of Rock show, and a Temple of Rock in Madrid show.
Michael Schenker, the legendary axeman from bands like the Scorpions, UFO, MSG, and Contraband, returns to Japan for Michael Schenker Fest, a concert reuniting him with past vocalists Graham Bonnet, Gary Barden, and Robin McAuley. His band includes classic MSG veterans Chris Glen and Ted McKenna, as well as Steve Mann.
For this concert, Schenker returns to Japan, playing a 100 minute show at the Tokyo International Forum in August 2016. The show features some instrumental work from Schenker, but is primarily divided into three segments, one for each of the three vocalists. In addition to the main show, this Blu-ray Disc also features roughly an hour's worth of behind-the-scenes bonus footage, seeing the band travel from their Japanese hotel to the venue, encountering a number of excited fans along the way.
The setlist for the show is comprised of the following tracks. All tracks were originally recorded by the Michael Schenker Group or McAuley Schenker Group except where stated otherwise:
1) Intro: Searching for Freedom
2) Into the Arena
3) Attack of the Mad Axeman
4) Victim of Illusion
5) Cry for the Nations
6) Let Sleeping Dogs Lie
7) Armed and Ready
8) Coast to Coast (originally by Scorpions)
9) Assault Attack
10) Desert Song
11) Dancer
12) Captain Nemo
13) This is My Heart
14) Save Yourself
15) Love is Not a Game
16) Shoot Shoot (originally by UFO)
17) Rock Bottom (originally by UFO)
18) Doctor Doctor (originally by UFO)
Tracks 1, 2, 8, and 12 are instrumentals.
Tracks 3-7 feature Gary Barden on lead vocals.
Tracks 9-11 feature Graham Bonnet on lead vocals.
Tracks 13-17 feature Robin McAuley on lead vocals.
Track 18 features all three vocalists alternating.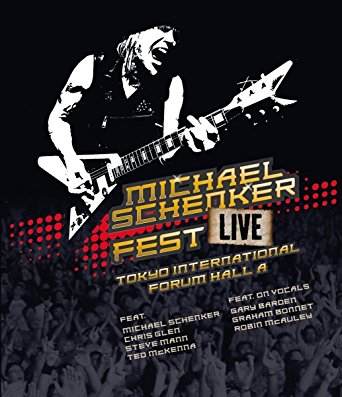 Let me start by saying thank you to Inakustik for giving Michael Schenker some much needed love on Blu-ray Disc. This is the FOURTH release of the Mad Axeman on the Blu-ray Disc format the label has given us; it is great to see a company other than Eagle Rock giving hard rock and heavy metal fans some quality releaaes.
This is arguably the most ambitious of the Michael Schenker releases on Blu-ray Disc to date, reuniting the Mad Axeman with much of his classic band from the early 80s, as well as the three vocalists he is best known for performing with in the past. Here is a look at the different segments of the show and how they fare: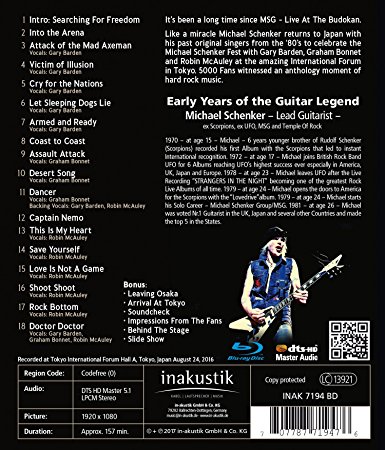 -The Instrumentals: Hearing Schenker do his thing on his guitar is, of course, the ultimate part of experiencing him live in concert. This element is captured beautifully in these tracks. "Into the Arena" is as epic a show starter as it has ever been. "Coast to Coast" was one of the three tracks Schenker recorded with the Scorpions for the Lovedrive record, and it remains a classic tune. And of course, the wild and unpredictable "Captain Nemo" gets a much-needed performance (if this one sounds familiar when you hear it on here, Eddie Trunk has used it as theme music for his radio shows). The vocalists are a major draw on this disc, but I am glad we still get some great instrumental music from the Mad Axeman.
-The Gary Barden Set: This is a fairly predictable set of tracks; generally speaking it is a set of the most popular tracks from the first two records, The Michael Schenker Group (1980) and MSG (1981). But all songs are killer renditions. Barden appeared on the 30-year MSG Reunion Blu-ray Disc with Schenker back in 2010, and the man has continually proved his ability to keep these songs alive, just as he does here. The inclusion of "Let Sleeping Dogs Lie" (from the second record) is a nice surprise. I was hoping for a few other deep cuts, including "Feels Like a Good Thing," "Lost Horizons," and "Ready to Rock," as well as cuts from 1983 Built to Destroy record (only the aforementioned "Captain Nemo instrumental is represented here from that album), but many of these were performed on that earlier Blu-ray, so I can hardly complain. Barden represents my favorite period of Michael Schenker's solo career, and this set does his work with the band justice.
-The Graham Bonnet Set: Bonnet is the legendary vocalist of bands like Rainbow (singing their smash hit "Since You Been Gone") and Alcatrazz (which at different points featured Yngwie Malmsteen and Steve Vai). In between the two, Bonnet recorded one record with Michael Schenker, Assault Attack. Produced by Martin Birch, it is often hailed as the best record of this incarnation of the band. Unfortunately, an incident on stage that resulted in a drunken Bonnet exposing himself to the crowd resulted in his firing from the group, so there were no further records with him as frontman. Bonnet's set here with Schenker is a performance of the three "hits" from the record he did on that record with Schenker, including the hard rocking title cut, the more pop-oriented "Dancer," and the epic "Desert Song." Bonnet only does three tracks here, but they are certainly the RIGHT three tracks, and his renditions are killer. He may have been drinking or indulging in other substances during this performance, but he gets himself, clad in suit, tie, and sunglasses, up to the microphone, and belts them out in a voice distinctly his own. I love every band Graham Bonnet has ever been in. In three tracks here, he totally reminds me why.
-The Robin McAuley Set: Okay, I admit it. I love ALL of these vocalists featured in this live performance. But McAuley is the one I have seen perform live the most times/have met the most times/etc., so in many ways I was looking more forward to this performance than the others on the disc. This is the real "odd duck" of the evening, because instead of three big hits, we get three semi-obscure tracks, the most famous one of which being the title cut from the 1989 Save Yourself record. The omissions of "Gimme Your Love," "Anytime," and "When I'm Gone" are startling, to say the least, but McAuley proves himself one of the best vocalists in the business once again; this guy looks and sounds far better that many of his peers. The remainder of his set is rounded out with classic UFO cuts; these are essential for any Schenker show. And McAuley does them justice. Of course, "Rock Bottom" is the signature version with an epic Schenker solo that goes on far longer than that of its studio counterpart. Long story short, Robin McAuley kicks ass, and he does not disappoint in the least.
-The Outro: What better way to end this show than to get all three singers on stage for one of UFO's biggest Schenker era hits, "Doctor Doctor?" This is a killer closer to an already-epic show and it is unlikely fans will disagree.
Inakustik's Blu-ray Disc release looks fantastic, with the only major anomalies being a few minor glitches in the picture here and there, and some lighting choices that impact the viewing/picture quality, but these are typical and to be expected in any concert disc. The close-ups reveal a fine amount of detail, and the presentation retains a natural feel throughout. The audio is just as powerful as it needs to be.
The bonus material, consisting of roughly an hour's footage of the band in Japan, going from their hotel to a train and to a studio where they sound check and later perform a meet and greet, is worth the price of admission alone. It is great hearing what the fans have to say and seeing the band members meet their admirers. Any fan is going to be able to relate to what they see here.
Longtime Michael Schenker fans will not be disappointed with what Michael Schenker Fest has to offer. This is a killer release in a long line of quality Schenker discs from Inakustik, and it comes highly recommended to anyone who is a fan of Schenker's, and/or any of the other musicians taking the stage.