Last year, big news in the rock and roll world was made when LA Guns finally reunited longtime vocalist Phil Lewis with classic guitarist Tracii Guns (who had been running his own version of the band for several years, but stopped doing so a few years back). The classic LA Guns duo teamed up with Michael Grant, Shane Fitzgibbon, and Johnny Martin, for one of the strongest band lineups in years. Made in Milan was recorded last year during the band's world tour. If you're here, you want the answer to the most important question of all – is this live album any good?
Phil Lewis and Tracii Guns have a definite chemistry, and it's sacrilege and the two have been separated for so many years. Last year's new studio album, The Missing Peace, was the best LA Guns album in years, and showed just how much music-making prowess these guys still have, be it in the studio or on the live stage. Made in Milan lives up to the hype; these live recordings kill it from start to finish. If you're at all an LA Guns fans, this is going to be a must own.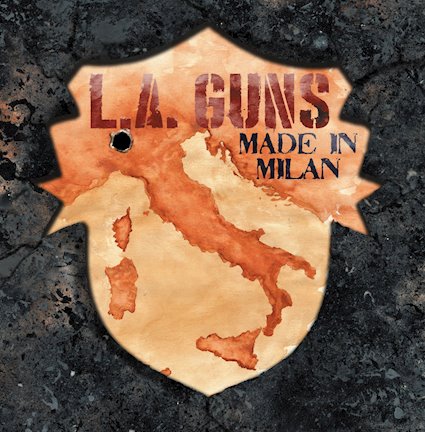 Too many artists have dwindled over the years, but Lewis and Guns are one of those legendary duos that transcend time. The youthful, Sunset Strip atmosphere and energy have been infused into the band once more, and there is no denying that the twosome, along with the other players on the record, have a great chemistry. They make this a live concert for the ages. It's not a boring nostalgia trip with two guys well past their prime; it's the real deal.
The setlist mostly emphasizes the classic three LA Guns records from the late 80s/early 90s, but throws in a handful of unexpected surprises, including some crazy solos and unexpected medleys. There are even a handful of cuts from the band's latest studio album. It's a fantastic live release that will give the fans what they want.
The duo that defined LA Guns in their classic years is back again, with a strong performance in an exotic, worldly destination. Guns proves why he's one of the go-to guys for guitar, and Lewis' voice is as strong as ever, giving these songs the soul and the energy that they require. Fans are bound to nitpick the setlist a little, but I doubt anyone will be disappointed with the end result. A highly recommended release.
NOTE: This album was recorded prior to the group parting ways with second guitarist Michael Grant.