New Found Glory
Special Guests: William Ryan Key, The Movielife, & Bayside
Brooklyn Bowl, Las Vegas – 6.15.2018
    I'll admit that I never was really big on New Found Glory despite being really into the pop punk genre that they dominated in the early 2000's. This show sparked my interest because of William Ryan Key, (formerly of Yellowcard) and Bayside. However, I never heard a bad thing about New Found Glory's live show… Ever. They probably have the most energy out of any of the pop punk acts that I've seen the last 15 years. It's crazy to believe these guys are nearing their 40s! (Don't worry, guys… you don't look it!)
    Brooklyn Bowl packed in 2000 people into the venue on Friday, June 15th. Venue capacity seemed almost near the entire show. Everyone on the bill are very popular in their own right, and the crowd numbers definitely showed this.
William Ryan Key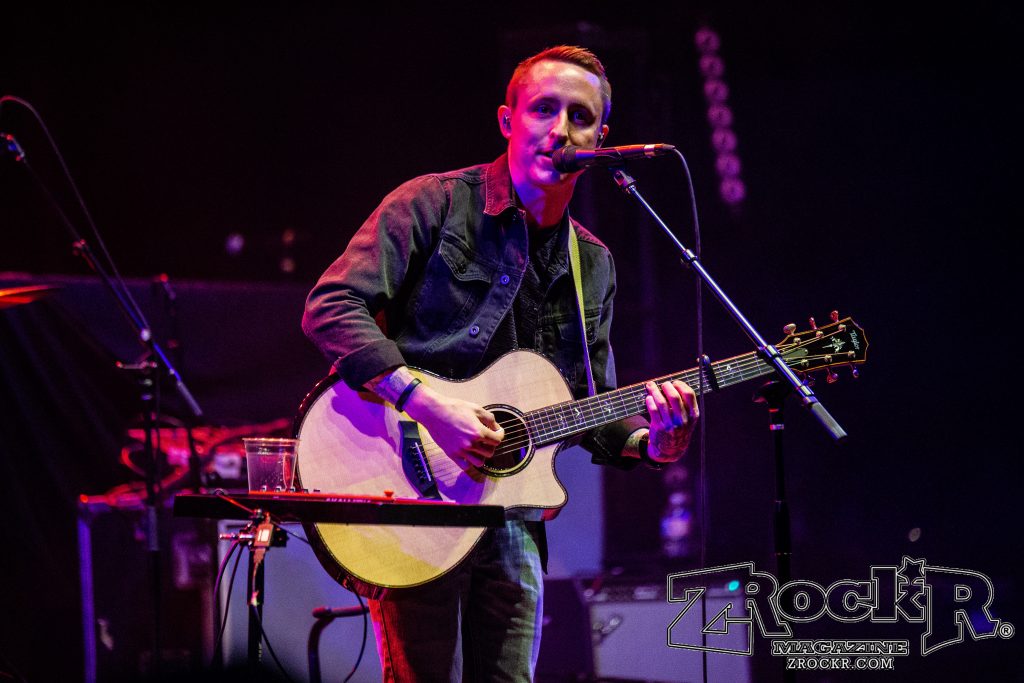 Starting off the show was William Ryan Key. You all may know him from his years of work with Yellowcard. That's exactly where I knew him from. My inner 15 year old again, was very excited. The last time I had seen him perform was at a show at the UNLV intramural field in 2005-ish with The Matches and The Starting Line. Key is now on his own completely, performing very personal acoustic numbers. The lighting was very low and soft for his set, which worked very well for his set and style being played. It has to be mentioned that Key is doing this ALL by himself now, so if you were a Yellowcard fan back in the day, you'd be doing good by going and supporting the new music he's putting out!
All of William Ryan Key's music, merch, and info can be found on his website, https://www.williamryankey.com/
The Movielife
    The Movielife was next, and I had never heard of them before, but was pleasantly surprised by their fun, energetic sound. Classified as post-hardcore/melodic hardcore, they definitely fit in with the dynamic of the other bands on the bill. They also had quite a following! Many people in the crowd were seen singing the songs. After doing a bit of research, I found that they were active from 1997-2003, and recently reformed within the last few years. The crowd knowing their songs made a whole lot more sense after reading this! Vocalist Vinnie Caruana made a sweet personal dedication towards the end of their set with the song, Pour Two Glasses.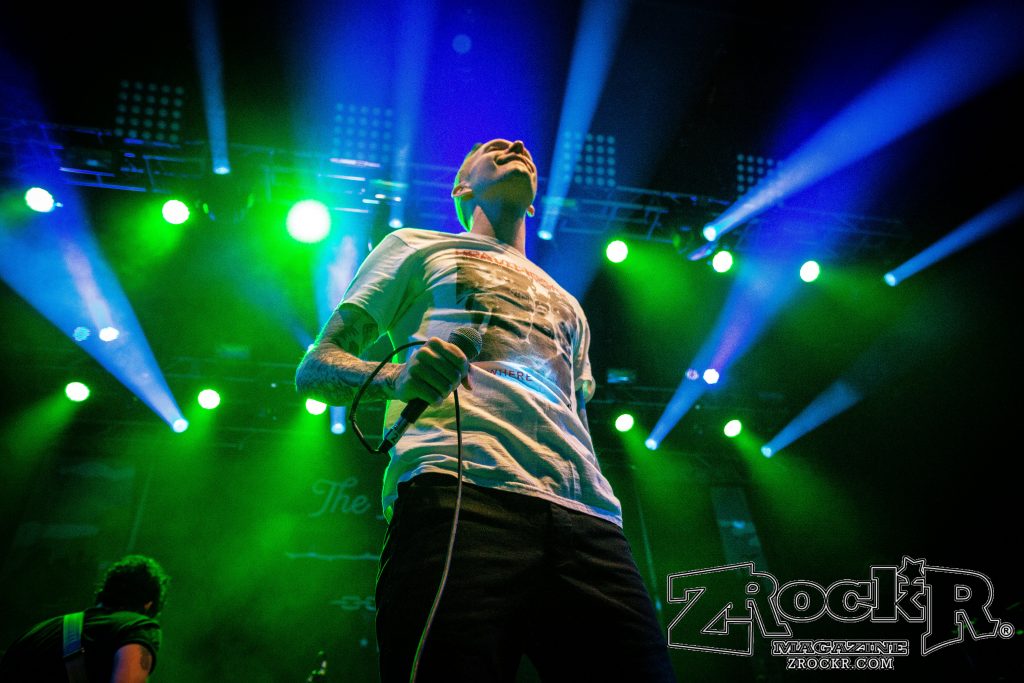 More of The Movielife's music can be found at https://themovielife.bandcamp.com/
Additional Info at https://www.facebook.com/themovielifeofficial/
Bayside
    Oh Bayside… I had been trying to see Bayside for about 10 years. For as many times as they hit Vegas, I always missed their shows for some reason or another. I've been familiar with their music since about 2007. They were the essential emo band of my generation. (At least… if you were into shit that wasn't being played on the radio or if you were following Warped tour and Alternative Press magazine.) They played a fantastic set. They're one of those bands that you're either into or you aren't. I don't really see any in between with them. If you like them, you'll enjoy them live. I really loved how happy they are on stage, despite how dark most of their lyrics are. There's an interesting balance between catchy riffs and mini-solos and the darker emotional lyrical content.
They finished their set with the song, Devotion and Desire, which is the first song that I had ever heard by them. So.. that was nice, made me happy.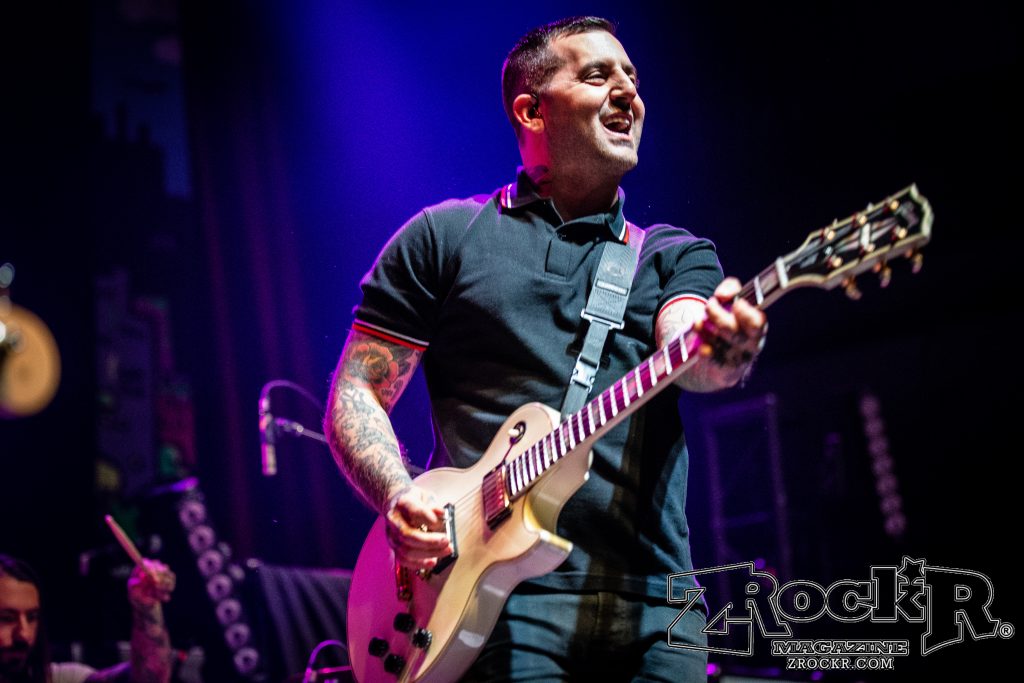 More info about Bayside can be found here:
http://www.baysidebayside.com/
https://www.facebook.com/Bayside/
New Found Glory
    As for New Found Glory, I really have no complaints about their set other than the super dark lighting. As a photographer I always look forward to bright vibrant lighting for pop punk shows. This wasn't a deal breaker for me, though. The neon greens and purple fit the tour name, "Sick Tour," pretty perfectly. They opened up their set with their 2004 hit, "All Downhill From Here." (which, is the only song I could honestly say I knew all the lyrics to. They played a number of songs I recognized, but again, I wasn't ever huge on these guys.
Through several parts of the set, guitarist Chad Gilbert made little antics, and also brought fans up onto the stage from the crowd. One gentleman who was wearing an old school NFG shirt, and another young lady who was dressed exactly like him. (In camo shorts and t shirt!) He dubbed this outfit as being the second best one in the room. (Clearly identifying his as the first!) Nothing wrong with this type of interaction.
    If you've checked out my previous reviews of pop punk/post hardcore shows,(Sum 41, ADTR) you'll notice I talk about the crowd surfers. This show was NO different. Except, with this show, almost EVERY person who flew to the front where the barricades were, vocalist Jordan Pundik did his best to give out a high five. It takes some balls and dedication I think to even go through with crowd surfing, and I think he recognized that.
Just listen to the music!
Before closing out the show, they talk about the impact of their music, and the appreciation of the fans, new and old. And that all they want is for their music to be listened to. They don't care how, whether you buy it or download it. The fact that the huge following is STILL coming out to the shows after 20 years, (Holy shit guys, has it seriously been that long!?) that's good enough for them. That bit reminded me a lot of that interview years ago that Incubus did, where they flat out say, "We don't care how you get it, just get it and listen." Not a direct quote, but that's the idea, and I'm sure you get it. We still advise you guys to go out and buy merch and albums from the bands you love.
  New Found Glory's teaser last song was "Hit Or Miss". (2001) But they came back out for an encore in which two final songs followed. "Eye of the Tiger," which is a popular cover song originally by the band, Europe. (They had also performed Sixpense None The Richer's "Kiss Me", which may or may not have been on one of the early Punk Goes series of compilation albums… don't quote me though. You can find recorded versions of these songs on YouTube and their Spotify profiles.) The final song being their most known, "My Friend's Over You." Just about everyone in the crowd could be singing this classic pop punk song from 2002.
In Conclusion…
From a non-fan perspective, I'd definitely go see these guys again given the opportunity arises. I had actually meant to go see them in San Diego back in November, and I missed it. Still not too too crazy over their music in general, but the energy made me a definite fan of the live show.
The "Sick Tour" is in support of New Found Glory's new album, "Makes Me Sick," which can be found on https://www.newfoundglory.com/, and a number of major music outlets and sources, (Apple Music, iTunes, Amazon Music, Spotify, Best Buy, and Urban Outfitters, as mentioned on their official website.
New Found Glory – Call Me Anti-Social – Latest music video release.
https://www.facebook.com/newfoundglory/
Bayside and New Found Glory are currently label mates on Hopeless Records, info/merch/records can be found at https://www.hopelessrecords.com/
PHOTO CREDIT: All photos by Courtney Ware for ZRockR Magazine – ©ZRockR Entertainment, LLC – ALL RIGHTS RESERVED