Meanwhile, Back in the Garage (hereafter simply referred to as "Meanwhile") is the second full-length album from the Graham Bonnet Band.
You can't keep Graham Bonnet down. The pint-size vocal powerhouse just turned 70 last year, and he's as active on stages around the world as he's ever been. Widely remembered for his roles in bands like Rainbow, Michael Schenker Group, Alcatrazz, and Impellitteri, his booming vocals have entertained audiences for decades. It's hard to believe the guy was one a pop singer and jingle writer!
Bonnet thrust himself back to the forefront with his own Graham Bonnet Band a few years ago, giving audiences a single and full-length album. A live release followed. And, about two years later, we've got the follow-up album in the form of Meanwhile. The current incarnation of the band features Bonnet with guitarist Kurt James, bassist Beth-Ami Heavenstone, keyboardist Jimmy Waldo (who previously played with Bonnet in Alcatrazz), and drummer Mark Benquechea.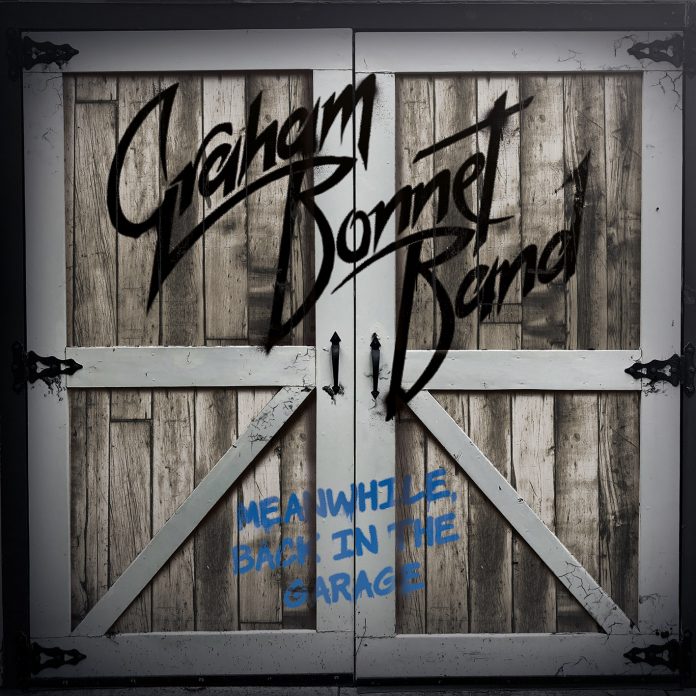 Fortunately, Mr. Bonnet is still a bad-ass behind the microphone, as his latest studio release shows audiences. While Meanwhile isn't the best album I've ever heard the guy sing on by any means, there's no denying this is a damn good release with some great musical diversity, and excellent performances from everyone in his group. From beginning to end, it's clear Graham is still someone to keep an eye on. I doubt any long time fan will be disappointed.
From the organ and guitar-driven onslaught of the title cut which opens the album to slightly more pop-friendly content like "Livin' in Suspicion," Bonnet runs the gamut from heavy to lighter throughout the release, giving listeners something diverse and entertaining. Plenty of cuts feel like throwbacks to earlier points of Bonnet's career, while many feel like logical progressions forward. His band of all-stars works together perfectly throughout the entirely of this surprisingly diverse album, but at the end of the day, of course, it's the iconic frontman who steals the show.
Meanwhile is another strong album from the always-entertaining Graham Bonnet, a man who refuses to let age catch up with him. For any fan of classic hard rock, it's a strongly recommended release you won't want to miss.