Overkill isn't one of my favorite thrash metal bands. Not to disparage the headliner but they have the advantage of taking other killer bands on tour with them. So even if I had a negative opinion of them I couldn't miss these shows.
This time they brought with them another important New Orleans band – Exhorder and the unsigned Denver, Colorado band Hydraform.
Hydraform
I want to say I absolutely love Hydraform and for the most part I think they're great! Musically I'd say they're outstanding, the guitars are melodic and accessible even to non-metal fans. The band simply makes interesting choices. However I'm not as into the vocals. I'm not here to shit on the vocals of Carter Pashko. It's not something I want to do and frankly I already feel shitty about what I do have to say.
I'll just leave it at I'd like to see improvement in future releases. His style comes off as generic when presented next to his band's fairly innovative sound. Lastly I simply refuse to look up the lyrics as what I have heard in the songs are tired cliches.
I think Hydraform could be an outstanding success in the next few years but I'd like to see them do so having something new and interesting to say and not potentially lost in all the horseshit on the radio these days.
You can listen to Hydraform's music on their website https://www.hydraformmusic.com/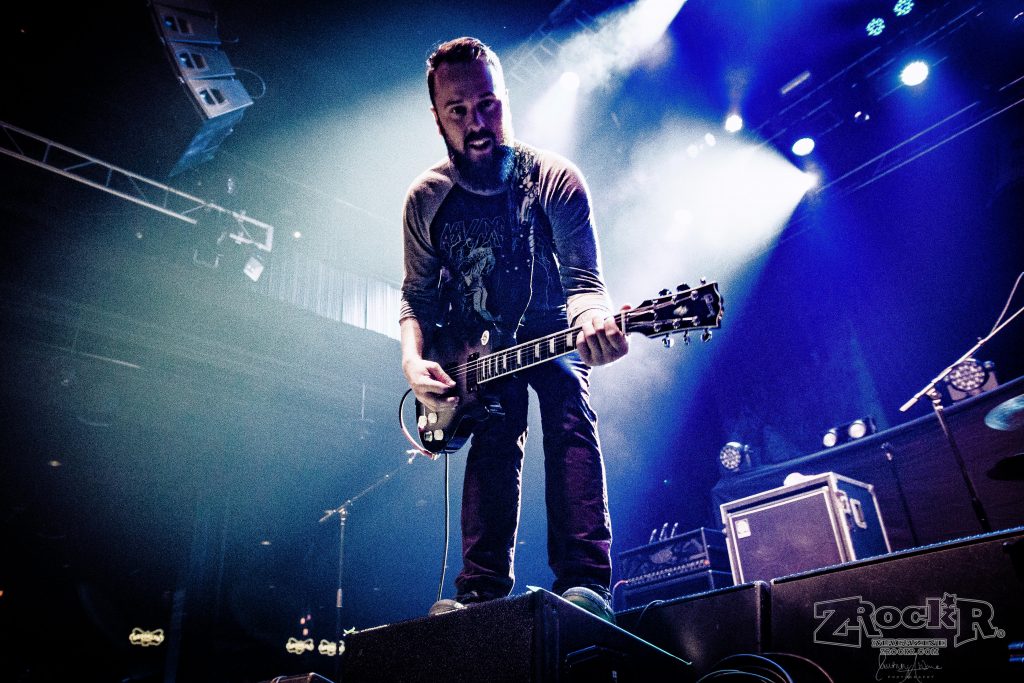 Exhorder
Moving onto the legendary groove metal pioneers Exhorder. When I was fifteen I was interested in discovering ALL of the New Orleans bands. Yeah better easier said than done. The problem was that there were so many important bands. I initially missed out on Exhorder as well as one of my favorite bands of all time Acid Bath. The latter because they were from outside of the NOLA scene.
I believe it was an interview with Phil Anselmo that brought to light the importance of Exhorder. Then years later the Heavy Metal Historian podcast would mention Exhorder in one of their groove metal episodes.
You might not have caught that. In the seventeen years I've been listening to metal and discovering new bands I've heard Exhorder mentioned twice. Just two times in nearly two decades.
My mother-in-law's husband was in attendance and his friend hadn't even heard of them even though their music is right up his alley. Even now my wife who's possibly the biggest Pantera fan is bothered that I hadn't introduced her to Exhorder.
Bringing me to this last point while I wouldn't say that Exhorder or Pantera sound like the other. They're similar enough that I'd say if you like Pantera there is a good chance you'll dig Exhorder.
So Exhorder's first show in Las Vegas and doesn't that just blow my fucking mind… was it worth the wait? Fuck yeah.
With the departure of founding guitarist Vinnie LaBella before this Overkill tour vocalist Kyle Thomas is the only original member left. However the lineup of fresh blood they put together back in 2017 is serving the band well.
Exhorder is solid live and they seemed to have evolved their sound some. I fell the need to point out the bass guitar of Jason Viebrooks has that clanking metallic sound that I fell in love with on Exodus' 'Shovel Headed Kill Machine' and I feel it works great in the modern thrash scene.
Normally I tend to mention a band's latest release at the end of each section of these articles however I'd feel like an idiot not to mention Exhorder's classic 1990 release 'Slaughter in the Vatican' from Roadrunner Records.
As of now Exhorder and fellow Louisiana bands Down, Crowbar, and EYEHATEGOD are on the bill for this years Psycho Fest.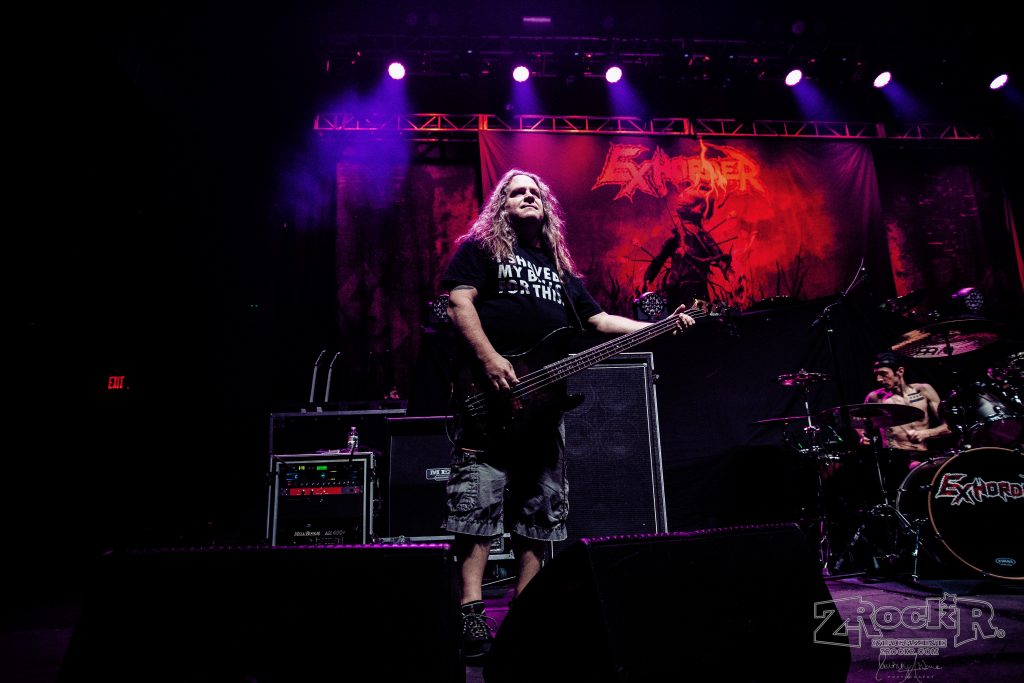 Exhorder's latest release is 2019's 'Mourn the Southern Skies' out via Nuclear Blast.
Overkill
Now I talked a bit about Overkill's live show last time they came through. Not much has changed though I enjoyed it more this time around. I can't put my finger on why but I feel like the band was generally more energetic.
Bobby "Blitz" Ellsworth is still running a blitz play from behind the full stack amplifiers to the microphone like a goddamn lion.
Overkill Gallery #1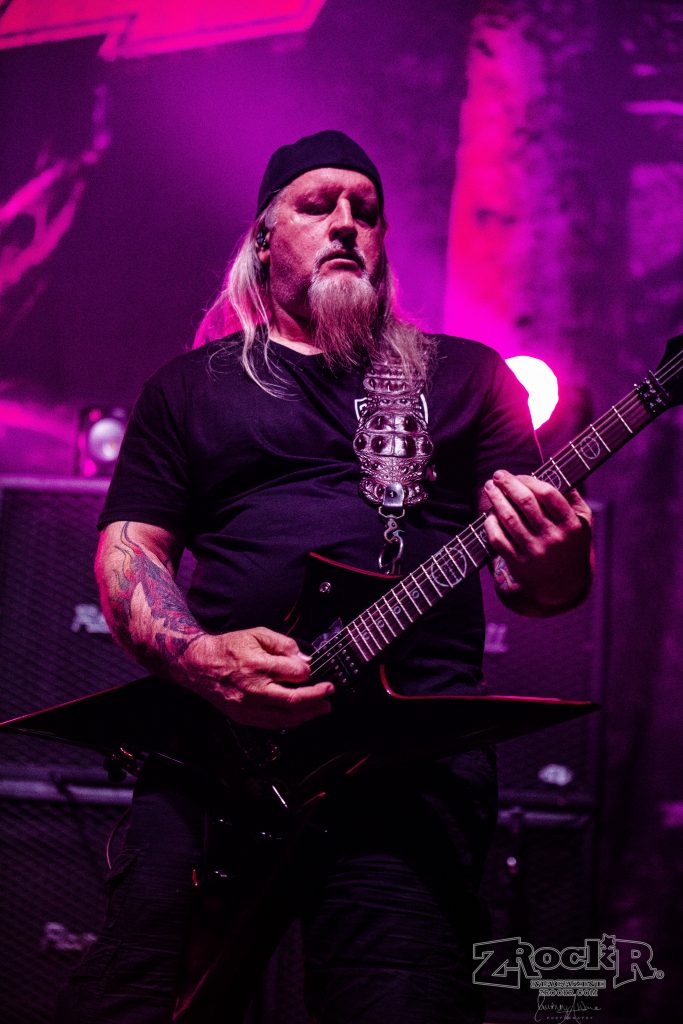 Their nineteenth release 'The Wings of War' was released February of 2019.
I've seen Overkill twice now and both shows were at the Brooklyn Bowl. I have to say that I've been pretty disappointed that there wasn't larger crowds at either show. Both lineups were more than worth the ticket price in my opinion.
Overkill Gallery #2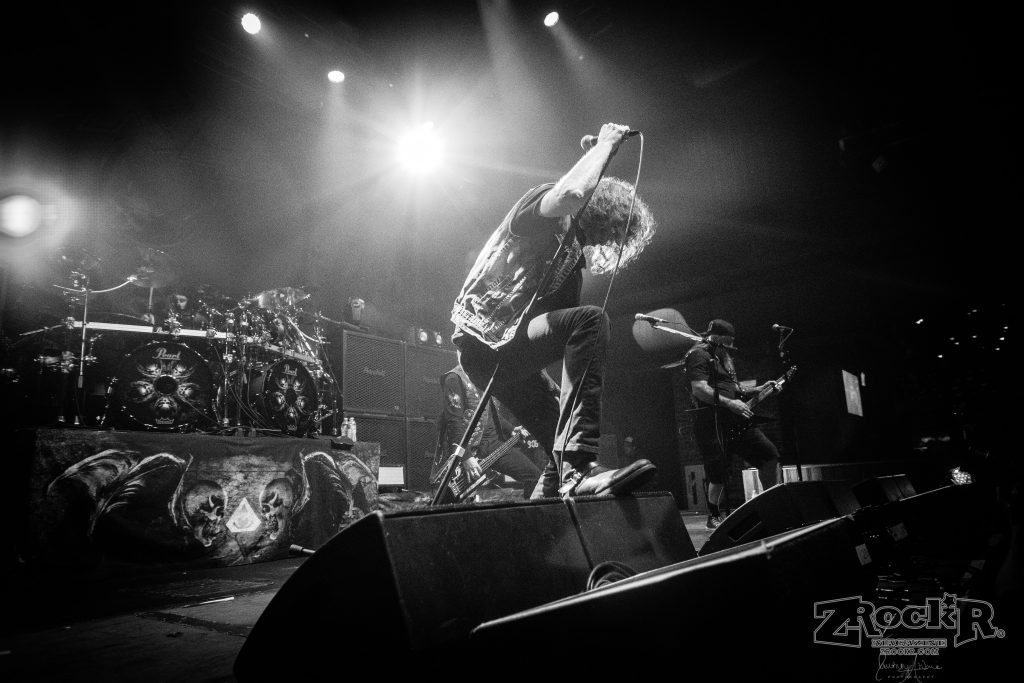 I was surprised and feel the need to point how many younger people were in the audience this time around. By younger I mean in their twenties or younger both male and female. I feel like this is possibly a good sign for the health of the Las Vegas metal scene. Hope to see you out there!

All photos by Courtney Ware for ZrockR Magazine 2020. ALL RIGHTS RESERVED.