THE GREAT HEATHEN TOUR – BROOKLYN BOWL, LAS VEGAS – NOVEMBER 11, 2022
On November 11th, the great Swedish melodic death metal masters Amon Amarth will be dominating the Brooklyn Bowl Las Vegas. With them they are bringing Florida death metal veterans, Obituary; and deathgrind masters, Cattle Decapitation. We have been fortunate to cover all of these bands in the past, and they all put on amazing sets. It'll be extra special to see them take over the stage at one of our favorite venues here!
Cattle Decapitation
The last time we caught Cattle Decapitation was for the Holiday Hellfest event out at 601 Fremont where they co-headlined with metalcore veterans, Unearth. Cattle Decapitation played the Fremont Country Club stage, and Unearth played the Backstage Bar stage. This night had to have been one of the best performances that I've seen from them. (Before them we saw them at The Dive for Metal Blade's 35'th anniversary celebration; and then again in the same place for their own tour in support of the album, Death Atlas.) These guys are one of Metal Blade's flagship bands, and they 100% live up to that. They're also worth getting to the show early for, so make sure you do that!
Obituary
The name of the game is consistency when it comes to Florida death metal outfit, Obituary. Last time we caught them was at House of Blues opening up for Hatebreed on part of their 25h anniversary tour. Although I'm not the biggest death metal head around; I can appreciate all of the bits of thrashy elements that can be found in some of these guys' releases. It's been a while since they've released new material. The last single "A Dying World" was released in 2019; while they had a double release of live albums titled, "Cause of Death – Live Infection" and "Slowly We Rot – Live and Rotting"; both of which were released this year. Certainly fans can expect another high energy set this time around, similar to the previous time they were here in Vegas! I don't predict myself being disappointed in the slightest.
Amon Amarth
I could not tell you exactly when I first heard Amon Amarth. It was either from my husband back when we were dating in high school, or a few years later when Twilight of the Thunder God was released. I was working at Hot Topic at the time and I remember a fellow metal head I worked with put it on once we had it on the player.
Amon Amarth is a melodic death metal band from Sweden. One of the things I'm most excited about seeing these guys again is their stage production. The viking helmet drum riser seemed to take up the entire stage when we saw them at House of Blues with Arch Enemy a few years back; so it'll be really awesome to see them bring some of their intense stage dramatics to Brooklyn Bowl, which has a bit of a bigger stage (I believe, anyway. Maybe because it's lower than HoB my perception is skewed.) At any rate, this is the first date of their US tour to support their newly released The Great Heathen Army. And I've got some pretty high expectations, but I don't expect to walk away unhappy. These guys are killer live.
Perhaps the only thing I am upset about is that there's no Carcass on this date. Although, I suppose I should just shut up, since I got to see them at Psychofest and I understand how tour cycles work. There's always next time.
See you in the pit!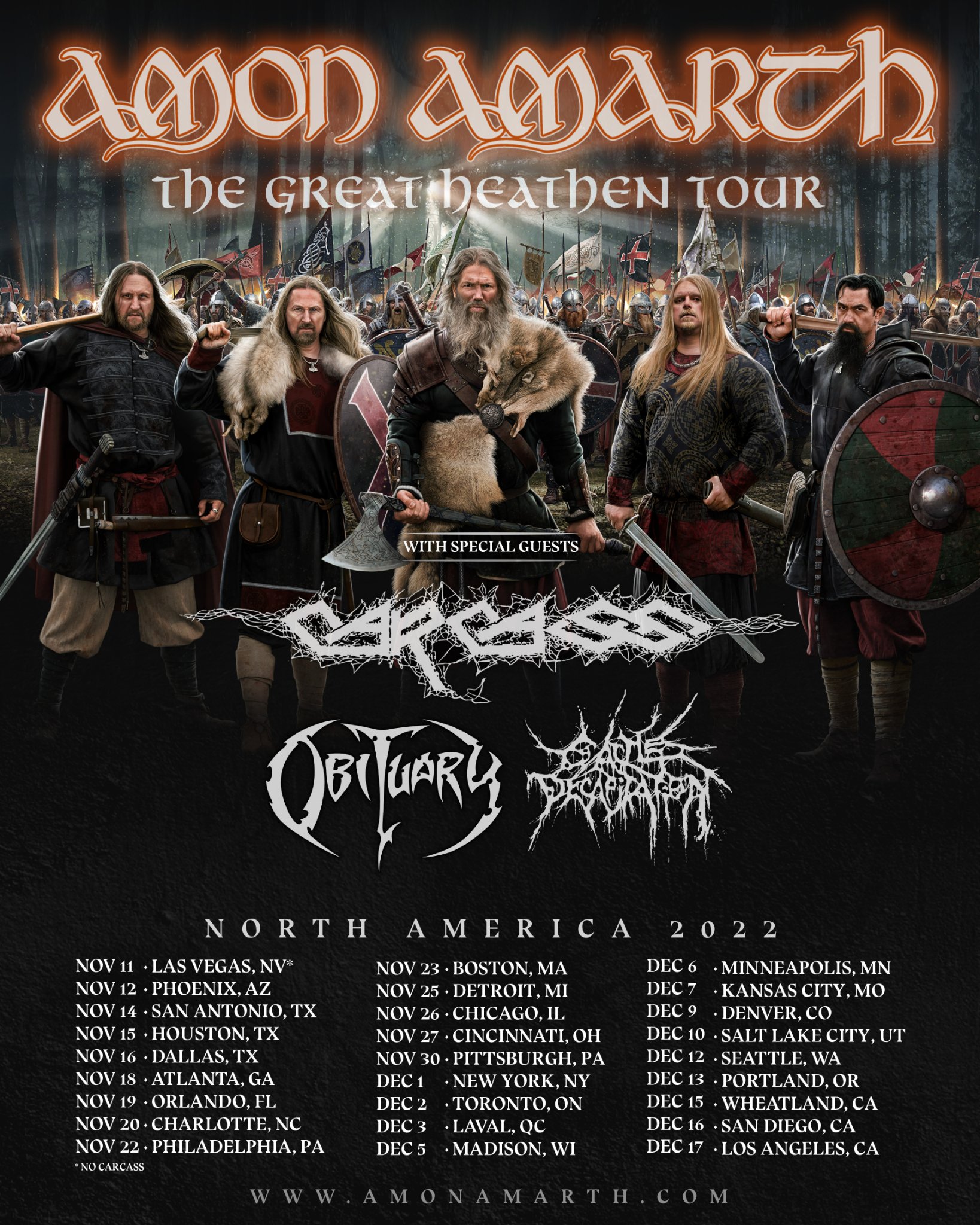 Additional information from Metalblade.com
Armed with their 12th and arguably finest album to date, Amon Amarth have swung back into full action with a bloody, broadsword-wielding vengeance. The release of the new album 'The Great Heathen Army' kick-started another relentless global campaign, commencing with a co-headlining tour of Europe alongside Machine Head and fellow countrymen The Halo Effect, before they set sail across the Atlantic with their sights firmly set on making history on North American shores. Still ruthlessly devoted to the ways of the warrior, Amon Amarth have Odin's wind in their sails like never before.

The 9-track aural assault that is "The Great Heathen Army" is available now HERE. The band have released two singles thus far – "Get In The Ring", which is is the official entrance music for AEW pro-wrestling star Erick Redbeard who also stars in the music video, title track, "The Great Heathen Army" and "Find A Way Or Make One".

Metalblade.com/us/news
FIND AMON AMARTH ONLINE:
https://www.facebook.com/amonamarth
https://www.instagram.com/amonamarth
https://www.youtube.com/user/AmonAmarthOfficial