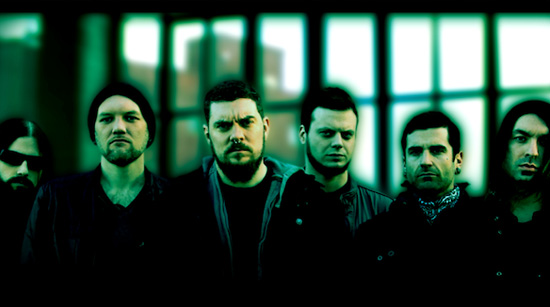 Literally being one of my most favorite bands since 2004 (and knowing them casually since 2001), I've ALWAYS looked forward to buying and listening to a new  Chimaira album. Always. Until this one.
After the 5 core long time members ( Rob Arnold,  Chris Spicuzza,  Andols Herrick,  Matt DeVries, and  Jim LaMarca) left between the end of 2010 and end of 2011, all that was left of the ashes of  Chimaira was vocalist  Mark Hunter. What is now a "supergroup" of musicians from  Daath,  Bleed the Sky, and  Dirge Within... it sounds like it might be a positive, in principle.
But the soul of  Chimaira was lost even before the last album,  The Age of Hell (which by then, 3 of the members had left).
I'm always welcome to change. I like change. But when 5 out of 6 people leave a band that you've grown to familiarize yourself with (considering they released a documentary dvd with essentially every album, you feel like you personally know the guys)... it's hard not to take it a little personally. There's nothing wrong with the new guys at all. Extremely super talented dudes.
Then I heard the first single. And the 2nd single. And then the whole album. And it just got depressing. Yeah. It's heavy. Yeah. It "sounds" like  Chimaira. But the songs just aren't there like they used to be. It was always excitement to hear a new song. They've never had a bad single. The 1st single released from Crown of Phantoms was worse than most of the not-so-good  Chimaira songs. What does that say?! It really seems to be my opinion. I've read everyone licking the bands ass because they think the new album is so brutal and great, but being heavy for the sake of being heavy doesn't mean the songs are GOOD. When you listen to  The Impossibility of Reason... the SONGS are good. They stick with you. You want to listen to the album again and again. And it sounded good the 1st listen, and only got better.
Now listen to me. It is NOT a bad album. It's still a step above their debut album,  Pass Out of Existence. The elements of what makes  Chimaira are all there. The electronic atmosphere, machine gun guitars and drums, aggression, occasional thrashing, breakdowns, and Mark's voice alone is a trademark. But the fluidity, and again, the "soul" isn't there. It sounds like a band emulating  Chimaira, instead of being  Chimaira. And that's exactly what it is. That's the problem.
I'm still going to support. I'm still going to see them live. But my love for them has been taken down a few notches with the last 3 albums, and especially this one. They had 3 major home runs in a row with the previously mentioned  TIOR, the self titled  Chimaira, and  Resurrection. But the fire started to cool a little on  The Infection. And then people left.
I'm not going to love it for the sake of loving it. I'm truly not very impressed with the album. As a bonus track, they covered  Soundgarden's  Outshined... which sounded intriguing. Mark has a much better singing voice than a scream (which sadly is what he does 98% of the time) so I was hoping that he'd try something different with it. Instead. It was everything I hoped it wouldn't be. A chugfest growl-scream disaster of one of the BEST hard rock songs of ALL time.
The 1 song that DID stand out most to me was  Wrapped in Violence. Listen to that song. Good stuff.  The Machine, I Despise, Plastic Wonderland, Spineless, and  Kings of the Shadow World are the other high points or had the most potential to be.
Pleeeeease don't disappoint next time guys?

6/10
~ Marcus Miller