If you are like me, Nintendo video games were a big part of your childhood. There is a reason that "Nintendo" became the universal term that referred to all video games back in the day, and continues to be seen as the gold standard in home gaming entertainment. With countless innovations and technological improvements, people still flock to the original 8-bit Nintendo Entertainment System (NES for short).
Nintendo Quest is a new documentary with an interesting premise for gamers and fans. Directed by Rob McCallum (Missing Mom), the film stars McCallum's friend Jay Bartlett, a working class home body living in Canada, who embarks on an interesting journey – in 30 days time, he must collect all of the nearly 700 licensed Nintendo NES games commercially released. But, he has to buy or acquire everything in person; this means no Internet or mail purchases. What ensues is a road trip across Canada and the United States in which Bartlett must put his knowledge and negotiations skills to the test.
In addition to the main plot with Bartlett's game collecting quest, the film also features interludes with McCallum giving additional information about the games/history/etc., and interviews with fellow collectors, personalities, and gaming industry staff. Amongst those interviewed are game music composer Tommy Tallarico (cousin of Aerosmith's Steven Tyler), Twin Galaxies referee Walter Day, professional gamer Billy Mitchell, and several other noteworthy personnel in gaming, as well as friends and family of Bartlett.
While it has its share of flaws, Nintendo Quest is a fun documentary that retro gamers are going to get a kick out of. The premise is simple yet entertaining; who amongst us would NOT want to go back and get an NES and all of the original games? The ridiculous premise here, with a road trip for this sole purpose, is something of a game collector's dream come true. Just watching Bartlett and company on their road trip, I totally wanted to be there. This felt like the ultimate way to revisit one's childhood and such; yet it manages to go deeper than that. Bartlett comes off as a likable yet flawed, realistic human being. That is a big part of why I found myself a fan of Nintendo Quest.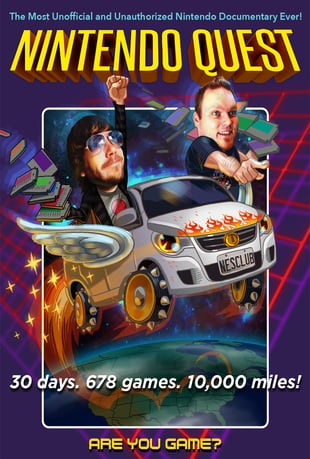 It is also interesting to get some history on the games and what makes them collectible. For the unfamiliar, there is even a short, two minute history of the Nintendo company, which is nice to have for those that might not be familiar with the beginnings of the company or their products. It is also made fairly obvious to the viewer what the most expensive and rare games are; this was something of an eye opener for me, even being the die-hard fan that I am.
The contrast between the stores, collectors, and family friends and such where Bartlett gets his games from is interesting enough as well; you will see that some store owners are accommodating and friendly, while others are just the opposite. The film does not shy away from these facts. It is also fun to see Bartlett in action here; he admits he lacks confidence and has never really been much of a negotiator before, but you can see how he progresses over the course of the movie. In its 90 minute duration, the film never wears out its welcome.
That said, as much as I liked the documentary, there were a few issues that need to be addressed. First and foremost, one of the biggest problems is that, when negotiations and transactions are going on, prices are almost never mentioned. This is a movie about buying and negotiating for games, yet we never actually hear how much is being paid for them. There is a gauge on the screen that gives an idea of how much budget Bartlett has remaining (this is entirely self-financed; he had no help from anyone/anywhere else), but we do not know what kind of cash figures this actually entails. If you are going to have a film about buying games, we as an audience need to know the prices.
The other big problem is that there are a few times where the movie gets a little too dark and disturbing. At one point, Bartlett begins describing the rough relationship he had with his father, and the aftermath of his passing. I can understand the impact this had on his life, but it was definitely something of a mood killer in an otherwise fairly lighthearted documentary, and felt like it belonged in a different movie altogether.
The film is available on DVD and Blu-ray Disc. The DVD is bare bones, with no features other than a trailer, whereas the Blu-ray is a three-disc set, with the main film on the first disc plus a feature length commentary, deleted scenes on the second, and extended/expanded interviews with the film's guests on the third. If you have a Blu-ray player, get that version.
Despite its flaws, Nintendo Quest is a lot of fun to watch. You will learn plenty about these old school games, and the people that still play and collect them. For game fans old and new alike, Nintendo Quest comes recommended!
Nintendo Quest is followed up by the sequel series, Nintendo Quest Power Tour, which is also available on DVD and Blu-ray Disc.
DISCLAIMER: All images in this review are the property of their respective copyright holders. For promotional use only. All rights reserved.