Beautiful Boy is directed by Felix Van Groeningen. The film stars Timothee Chalamet and Steve Carell, and is based a true story taken from nonfiction accounts by Nic Sheff and David Sheff.
David Sheff is a writer who has always remained close to his son Nic, despite David divorcing Nic's mother and remarrying. Over time, however, Nic develops drug addictions which progressively spiral out of control. The clueless David does the necessary research and helps his son to find his way through rehab programs and attempts at work and college, but he experiences numerous relapses on the road to recovery. Will Nic kick the habit with the support of a loving family, or will his addictions lead to an early demise?
Stories about drug addiction and the consequences it has on the user and those around them are nothing new. Beautiful Boy is a film which attempts to show a gritty and at times devastating true story. For the most part, it succeeds, but a confusing end point, sloppy narrative, and an overlong run time prevent the story from reaching greatness.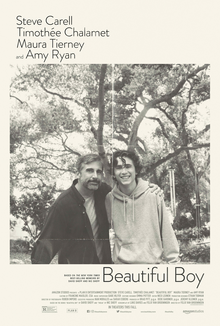 The true standout in the film is Steve Carell. Only a few years ago, we mostly knew this guy for comedies, but he's made a name for himself in more dramatic roles as well. His portrayal of the surprised and shocked father of a teen drug addict feels true to life and believable. He's a genuine three-dimensional on-screen dad who we as an audience can relate to.
The other central star in the film, of course, is Timothee Chalamet, a young actor who's recently been seen in several films, including Call Me By Your Name and Lady Bird, two of last year's best releases. He tackles a diverse assortment of roles quite well, and seeing him as a young man transformed by drug addiction is one of his best work on screen to date. He goes from one end of the emotional spectrum to the other in the blink of an eye. Simultaneously detestable and sympathetic, the film does a superb job showing his decline and attempts at recovery.
Unfortunately, despite great performances from the leads and supporting cast, the film is ultimately weighed down by a questionable narrative structure and an overlong run time. At roughly two hours, the film loses a lot of the impact it would have had with a more focused narrative and shorter length. The movie features numerous flashbacks throughout, yet does absolutely nothing stylistically to differentiate these scenes from the "present" footage, making for an often confusing experience. Sometimes, a completely irrelevant flashback will show up in the middle of a scene of solid development in the present. A non-chronological narrative works in some films, but here it just bogs the experience down. As solid as Chalamet is in the film, I found him less sympathetic near the end of the film due to the overlong duration of the movie and repetitive, similar scenes. It doesn't help that certain characters and plot elements are introduced and never revisited, and the film ends in awkward place which doesn't leave the audience optimistic, despite worded epilogues which imply otherwise.
The good outweighs the bad in Beautiful Boy, namely because of the performances of the two lead actors. The movie is a bit of a mess, but overall it's enjoyable. A moderate recommendation.
Rating: Two-and-a-half stars out of four.
DISCLAIMER: Images in this review are the property of their respective copyright holders, including Amazon Studios, Plan B, and Big Indie. For promotional use only. All rights reserved.