Bravo Delta – UNBREAKABLE
Release Date: February 1, 2019
Let'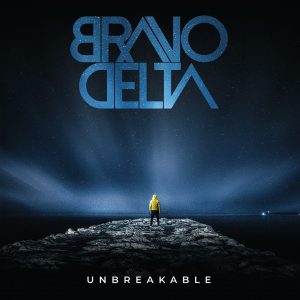 s take a second and think about regular rock music coming from the music scene here in Vegas. Regular rock. Not metal, not punk. For big names we have The Killers, Panic! At the Disco, and Imagine Dragons. (In that order, mind you.) And even though those bands are listed as rock acts, they still hold more of a pop element than anything. (In my opinion, anyway.) Where does Bravo Delta fit in this line of bands? Well… for one… how about ACTUALLY being real, guitar based rock that FITS in the genre of rock? Yeah. That's it.
This is one of those bands that I could see ending up on a playlist next to maybe, Trivium, Coheed and Cambria, and maybe… Incubus? Their sound could easily fit in with any general rock or metal playlists though…(as well as radio stations that cater to these kinds of genres.).
I'll be honest though, I don't know shit about popular rock music other than what I used to hear on the radio when I was a kid. Oddly enough if you were to look up the popular active rock bands of today, bands from the last 30 years are still coming up on these kinds of lists.
The Album:
Upon listening to the 'UNBREAKABLE' album, I immediately thought that the overall tone would be something you definitely COULD hear on the radio. There's catchy guitar parts, (mostly) clean vocals, and easy to understand lyrical content. Another of our staff writers mentions Bravo Delta being all around comparable to Trivium. (Mentioned in the day one article of our Las Rageous write up.) Pretty complimentary, I'd say… Myself and said writer are Trvium fans so there's that.
I'm pretty bad at breaking down actual full points of albums, so I'm not going to sit here and write up an entire album review. What I will say is that I've comfortably sat here and listened to it three times in a row without getting tired of it. And I watched the band perform it live. It's a damn good album, and it will satisfy a number of different rock music fans. So I would suggest giving it a listen. If you like what you hear, definitely go buy that shit!
FIND THE ALBUM ON THESE PLATFORMS:
Spotify: https://spoti.fi/2GlFZ3A
iTunes: https://apple.co/2RxCkBH
Amazon: https://amzn.to/2WwUrf7
Google: http://bit.ly/2MIFKkk
The above video was directed by Jacob Ades, who I met via John Gist from Vegas Rock Revolution. He has been helping create visionary content and working with a number of artists in the Las Vegas music scene the last year or so.
The Party
As for the album release party at Count's Vamp'd, it is very much noteworthy that the damn place was PACKED before the advertised door times. This is a big deal for quite a few of our local acts out here. I can't tell you how many times I've seen a great local band have hardly any draw. It's disappointing on a number of levels for me as a (diverse) fan of my scene. This band has been putting in work since forming about a decade ago. Most of the people at these shows are genuine fans, but I will tell you upfront that they worked hard and promoted the shit out of this event and release.
WORDS AS WEAPONS
The other bands on this bill were Words As Weapons, and Taking Dawn. Two drastically different styles and energy, but also great energy setters for the night. As far as I can tell, Words As Weapons is a relatively new band in the scene. With that, there isn't really much I can tell you about them… the singer has a pretty cool mohawk, and in general the band stays pretty tight. It'll be interesting to see them progress.
As for Taking Dawn… I am not even going to go into depth because if you haven't seen them perform, you need to. Besides, we have an article about Christopher Babbitt/Taking Dawn out anyway… so… there's that. You can find it HERE.
TAKING DAWN
As I had mentioned, the floor at Vamp'd packed it in real good for most of the night, but especially more so as Bravo Delta hit the stage. Throughout the whole set you could see many faces in the packed room singing along to all the songs. Again… THIS IS A BIG DEAL FOR A LOCAL ORIGINAL BAND. The energy in the venue was high enough that navigating as a photographer through the crowd wasn't something I even attempted. (This was an event that I would have liked to see the rope to separate the crowd from the stage, honestly.) That's okay, though… I enjoyed being in a spot where I could see all smiles and happy faces around singing along. After all, just about all of us in the building are indeed friends.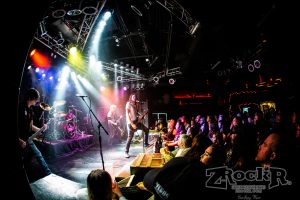 Endgame:
So what's my overall opinion? I would like to see Bravo Delta break through onto another level. The last couple years have been a constant progression and I hope to see them continue to climb the ladder of success. Check out their music, check out their live shows. If you don't care much for the music, at least the energy around you will be good energy… and that should be enough to at least make you smile, and throw up the horns!
Visit Bravo Delta on their social media links!
Live photos taken by Courtney Ware for ZrockR Magazine 2019 ALL RIGHTS RESERVED
Cover and album photos used for promotional purposes only.