What a long and interesting ride it's been for LA Guns! We've seen countless albums, endless numbers of men in and out of the band, and plenty of drama and band politics. Hell, we've seen multiple versions of the damn band! But recent years brought the best LA Guns news in years, when classic vocalist Phil Lewis reunited with classic guitarist Tracii Guns. And two years back, we got their reunion album The Missing Peace, which was easily one of the best rock/metal releases of 2017.
But, the boys from LA Guns aren't content to stop there, much to the delight of fans! We now come to the second album from the lineup of the reunited Lewis and Guns, The Devil You Know. Also in the band are bassist Johnny Martin and drummer Shane Fitzgibbon (classic drummer Steve Riley has started his OWN version of the band, which also features former members Scotty Griffin and Kelly Nickels). The Missing Peace was a kick-ass album and one of the best in its year of release. But does lightning strike twice for the Guns boys?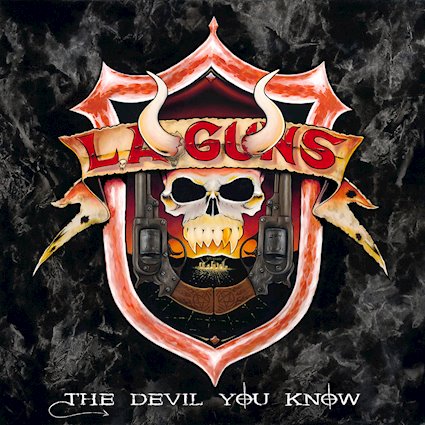 I'll be honest; I was so big a fan of The Missing Peace, LA Guns could have just made a "copycat" album to follow it up and I would have loved it just the same. If you're not a fan of repetition, fear not; The Devil You Know is a whole new kind of animal. The group strips down and gives fans a more raw experience on this album which doesn't shy away from their influences from the days of old, yet still feels like the Guns record we need in the modern world. It's rare to see a band release two distinctly different albums back to back, yet they still feel accurately representative of that band. In the case of LA Guns, The Devil You Know is totally that record. These aren't just leftover tracks from the last album. The band members keep things interesting for the fans, and still rock as hard as ever.
Did I mention the songs on here kick ass?
The Tracii/Phil team reuniting is a treat for all fans. Unlike many of his aging peers, Phil Lewis still has a fantastic voice which does justice to anything he sees; he's a seriously underrated singer, and you'll see just how talented and charismatic a frontman he is from the beginning to end of the record. Likewise, Tracii Guns is still a killer axeman who delivers on every single track. The rhythm section of Mr. Fitzgibbon and Mr. Martin prove to be no slouches either, carrying the album from front to back. It doesn't hurt that the album is never boring, with every track being its own unique product. It's one of the most diverse assortments of tracks the band has ever released.
The Devil You Know has just taken the title of "Best Album of 2019 So Far" from this headbanger. When it streets later this month, don't hesitate to add it to your collection if you're a fan.
ABSOLUTE HIGHEST RECOMMENDATIONS!