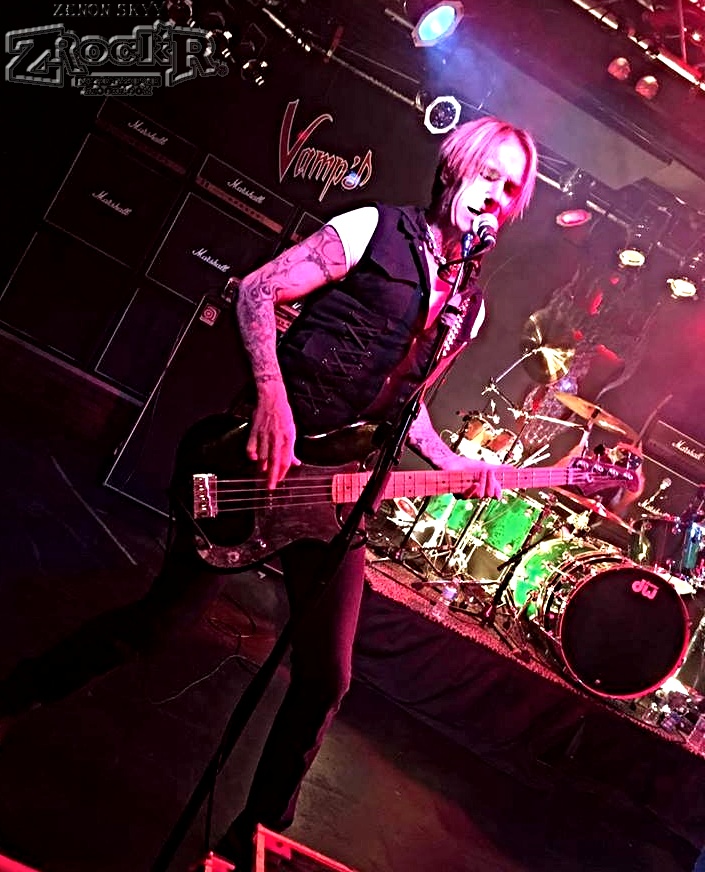 On April 1, 2017, Lies, Deceit, and Treachery returned to Vamp'd, having previously played a show at the venue in January 2015. The group, teaming up former Bulletboys members Lonnie Vencent, Jimmy D'Anda, and Mick Sweda with new vocalist Shane Tassart, performed to an enthusiastic crowd on this occasion with Vegas favorites The Bones in tow as the support act.
The Bones have been rocking Las Vegas for several years now, playing numerous shows across the valley, and have put out a number of CDs. The band started off doing raw, punky covers of overproduced 80s pop songs, and doing a surprisingly good job of it, eventually moving on to recording original power-pop anthems. It is tough to choose any one way of describing this group because no one else is quite like them.
The Bones are comprised of vocalist/guitarist Patrick Vitagliano, guitarist Jeff Duncan (Odin, Armored Saint), drummer Shawn Duncan (Odin, and Bulletboys ironically enough), and bassist Sean Koos (Joan Jett and the Blackhearts). These guys have a look all their own, and a sound to back it up. Eccentric as hell but definitely entertaining, they have been a breath of fresh air to the world of Vegas music for years now. Their albums became fast favorites for this rocker, and I am always eager to see what they do next.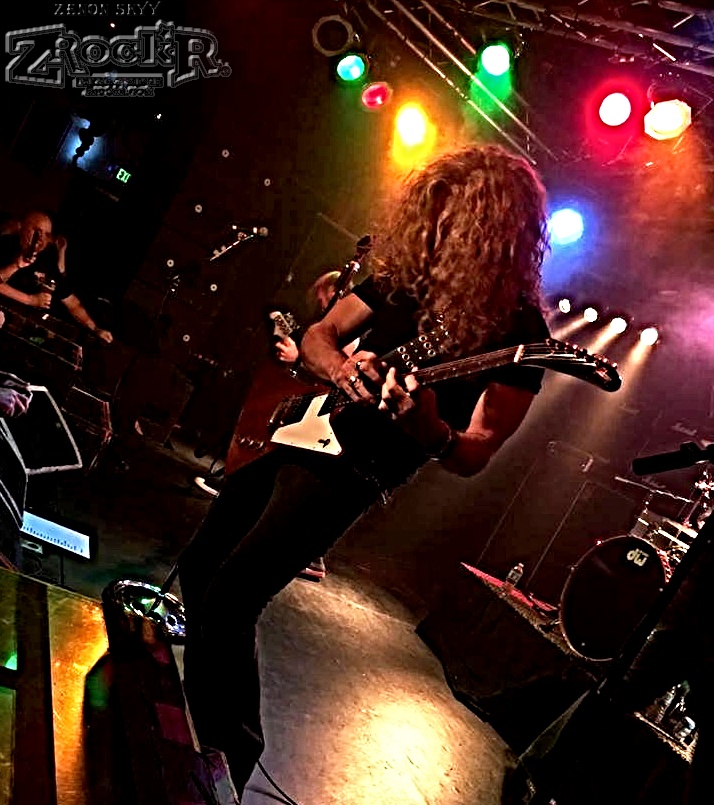 This rock and roll fan is happy to see the band has reached a point where they can comprise a setlist of original material, though we did get some covers (in the band's distinct style) of favorites from Modern English and Sly Fox. Seeing The Bones is an experience, and one every fan of rock/power pop sounds should experience at least once.
And then, of course, we get to our headlining group. The Bulletboys were originally founded by three former King Kobra members plus a different drummer, and Lies, Deceit, and Treachery gives fans three of those four classic members, with new vocalist Shane Tassart fronting. Having not heard from the group following their January 2015 show, I figured this group was done with and the members had gone on to other things (Jimmy D'Anda, in particular, plays with many other groups, including Let it Rawk). This fan was ecstatic to see the ad, and that they would be returning to Las Vegas to rock Vamp'd.
The foursome wasted no time getting down to business, with Bulletboys classics like "Hard as a Rock," "Hell on My Heels," "THC Groove," "F#9," "Hang on St. Christopher," "Smooth Up in Ya," and "For the Love of Money." A great, diverse setlist covering a variety of cuts from the band's three classic Ted Templeman-produced Warner Bros. albums thoroughly rocked this audience. While the 1988 self-titled debut is by far the best and most successful Bulletboys record, it was great to see cuts from its follow-ups, Freakshow and Za-Za. The classic cut missing from the setlist I would love to have heard was "Kissin' Kitty," but with this strong a performance and setlist, that is easy forgiven.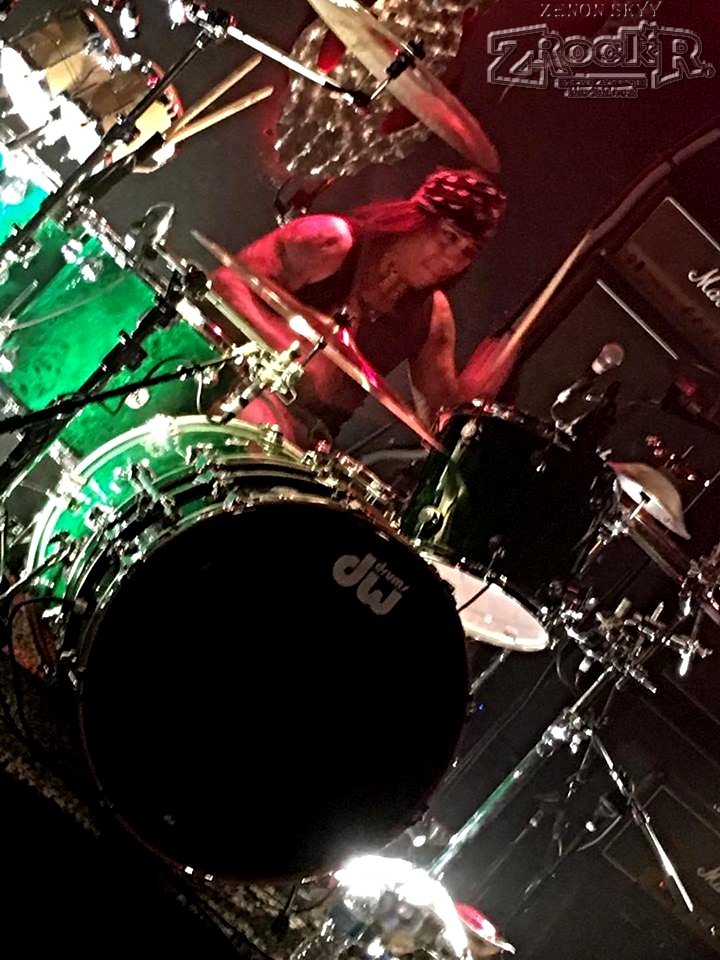 Reunions and semi-reunions of classic bands/members/etc. are a risky proposition; no one wants to see the old gang get back together when no one wants to play in the same band anymore, or to put on mediocre performances just to pay the bills. Let me be the first to say that Lies, Deceit and Treachery DOES NOT suffer from this at all. This is a bad-ass quartet that holds nothing back. All four members of the band got a chance to shine in their songs and respective solos, of which there were many.
Vocalist Shane Tassart is fighting an uphill battle having to fill the shoes of classic Bulletboys vocalist/guitarist Marq Torien (who these days fronts his own version of the Bulletboys with a different lineup). Unlike Torien, Tassart does not play guitar, which would seemingly leave a gap in the band, but he absolutely brings it with his stage presence. Anyone who has seen Torien live even in this day and age knows what a charismatic, energetic and powerful frontman he is, yet somehow Tassart manages to hold his own and keep the audience impressed. In the hands of a lesser vocalist, this band could have been a disaster. I did not know who Tassart was prior to seeing this group two years back, but the man has won me over and then some.
Guitarist Mick Sweda is the only one of the classic Bulletboys lineup to actually appear on the first two King Kobra records (Torien and Vencent played with the group for only a very brief period following their second album but prior to the third, and can be heard on some later-released archival recordings). As the frontman in this group does not play guitar, that means Lies, Deceit, and Treachery has Sweda as its only axeman. I thought this could be the kiss of death for this band, yet he still manages to bring a "full" sound to the group; not an easy task with only one guitar player. I was disappointed not to see Sweda at last year's King Kobra concert, as he had other obligations that forced that group to hire a "fill-in" player, but it was worth the wait to see him doing his thing on the live stage shredding away at the classic Bulletboys tunes here. This guy is a severely underrated rock guitarist.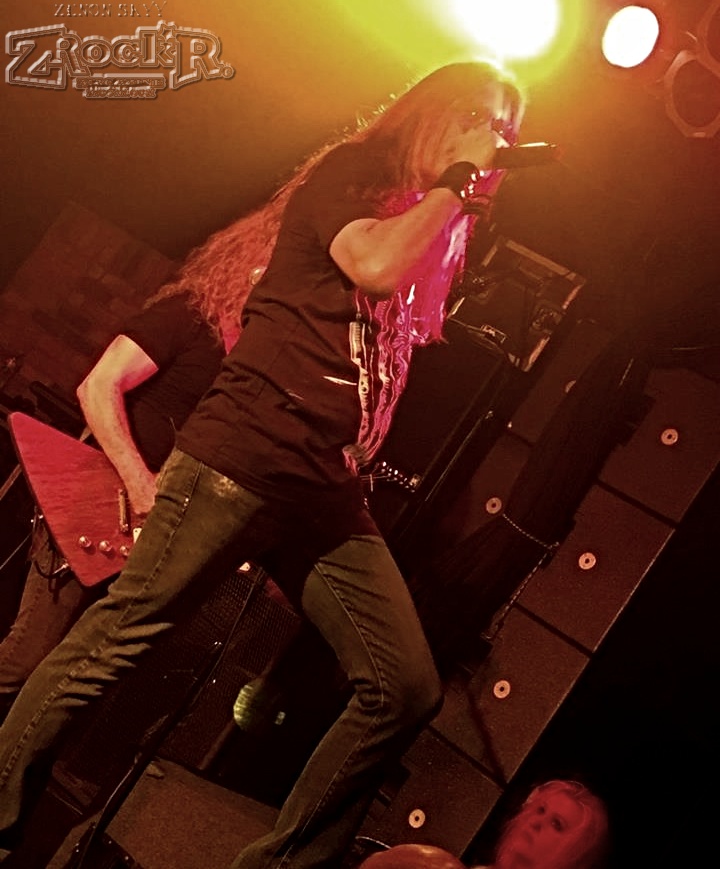 Drummer Jimmy D'Anda certainly gets around and has played with many groups/projects. And while I am certain the female fans were disappointed that he wore more clothing at this show than the January 2015 gig, he absolutely killed it on the drums. Like many venues, Vamp'd has a "house" drum kit that these guys can use, but it always impresses me when a drummer brings his own signature kit; there are so many different and wild arrangements that someone can pull off. D'Anda's kit was huge, and he put the whole thing to work for the entirety of the evening. With this guy pounding away at the skins and cymbals, the whole evening had a very full and powerful sound. That this guy does not feature on more "best drummer" lists is absolutely criminal.
But the one man of the four that truly impressed me and caught me off guard was bassist Lonnie Vencent. Do you remember that scene in Spinal Tap where they refer to their bass player as "lead bass?" To say that Lonnie Vencent was playing "lead bass" would be the understatement of the century. This guy was front and center all night, ripping away with a powerful sound and presence that showed off he was not content with being relegated to the "rhythm section." Any bass player can be content with standing on stage playing the rhythm parts for the evening, but this is a man who makes himself known and heard. And on this evening, that was evident from start to finish.
Did I mention I loved this band/show? The Lies, Deceit, and Treachery show plus a fantastic support set from The Bones made this one of the finest evenings of rock and roll in 2017 so far. Hopefully the LDT group stays together; it would be great to get some original material from these guys down the road too. If they hit up your town and you are a Bulletboys fan, head out and hear the classics done justice by ¾ of the classic band! You will not be disappointed.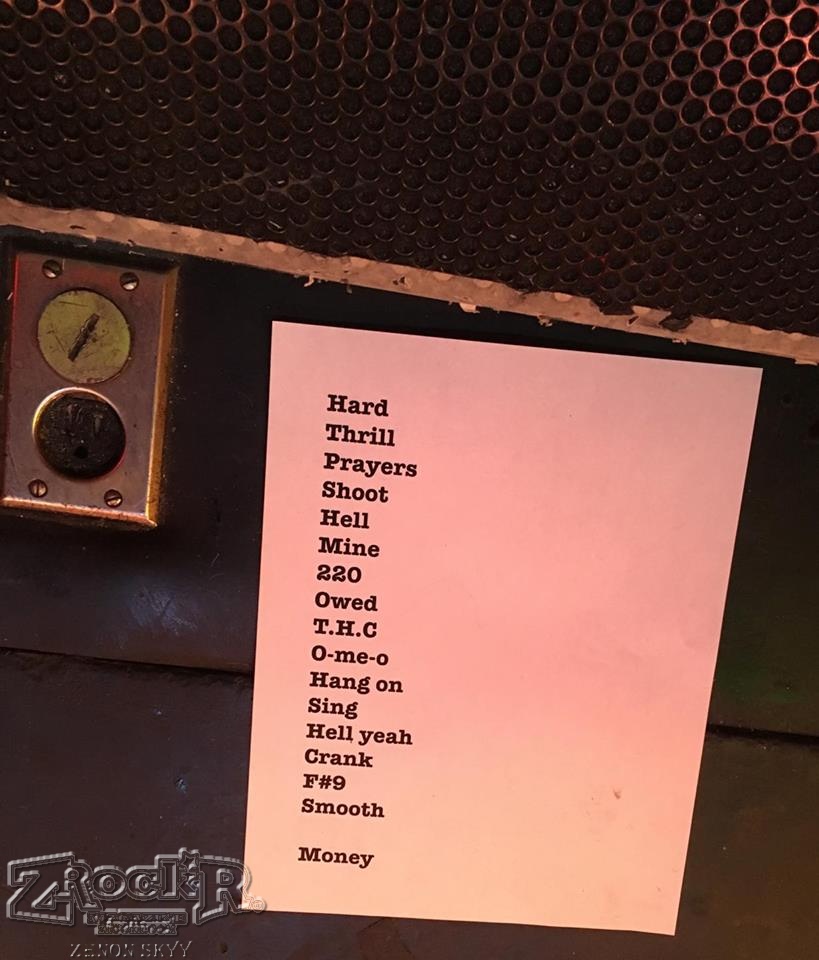 Video clip from official Mick Sweda YouTube channel:
PHOTO CREDIT: All photos by Zenon Skyy for ZRockR Magazine- ©ZRockR Entertainment, LLC – ALL RIGHTS RESERVED