…and we draw to the conclusion of another exciting year for rock and roll in the Vegas Valley. While I will be the first to admit that my concert attendance has dwindled somewhat this year, both due to more heavily pursuing film reviews, and some other obstacles that have made it difficult to get out to attend shows in certain circumstances, namely my day job. That said, I can safely say that the year still had more than enough rock and roll to satisfy the masses, this fan included.
As always, we will be looking at the five best albums and five best concerts of the year in Las Vegas, as well as some honorable mentions that did not quite make the top five, but still deserve recognition. Before we get to those list, though, we will be checking out some other "Best Releases" that are worthy of attention, including reissues. For this year I am slightly relaxing the rules for the "Local Artist" categories; while I will still not include national/international bands that started in Vegas here, I will include locally-based bands that primarily only play Vegas, even if their ranks do include a handful of artists that formerly toured the world and were international stars.
Except where specified otherwise, I have reviewed all albums/concerts/etc. listed here, and you can click on the respective links to get to those pages. Simply click said links and you can access a full review for the item/album/concert in question.
–
–
Best Reissue of a Classic Album
Dokken: Beast from the East
All good things must come to an end; this includes Dokken's classic era. But this is a band that went out with a bang, unleashing a hard-hitting live album that did justice to the four records and world tours they had embarked upon up to that point. Beast from the East was the culmination of the band's 1980s work, and stands as one of the greatest triumphs in a long career. Disappointingly, earlier CD releases cut three songs to slap the concert on one CD. Rock Candy does right by the Dokken fans, and restores the full-length LP tracklist, by diving it across two CDs, also including remastered sound quality and expanded liner notes.
–
–
Best Reissue of a Classic Album Honorable Mention
Montrose: Montrose and Paper Money Deluxe Editions (not reviewed)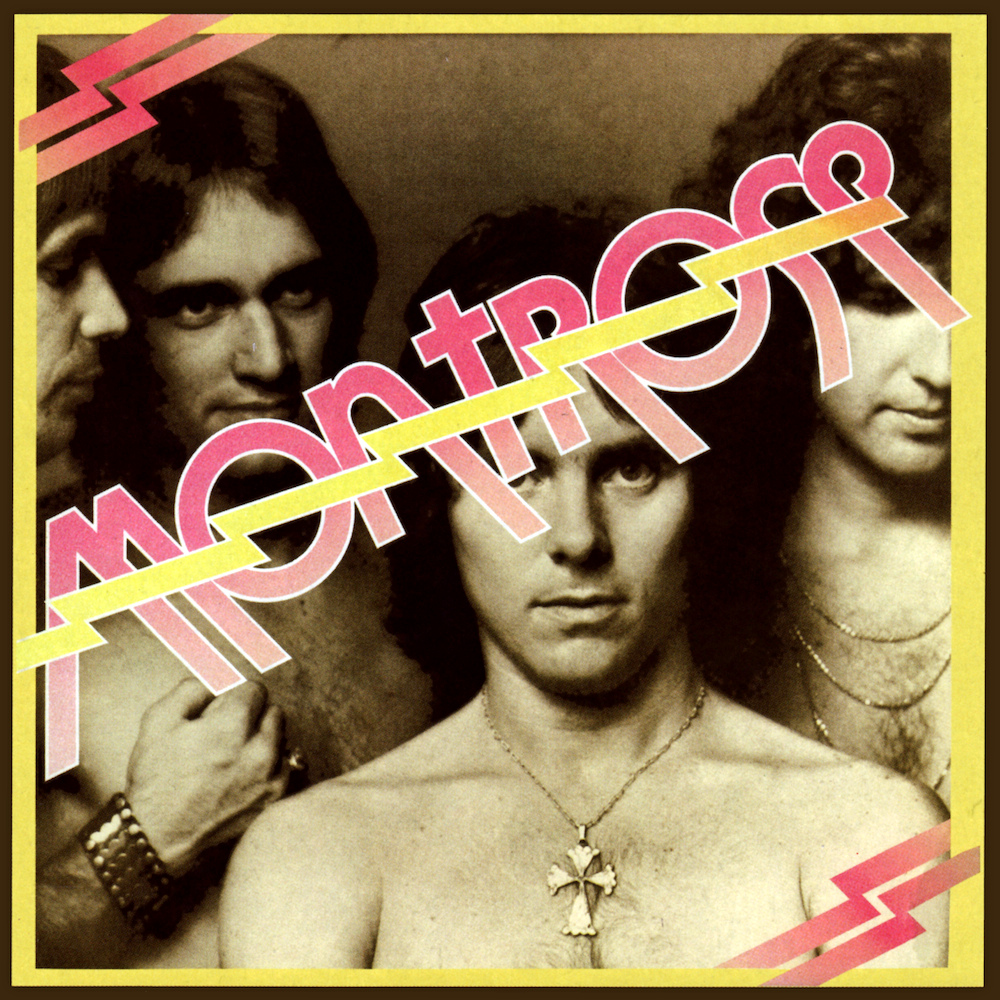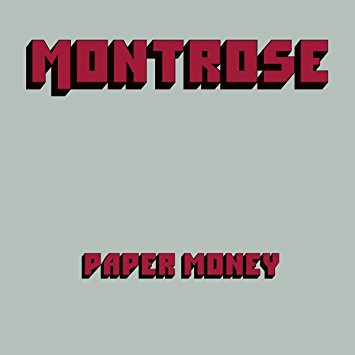 Montrose's first two records featured vocalist Sammy Hagar in his first professional major label recordings, and underrated-as-hell guitar wizard Ronnie Montrose (RIP) who was fresh out of the Edgar Winter Group. Produced by Ted Templeman (who would later produce the David Lee Roth-era Van Halen records), these albums on their own are rock and roll masterpieces that belong in any collection.
At last, these releases have gotten the deluxe treatment! The Deluxe Editions feature the original albums combined with some bonus live radio sessions, and the first album even has demos of the tracks. For fans of Sammy Hagar, Ronnie Montrose, the band Montrose, or just good old fashioned classic/hard rock in general, these packages are must-owns.
–
–
Best New Live Release
Michael Schenker Fest: Live Tokyo International Forum Hall A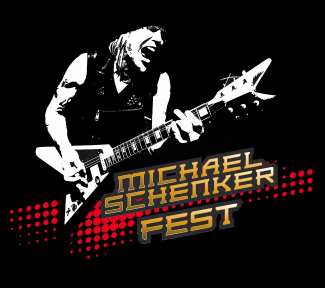 Inakustic has been cranking out Michael Schenker Blu-ray Disc releases for the past several years, and the latest in a long batch of them may be the best one to date. Here, Schenker reunited with his three classic solo band vocalists; Gary Barden, Graham Bonnet, and Robin McAuley, and an all-star lineup that also includes Chris Glen, Steve Mann, and Ted McKenna. We get a concert that has the vocalists alternating, singing a few tracks from their own eras, plus a few surprises. The bonus features, seeing the band travel around Japan, only add to an already impressive concert package. If you only get one Michael Schenker Blu-ray Disc, go for this one. The release is available on CD as well.
–
–
Best New Live Release Honorable Mention:
Jeff Lynne's ELO: Wembley or Bust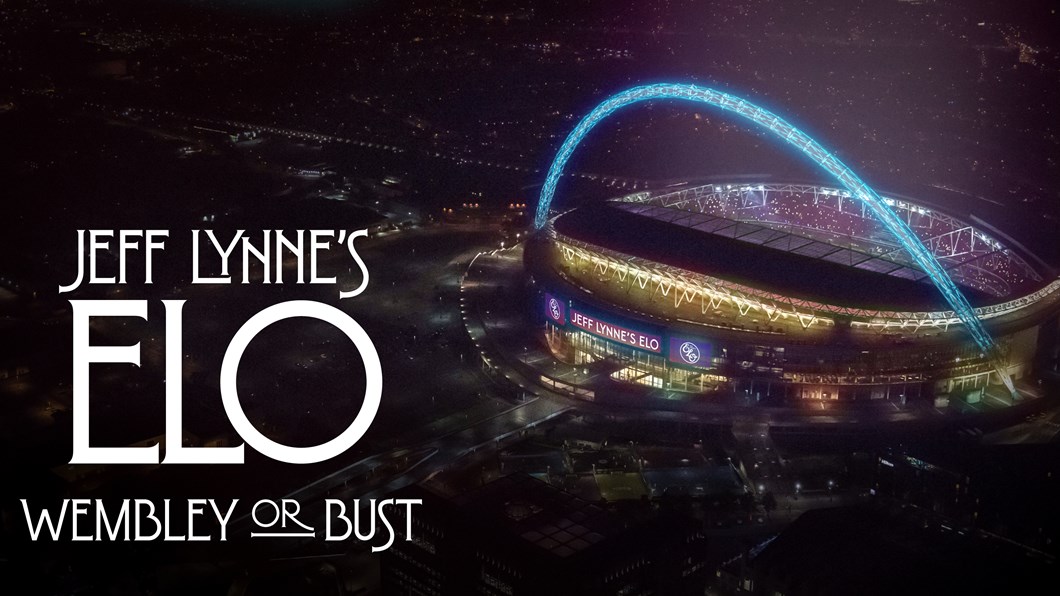 Jeff Lynne has been adamant about reviving the Electric Light Orchestra (ELO) name over the years, and on his latest go-around, he just might have pulled it off. This is a solid live release that brings back many of ELO's classics in fine form, along with a few surprises and deep cuts. Fans will not be disappointed with what they find here.
–
–
Best New Release of Vintage Material
Snow: At Last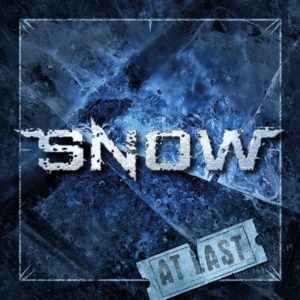 Most of the time when I do the "Best of the Year" list, I have a separate category for "Best New Release of Vintage Studio Material" and "Best New Release of Vintage Live Material," but this year, I found one release that covered both!
Snow is something of a legendary "cult" band, featuring Carlos Cavazo prior to joining Quiet Riot, and his brother Tony, who went on to perform with Hurricane. The band was more of a "classic rock" band than a "heavy metal" one, making for some interesting listening. These rare recordings finally get a long overdue release here, with both a studio disc and a live disc, and surprisingly good sound quality on both. The real highlight here is the track "No More Booze," which is actually the early version of Quiet Riot's future anthem, "Metal Health." Fans of the Quiet Riot family will definitely want to check this one album.
–
–
Best Rock Documentary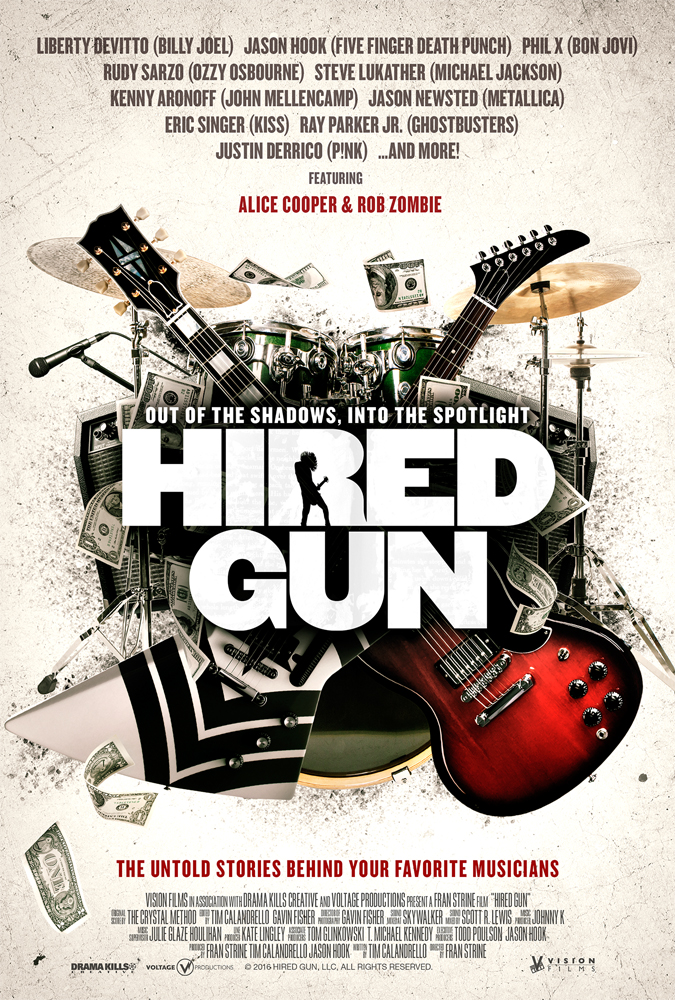 There are so many unsung heroes in the music world, and this documentary from filmmaker Fran Strine brilliantly explores this, with countless "hired guns" from the music business sharing their own stories from the studios and the stages. It sheds some much-needed light on unsung heroes of the music business, and is not even limited to rock and roll performers (hell, one of my favorite interviewees in the film was Ray Parker, Jr. of "Ghostbusters" fame!) This is essential viewing for any fan of the music world/industry.
–
–
Best Rock Book
Runnin' with the Devil by Noel E. Monk (not reviewed)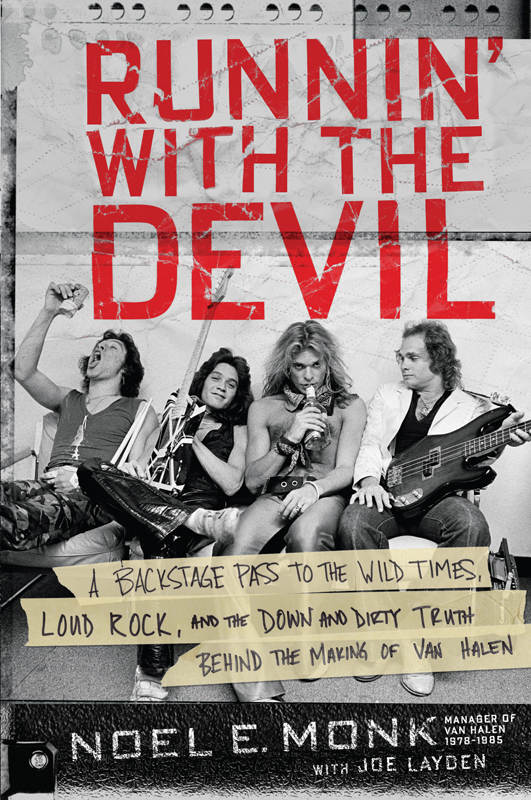 To be fair, I actually only started reading this one and am I long way from finishing it. But there has been more than enough to get the attention of this rock and roll fan. Written by Noel E. Monk, whom managed Van Halen in their glory days from 1978-1985, this is a great look behind the scenes of the classic era of one of America's greatest rock bands. If you are a fan of old school VH, it won't disappoint. I will most likely be posting a proper review for the book at a later date, after finishing reading it.
–
–
Best Release from a Locally-Based Artist
Electric Radio Kings: Lights Fantastic EP
Guitarist Stacey Blades has called the Vegas scene home for many years, and definitely impresses with his latest group, which moves in a more modern/contemporary direction. Also including local Vegas favorite Johnny Rude, the new project has put out an EP that will not fail to impress. With elements that range from power pop to sounds reminiscent of bands like Foo Fighters and Stone Temple Pilots, this is a great release that deserves your attention. It will officially be released on December 8.
–
–
Best Release from a Locally-Based Artist Honorable Mention
The Bones: Caramel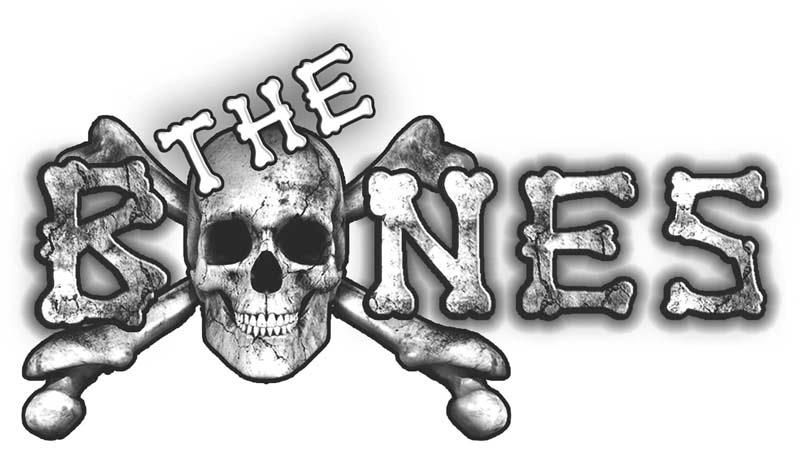 These eccentric rockers have been favorites of this rock and roll fan for many years now, out here on the Vegas scene. Patrick Vitagliano, Jeff Duncan (of Odin and Armored Saint fame), and Sean Koos all continue to impress audiences with their variety of sounds, and their latest release is the most musically bold and daring to date. Well worth checking out.
–
–
And now, some Best Album of the Year Honorable Mentions, in no particular order.
–
–
Stephen Pearcy: Smash

The classic Ratt vocalist has continued his career over the years with mixed results in the studio and on the stage, but on his latest solo album, he makes a killer comeback. Combining elements of a classic Ratt sound with the occasional more modern edge, this is hands down Pearcy's best non-Ratt release. With a solid band lineup and a killer selection of tracks, including "Ten Miles Wide," which has become a personal favorite since the release, this one is well worth owning.
–
Black Star Riders: Heavy Fire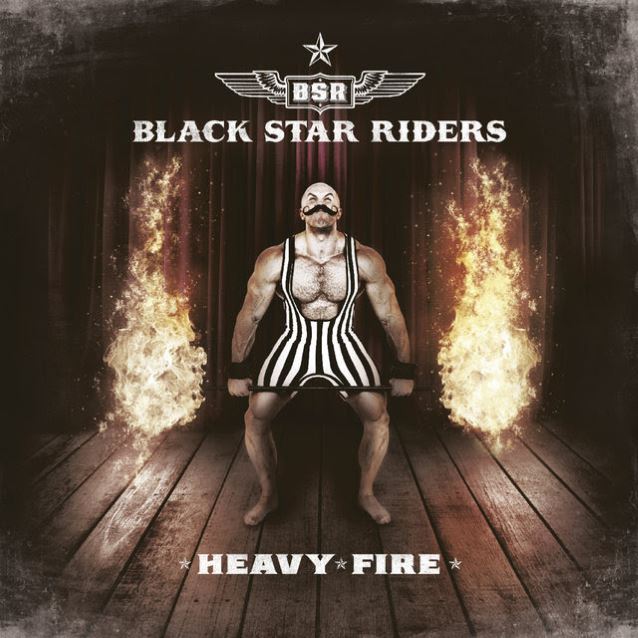 The Thin Lizzy spin-off band continues to persevere, recording and releasing solid records that combine classic and modern musical elements alike. The latest, their third overall, is a spectacular release that begs to be heard. Do not overlook this release!
–
Accept: The Rise of Chaos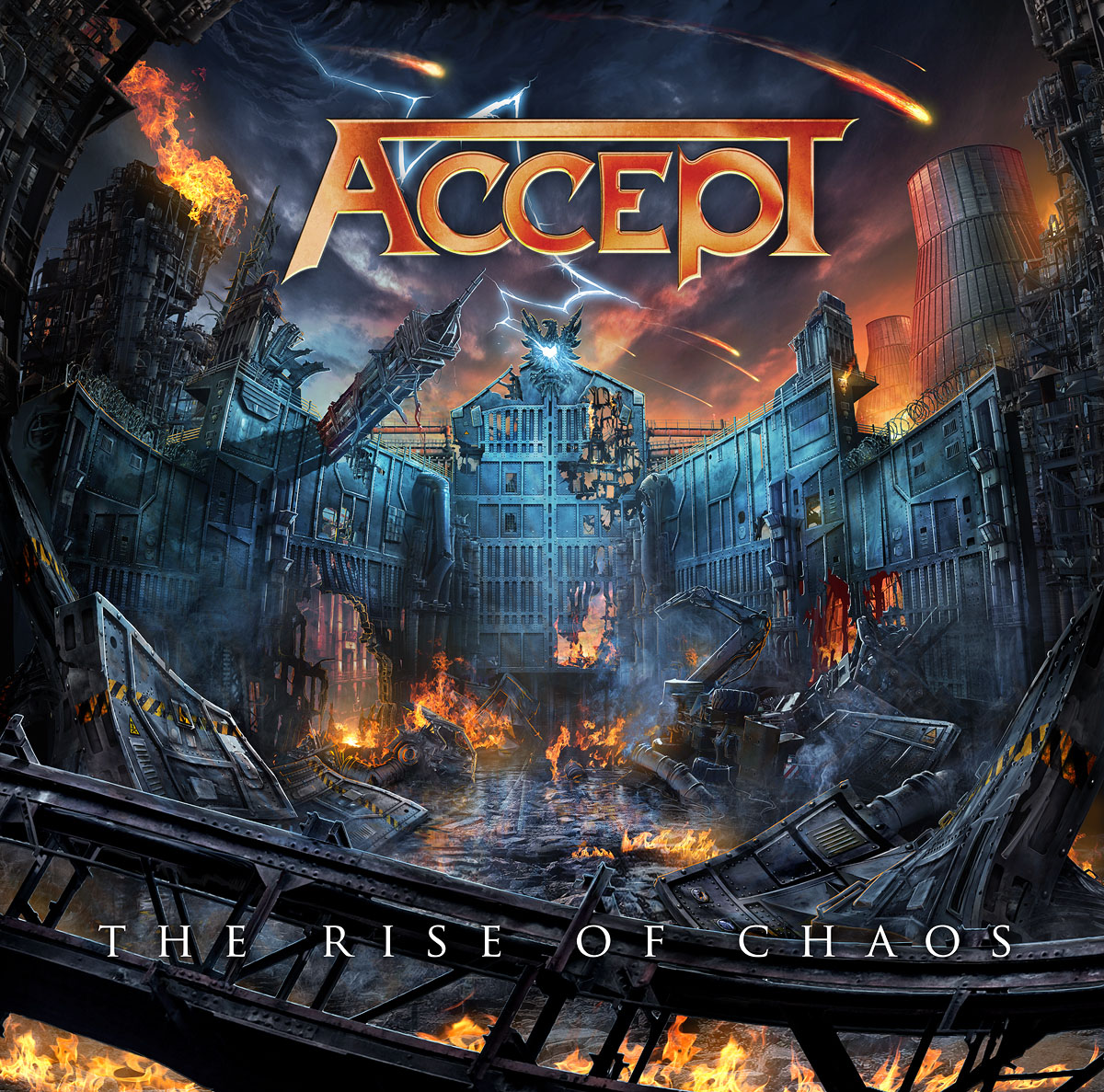 Who would have though the lineup of German heavy metalers Accept fronted by American vocalist Mark Tornillo could be so damn satisfying? This is the fourth studio album from Tornillo-fronted Accept, and once again, the band strikes gold. Relentlessly hard and heavy but with enough musical diversity to keep things interesting, this hard rock and heavy metal fan hopes the Tornillo-fronted incarnation of the band is here for years to come.
–
Rex Brown: Smoke on This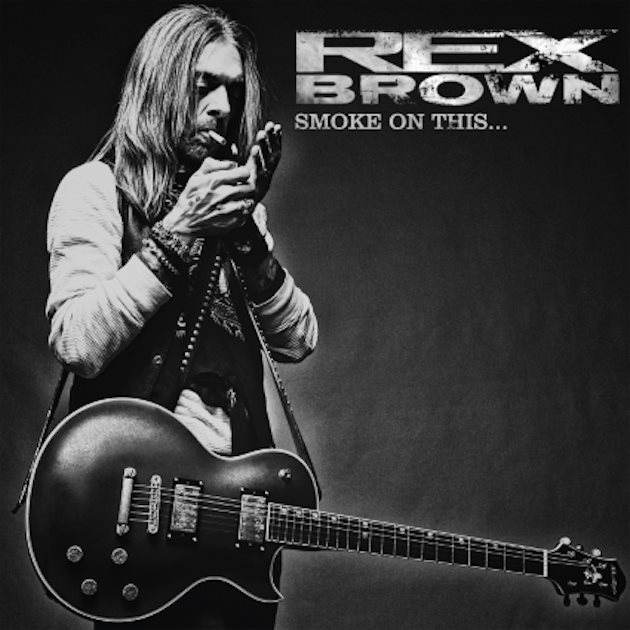 Pantera bassist Rex Brown was the last person I expected to see a solo album from, but the results, while decidedly different from Pantera, are very satisfying. With diverse groove-driven blues rock and even Beatles-esque power-pop tunes, this one may pleasantly surprise you. Just don't go in expecting "The New Pantera Album" and you'll be fine.
–
Janet Gardner: Janet Gardner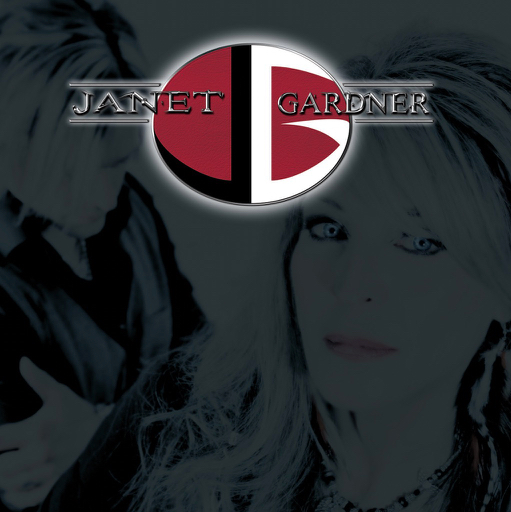 The Vixen vocalist joins forces with her husband Justin James and gives audiences a modern-driven metal assault; the new Vixen album this is not! Right from the gritty opening riffs and the initial lyric about "dirty mother fuckers," it is apparent that this is a whole new ball game for the beautiful singer, and one that is going to take many by surprise. This album will not be for everyone; the modern-driven sound may be off-putting to some. But it does not change the fact that this is a powerful release that deserves a listen, and your attention.
–
Alice Cooper: Paranormal

After the hit-and-miss Welcome 2 My Nightmare in 2011 and the more satisfying Hollywood Vampires project alongside Johnny Depp and Joe Perry, Mr. Cooper has returned with his most powerful solo album in years. Many of these cuts are instant classics. Alice turns 70 in February 2018, but he beautifully demonstrates here that age is just a number. You definitely want this one in your collection.
–
Bob Kulick: Skeletons in the Closet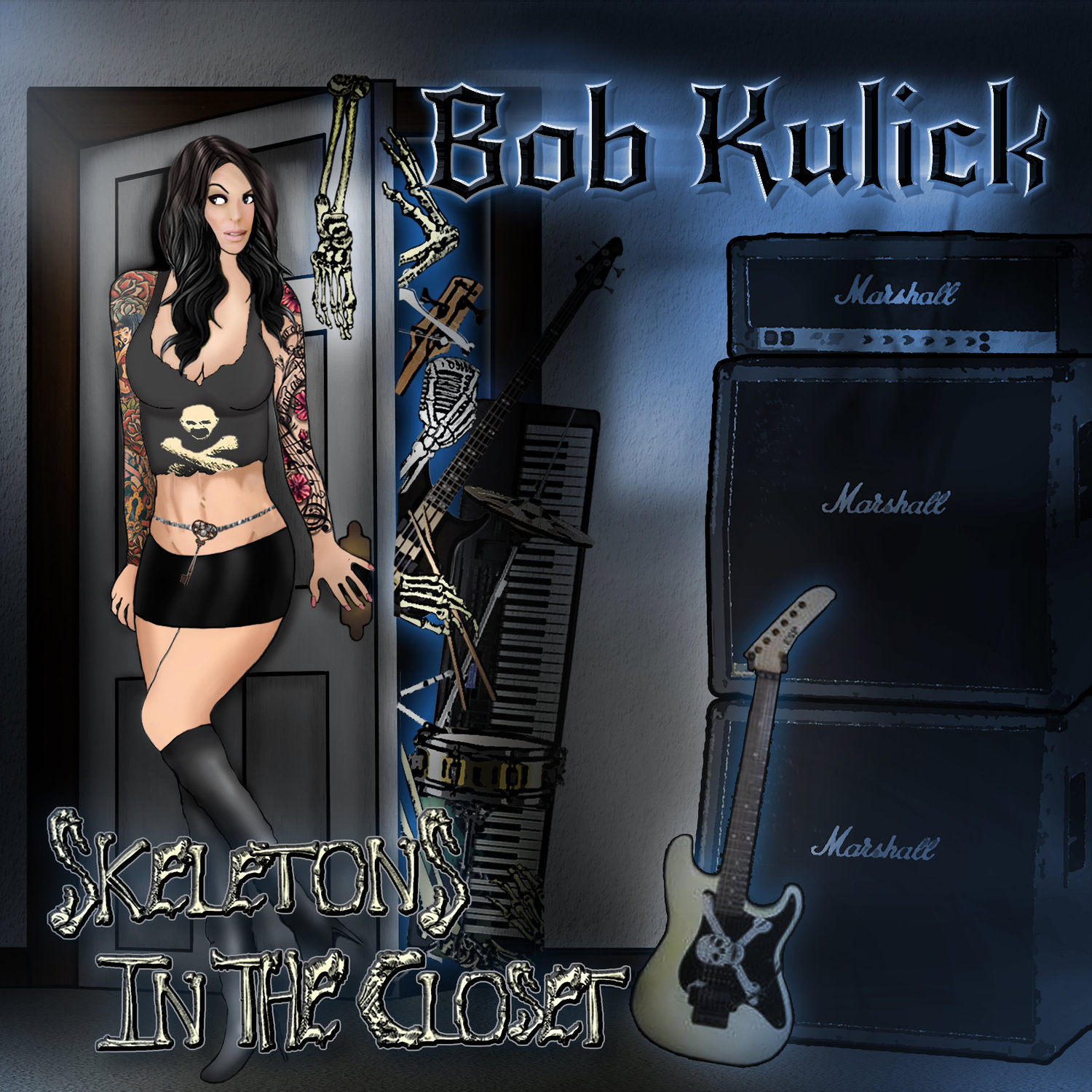 Bob Kulick (Bruce Kulick's older brother) has been doing session and touring work for years with countless acts, ranging from KISS to Meat Loaf, also lending his songwriting talents. For the first time ever, Mr. Kulick gets to show off what he does best, giving audiences a true SOLO release. The album features five new tracks with special guests like Robin McAuley, Todd Kerns, and Dee Snider, an unreleased cut from the 80s featuring future KISS drummer Eric Singer, and the remaining spots are filled out by previously-released songs from the underrated Skull and Murderer's Row projects (which beg to be revisited). A powerful and satisfying release.
–
Pretty Boy Floyd: Public Enemies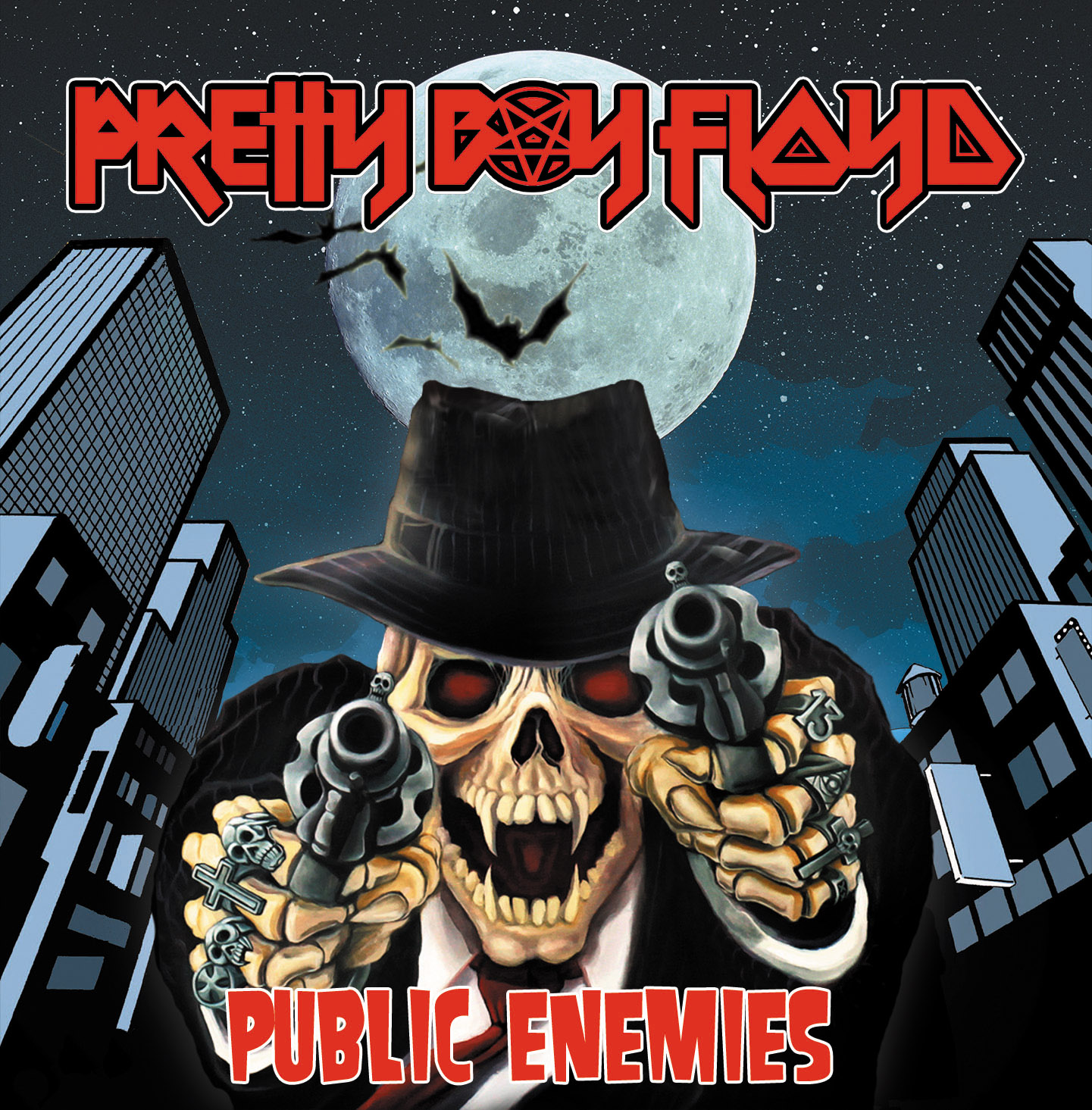 Steve "Sex" Summers and Kristy "Krash" Majors have released what is easily their best album since their landmark late 80s debut, Leather Boyz with Electric Toyz. With the release of Public Enemies, it's party time all over again. This is the ultimate rock and roll trip back in time, with party rockers, rock anthems, and even power ballads! If you did not know better, you would swear this one was recorded immediately after the band's debut; I kid you not.
–
Great White: Full Circle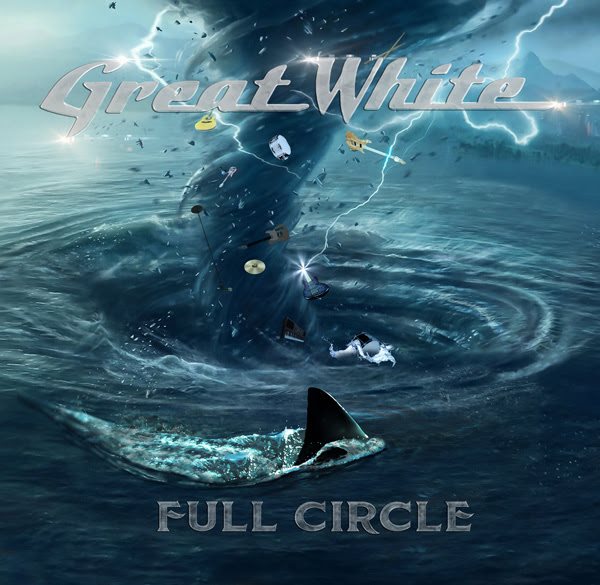 Easily the best Great White album since the early 90s. Frontman Terry Ilous (of XYZ fame) fronts the band for his second album with them, and gives us a powerful vocal performance throughout. Mark Kendall, always one of the industry's most underrated axemen, shows off what he is capable of as well. I never would have thought I would like a non-Jack Russell Great White this much, but this release is a killer one, and certainly surpasses that of the Jack-fronted album that came out earlier this year.
–
Babylon AD: Revelation Highway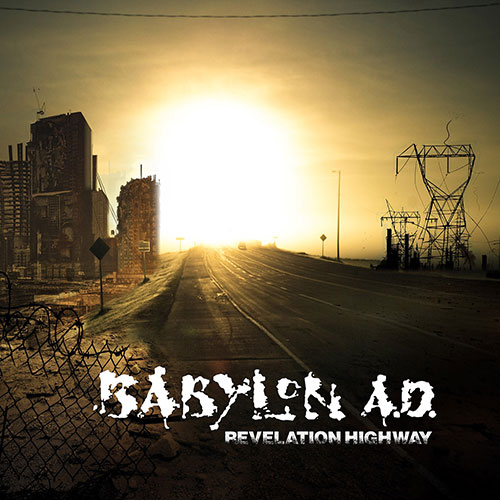 Derek Davis and the boys strike back in fine form with this surprise release! This is a group that always rocked hard but never got the proper credit, though their new release showed that they are still on top of things, kicking ass and taking names. The album sounds like it could have been recorded six months after their debut, not three decades! Highly recommended, of course.
–
–
And now, we move on to the five Best Albums of the Year!
–
–
5) Night Demon: Darkness Remains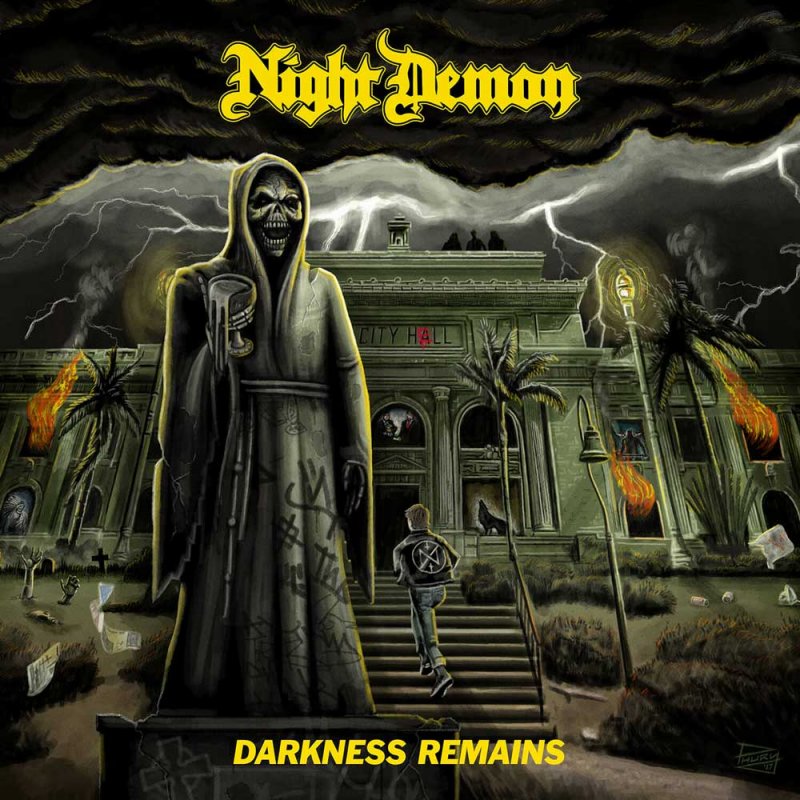 They may be out of California, but these guys better encapsulate the sounds and the atmosphere of the New Wave of British Heavy Metal (NWOBHM) better than any other modern act. Jarvis Leatherby and company have been doing their things for several years now, and I have been a fan ever since I saw the group open for Dio Disciples back in 2014. This is the third release from the band, following an EP and a full-length album. These guys must be heard to be believed; do not overlook them!
–
4) LA Guns: The Missing Peace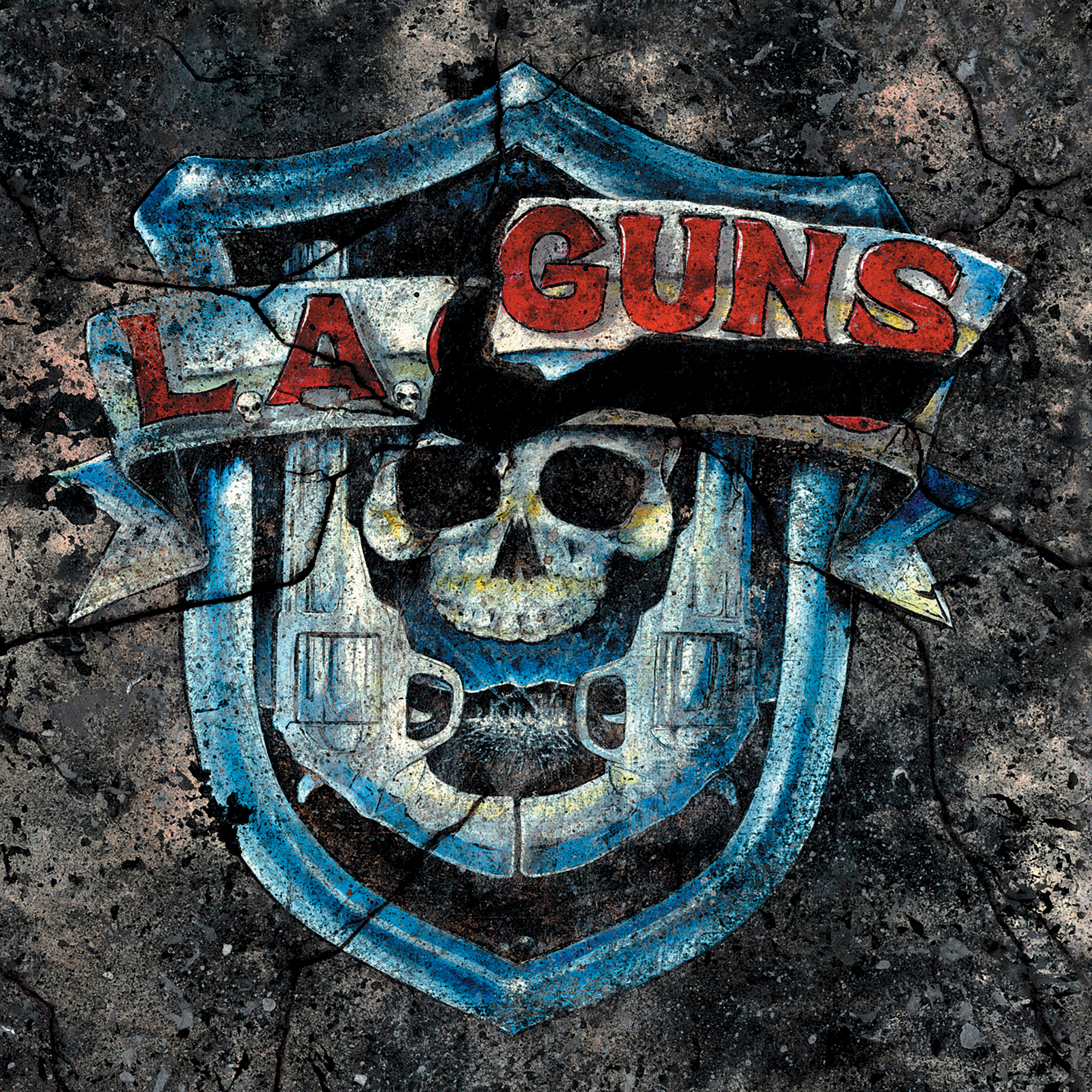 Tracii Guns and Phil Lewis reuniting and recording a new album of original material. The very premise is enough to get someone excited, and when you listen to this release, you will be happy to see that the execution lives up to the hype. These are some of the strongest songs we've heard from the band in years, and it is great to see the duo most associated with the band back where they belong – together. Needless to say, a highly recommended release.
–
3) Europe: Walk the Earth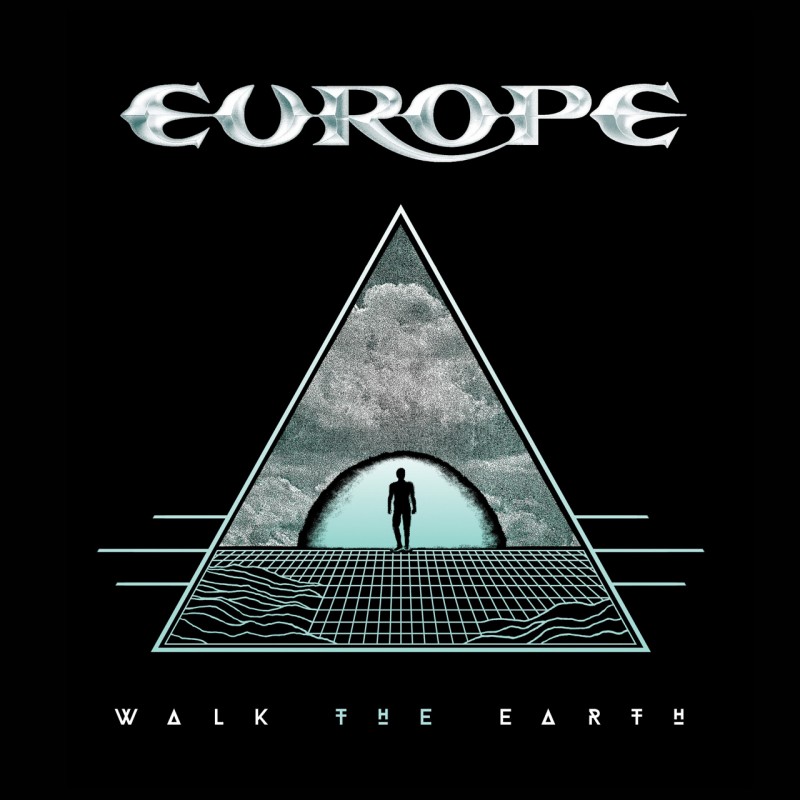 Yes, these guys did more than "The Final Countdown." In fact, this is their ELEVENTH studio album of original material. One thing I love about Europe is that, since their reunion in the early 2000s, they have not clung to their glory years, and have taken the time to record new and musically diverse material. War of Kings, their previous release, was arguably the best one they ever recorded, and even though the new record doesn't quite top it, it is damn near just as good. John Norum's rock riffs and Joey Tempest's soaring vocals (which sound as good as ever) are beautifully supplemented by Mic Michaeli's keyboards, making this album one that stands out from the masses. These guys are still alive and well, and stronger than ever.
–
2) Appice: Sinister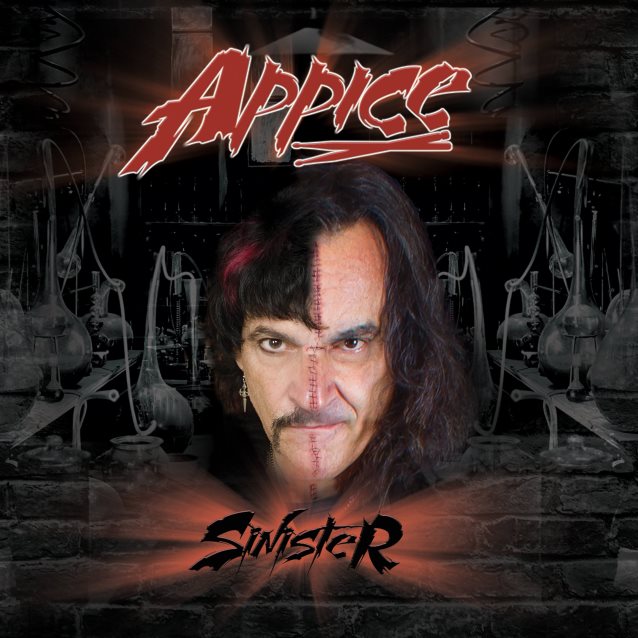 Vinny Appice and Carmine Appice have long been two of the rock and metal world's most iconic drummers, yet the two never really did anything together until reuniting to do Drum Wars shows a few years ago. You will be happy to hear that the two have not only united to make a studio album together, but also that they have put together an ensemble cast of the best names in the music world for the effort! With vocalists ranging from Paul Shortino to Robin McAuley, and guitarists like Bumblefoot and Mick Sweda (Bulletboys, King Kobra), this is an incredible release that has all the bases covered, from straightforward rockers to more moody and atmospheric pieces. You will not be disappointed with the Brothers Appice, and what they serve up on this release.
–
–
–
–
And now, the number one album of the year:
–
–
–
–
Sainted Sinners: Sainted Sinners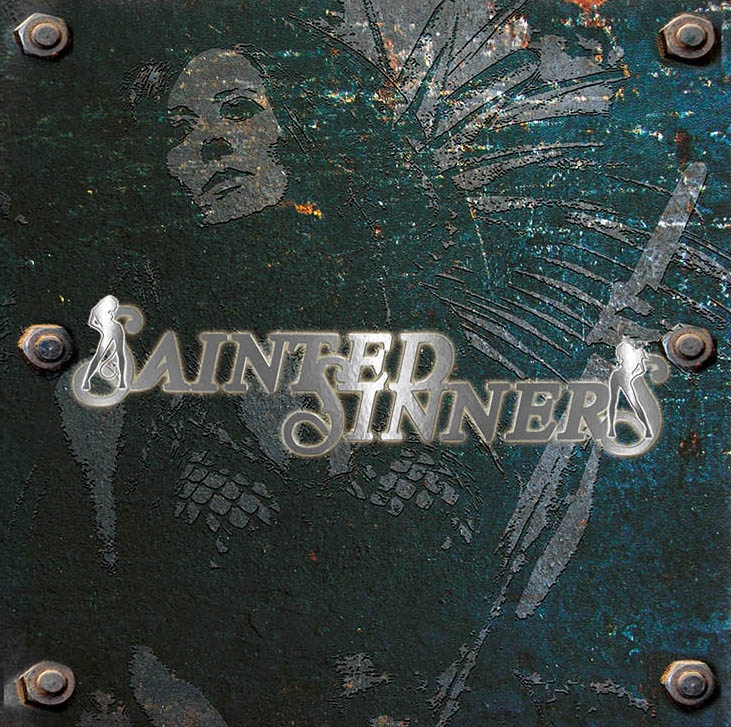 Number one album of the year, and you probably are wondering "who the hell is this band I've never even heard of, that took the number one spot?"
David Reece is not exactly a household name; he is best known for being the vocalist of Accept on their controversial Eat the Heat album, and later for his work with Bangalore Choir. Here he goes in a completely different direction with a band of talented musicians, giving listeners an organ and guitar-intensive record that brings old-school bands like Deep Purple to mind. Right from the opening of the record to the numerous diverse anthems that follow, it will not be hard to find out why I have declared this one Album of the Year 2017. Even if you are not familiar with Mr. Reece and his work, you owe it to yourself to get this release.
–
–
–
With that, we move forward from albums and such to live shows. As always, there are a few things I need to go over here before moving forward with the article:
Firstly, the biggest rule and the one I always have to stress. I am a huge rock/metal fan, and make every effort to attend shows, but despite this, I am unable to attend every single show. This can stem from things like lack of funds, not being approved for a show, having other engagements, working on film reviews, a show falling on a night when I work the next morning, performance being in an inconvenient/undesirable spot, etc. So, if you are inquisitive as to why a show did not end up on the list despite its quality, the usual answer is "because I was not there!" My connections primarily cover smaller venues, which is why you will not find much in the way of "arena" shows here, although even I occasionally break down and pay out of pocket for attendance for certain gigs.
Additionally, these lists only cover traditional concerts. You will not find awards shows, charity events, stage shows performed regularly, musicals, stage plays/performances, spoken word events, comedy shows, parties, major outdoor festivals with massive cards of artists and multiple days worth of events, and/or album release parties (with an exception for the latter if the album release party also features a traditional concert performance). Events like this are not included as they typically have far larger budgets and ensemble casts.
As I stated earlier, the "Local Artist" title does not include established national/international acts that started out of/are based in Vegas (The Killers, Slaughter, etc.) However, I am adjusting the rules for this year to cover locally-based bands that do include members from those international bands (Sin City Sinners, Vinyl Tattoo, etc.)
–
–
Best Performance of the Year by a Locally Based Artist:
Sin City Rejects and Crackerman, Count's Vamp'd, August 4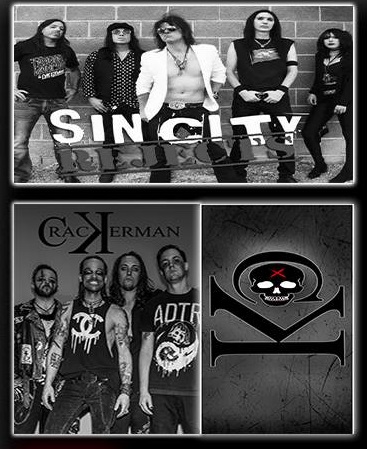 This night was a one-two punch of some of the best rock and roll in Vegas, and a different sound and direction than what one normally hears at Vamp'd, which is a venue primarily associated with classic rock, classic hard rock, and classic heavy metal. That said, as far as artists who are primarily based out of and play in Las Vegas, this night blew me away.
when it comes to Vegas-based bands, Crackerman has proven to be one of the most diverse and outright entertaining, with a sound that draws influences from numerous rock genres and eras, and Tyler Lawson, who is hands down one of the most charismatic, energetic, and infamous frontmen you will ever see perform. In recent years, these guys have continued to draw in a following, and when you go to one of their shows, it will quickly become apparent why. It is a band I will continue to keep my eyes on, and you would be wise to do the same!
Sin City Rejects are a Sin City Sinners spin-off band of sorts, featuring Sinners bassist Scotty Griffin (formerly of LA Guns) on lead vocals, and Sinners manager Jason Green on bass. The lineup is rounded out by guitarist Johnny Roxx (Bay City Rollers) and bassist Rachel May. The Rejects perform primarily classic punk covers (Johnny Thunders, The Clash, The Ramones, The Misfits, Sex Pistols, and The Stooges, to name a few of the artists they do) as well as a handful of 80s alternative cuts, plus original compositions. These guys know how to command an audience, with Scotty Griffin making for a surprisingly effective frontman. When you watch these guys on the live stage, you will feel plenty of emotions (namely excitement and surprise), but boredom will not be one of them. An album from the group will be coming out in the near future as well.
–
Best Performance of the Year by a Locally-Based Artist Honorable Mention:
Smashing Alice and The Bones, Count's Vamp'd, May 6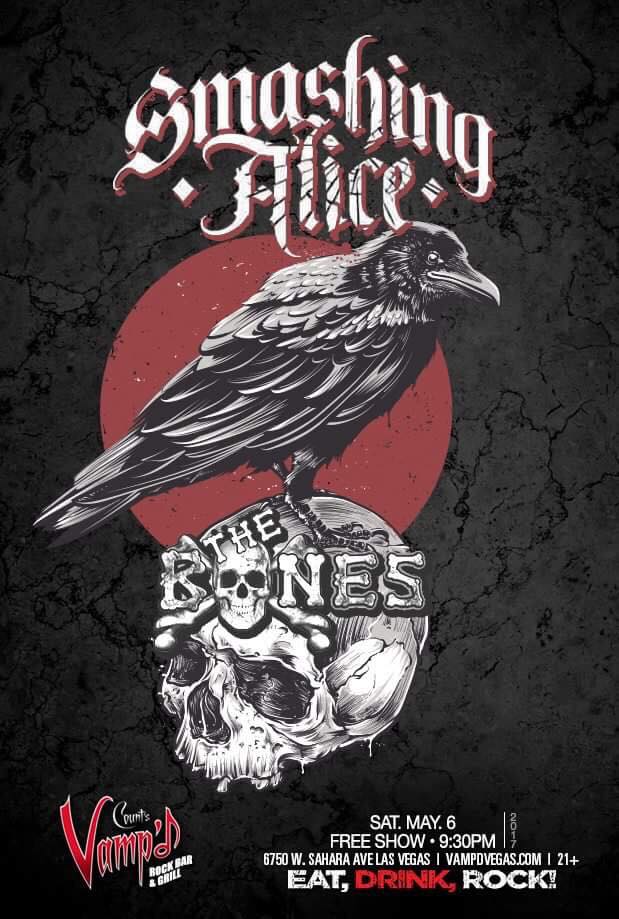 Another surprise highlight of the year. Honestly, I have seen The Bones perform countless times, yet have never really given the band their just dues on a "Best of the Year" list before. Giving them an honorable mention here is long overdue. The group essentially takes 80s new wave-style tracks, stripping them down, and reinventing them in a raw, punky fashion, but they also have their share of original power-pop anthems, and numerous albums (including a new release that made this list!) The band's ranks include the likes of guitarist/vocalist Patrick Vitagliano, guitarist Jeff Duncan (Armored Saint, Odin), and Sean Koos (Joan Jett and The Blackhearts), and their eccentric behavior on stage coupled with surprisingly effective music, old and new alike, will win you over, just like it did this rock and roller!
Smashing Alice has been a staple of the Vegas music scene in recent years, primarily covering "nu-metal" songs from the mid 90s forward (Deftones, Five Finger Death Punch, Papa Roach, etc.), but the group isn't above throwing a few surprises into the setlist. Members of the group include vocalist Dallas Williams, formerly of local favorites Dirty Pairadice, and bassist Paulie Walnuts, always an entertaining character both on and off the stage. To be honest, I am not the biggest fan of the bands/genres that Smashing Alice covers, but the sheer ferocity with which they conduct themselves on stage not only made me enjoy these songs for an evening, they actually made me want to go back and give this whole genre/era another chance; no small feat. Of course, I will make sure to attend more of their performances from now on, as should you. Even if you yourself are not necessarily the biggest fan of the bands they cover, you'll be a fan of their energy on stage, and their chemistry and performances.
–
–
Now for some Best Shows of the Year Honorable Mentions, in no particular order.
–
–
Vain, Count's Vamp'd, January 7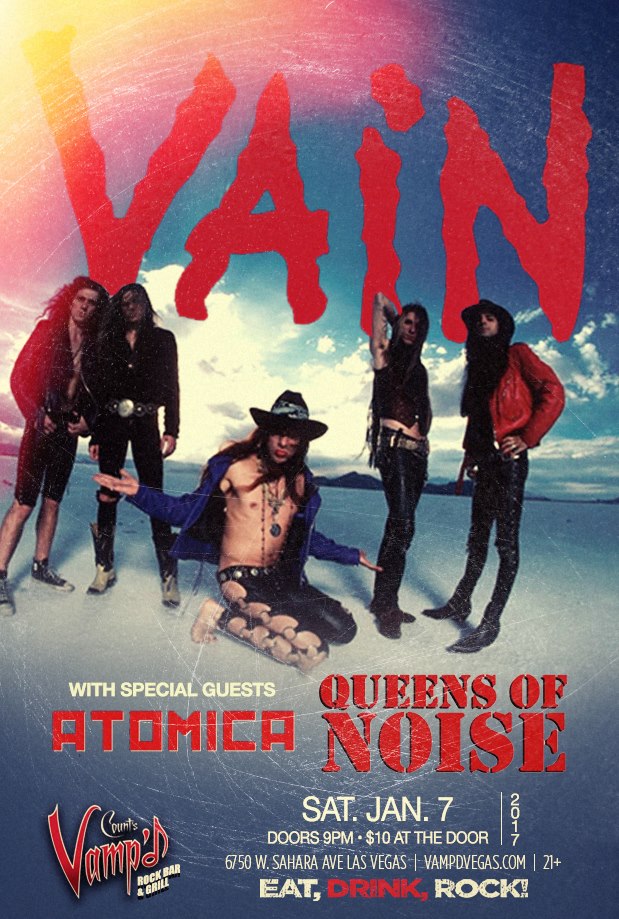 In the 80s classic hard rock scene, Vain is a band that never gets the proper credit despite the fact that their 1989 debut, No Respect, is easily one of the best releases of the era. But Davy Vain and company came out and gave the audience a night to remember, with classic hits like "Beat the Bullet" and "Secrets." No attendee on this evening was disappointed with the action on the stage.
–
DiMino, Count's Vamp'd, February, February 17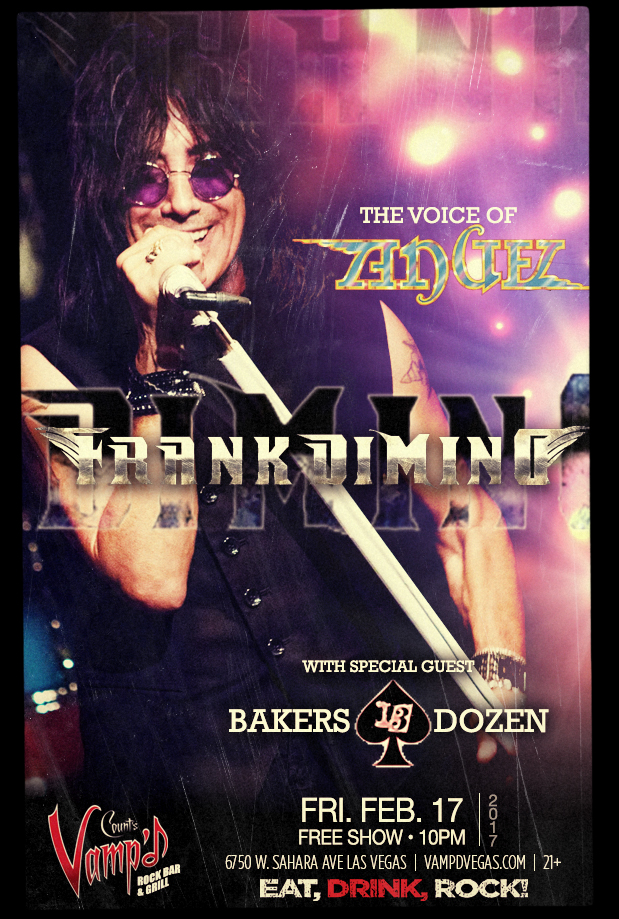 Angel was one of the most underrated bands of the 70s, living in the shadows of their Casablanca Records bandmates, KISS. But the band was ahead of their time, as many fans will attest to. Vocalist Frank DiMino lives out here in Vegas and regularly performs, but is often relegated to bands where he is forced to perform mundane cover songs. On this night, we got DiMino performing a set of the Angel tracks, as well as cuts from his 2015 solo release, Old Habits Die Hard (My pick for Album of the Year 2015). His band included talents like Jeff Duncan (Odin, Armored Saint), Michael T. Ross (Lita Ford Band, Missing Persons), and many others. It was nice to finally see DiMino do a set of HIS music, and not a bunch of generic covers.
–
Original Sin, Count's Vamp'd, June 16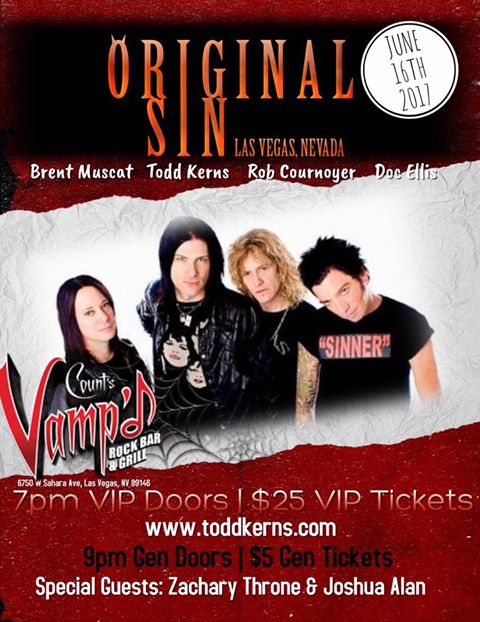 I have been writing rock and roll reviews in Las Vegas for years now, and the band I largely credit with opening my eyes to this larger world is the classic Sin City Sinners lineup, comprised of Todd Kerns (Age of Electric, Slash Band), Brent Muscat (Faster Pussycat), Michael "Doc" Ellis (Love/Hate), and Rob Cournoyer (Raging Slab). For this gig, the foursome reunited, playing all the classic cuts fans remembered hearing back in the day, from covers to original compositions. It was a disappointment to see this version of the Sin City Sinners fade away over time, but for one evening, the memories came back to life.
–
Lies, Deceit, and Treachery, Count's Vamp'd, April 1, 2017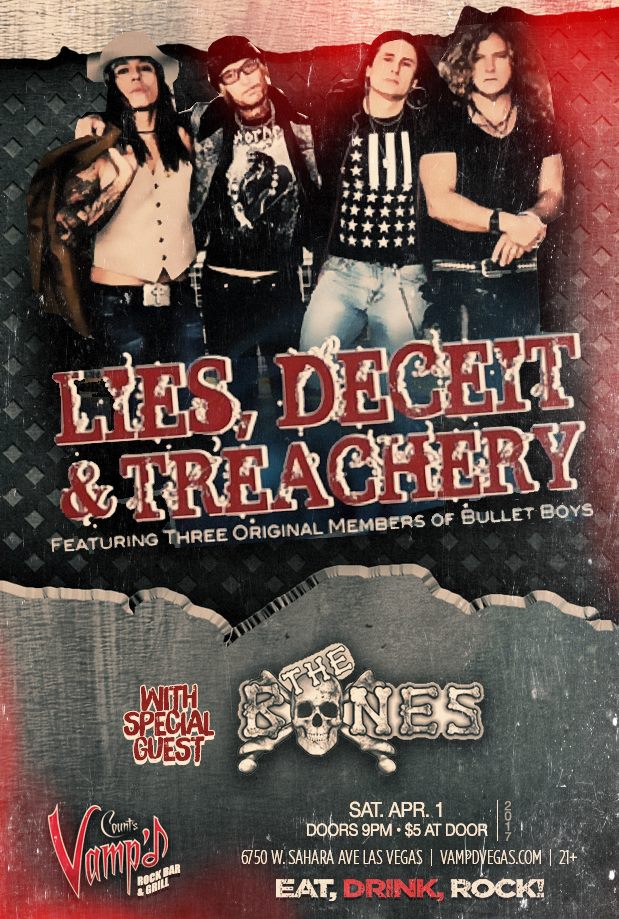 This name may not be immediately familiar, but this band is essentially "The Classic Bulletboys with a Different Singer." Guitarist Mick Sweda, bassist Lonnie Vencent, and drummer Jimmy D'Anda are joined by vocalist Shane Tassart, and they breathe new life into the classics (Bulletboys vocalist Marq Torien continues to front a version of that band with other musicians). These are some of the most underrated players in the rock and roll world, with bassist Vencent's stage behavior being a major highlight of the gig. We got plenty of classic cuts from the band's 1988 Ted Templeman-produced debut, as well as a handful from its immediate follow-ups. Any Bulletboys fan that wants to hear the classic hits resurrected has come to the right place with one of these gigs.
–
Queensryche and Skid Row, Sunset Station Outdoor Amphitheater, October 7

Neither of these bands has their classic vocalist anymore, and yet both bands sound as good as they ever have. Hard to believe, right? Queensryche has put out two albums with vocalist Todd La Torre, who has revived the ailing band and taken them to their strongest performances and sounds in years; these guys always seem to show up on my "Best of" lists, and it is not hard to see why. Skid Row is rocking hard with new vocalist ZP Theart (formerly of Dragonforce), easily their strongest vocalist and the best fit since the departure of classic frontman Sebastian Bach over two decades ago.
–
Ringo Starr and His All-Star Band, Planet Hollywood, October 20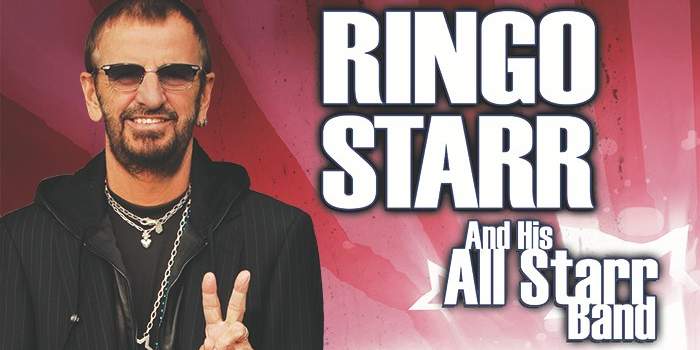 When someone has an opportunity to see one of the surviving Beatles perform, one does not say no. Starr, now aged 77, still sings and drums excellently, and has a stage presence that wins over any audience. His All-Starr Band for this Vegas gig included the likes of Todd Rundgren, Steve Lukather (Toto), Richard Page (Mr. Mister), Gregg Rolie (Santana, Journey), and Greg Bissonette (David Lee Roth Band). We got not only Ringo-sung Beatles hits and Ringo solo hits, but songs from all of these artists' respective careers. It was a fantastic evening with some great music performed by some of the best names in the music business.
–
–
And now, the Best Shows of the Year!
–
–
5) Hairball, Henderson Pavilion, September 8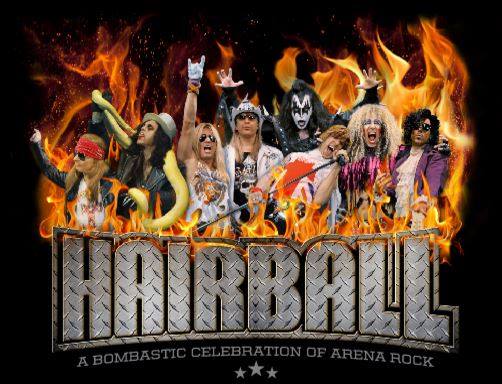 I was not familiar with Hairball prior to this year, but their show definitely stands as one of the most pleasant surprises of 2017! This is a group that performs the hits of the biggest classic rock and hard rock bands of all time, and recreates the feel of a vintage arena show with costume changes and elaborate stage settings and pyrotechnics. The show marked my return to the Henderson Pavilion for the first time in years, and despite a heavy thunderstorm raging throughout the evening, the show went on! These are great performers that have the theatrics to back up their musical abilities. Of course, they knew how to hold my interest from start to finish, and it is no surprise that this show is the one to kick off my top five of the year.
–
4) Ricky Nelson Remembered, Chrome Showroom at Santa Fe Station, September 9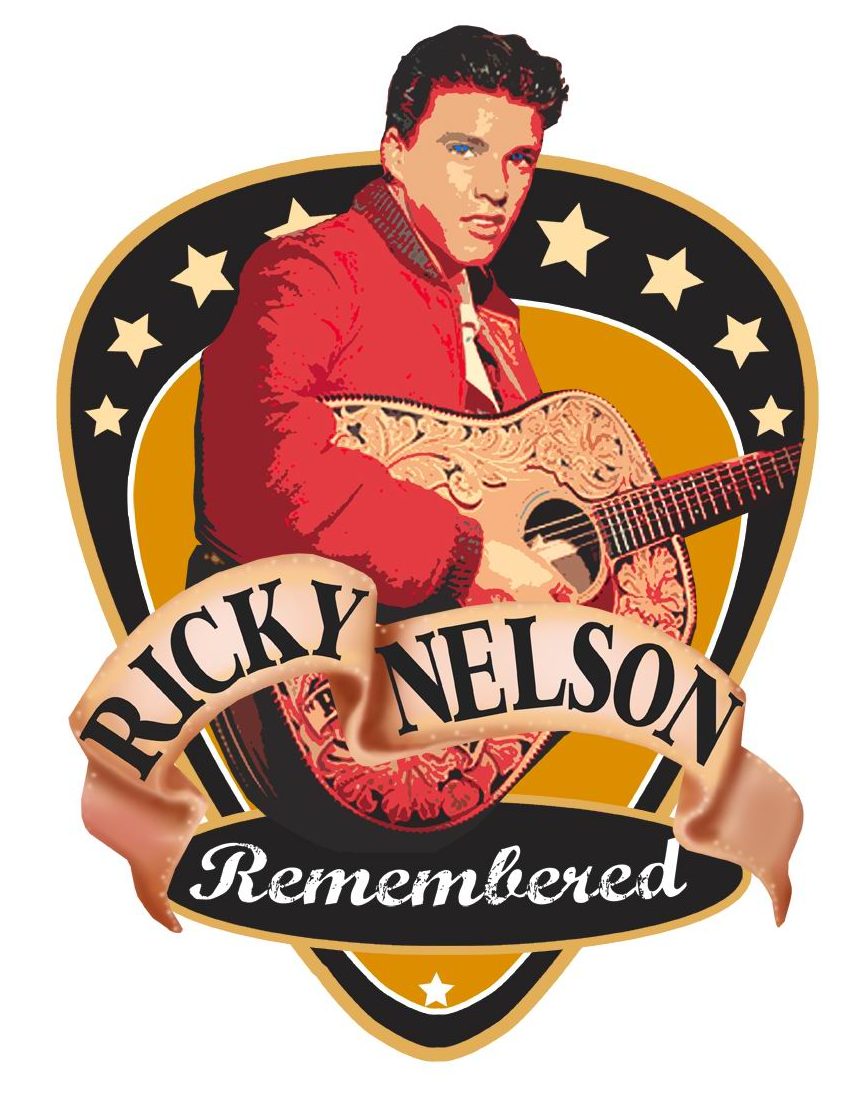 Not every great show of the year has to be about heavy metal riffs and headbanging. Another unexpected but no less satisfying surprise of 2017 was this gig, featuring Matthew and Gunnar Nelson, sons of the late Ricky Nelson, paying tribute to their father. In addition to the obvious covers of their dad's hits, they dug into the vault and gave the audience a few deep cuts, and even a few original compositions dedicated to their father. Video clips with the Nelson Family and interview clips with famed artists influenced by Ricky Nelson further enhanced the experience, immersing the audience in the history and music of a rock/pop icon.
–
3) LA Guns, Count's Vamp'd, May 5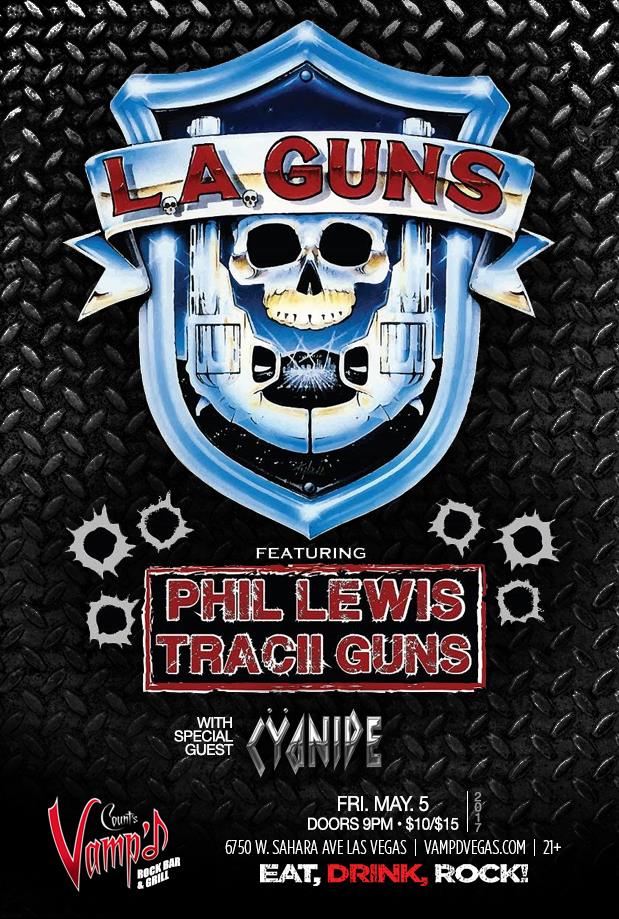 Phil Lewis and Tracii Guns reunited. Is a further explanation here even required? These two have lost nothing musically, ripping up the stage with unrivaled chemistry and personality, playing all the classic hits, and even introducing audiences to music from their reunion album, The Missing Peace (which, of course, also made this list). When it comes to good old fashioned Sunset Strip rock and roll, you can't top LA Guns, with the band's two most iconic members brought back together.
–
2) Randy Rhoads Remembered, Count's Vamp'd, March 24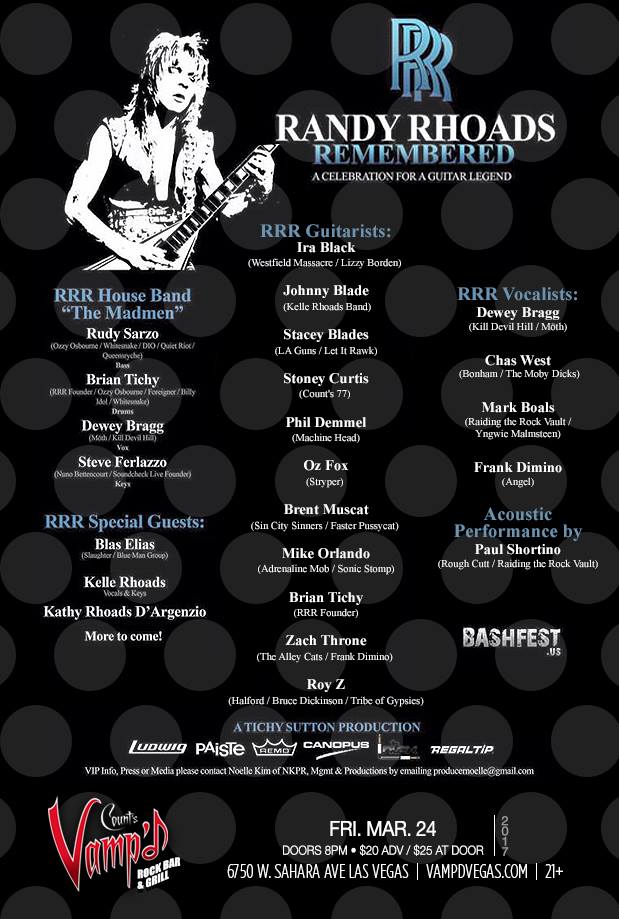 If you are a rock and roll guitarist and you claim you were not influenced by Randy Rhoads, or at the very least, were a fan of his, you're lying. The iconic Quiet Riot/Ozzy Osbourne guitarist lost his life in a freak plane accident in 1982 at age 25… and countless musicians assembled on this night to pay tribute to the iconic axeman we lost far too young. Performers at this gig included Randy's brother Kelle, Stacey Blades, Roy Z, Stoney Curtis, Oz Fox, Brent Muscat, Blas Elias, and Zach Throne. But the true standout performers here were Rudy Sarzo, who played bass throughout the evening with a level of energy and charisma greater than most men half his age, and Brian Tichy, who played both drums AND guitar! This was an epic night any fan of the late guitarist would agree paid tribute to him in the best of ways.
–
–
–
And now, the number one show of the year:
–
–
–
Adam Bomb and the SST, Count's Vamp'd, April 21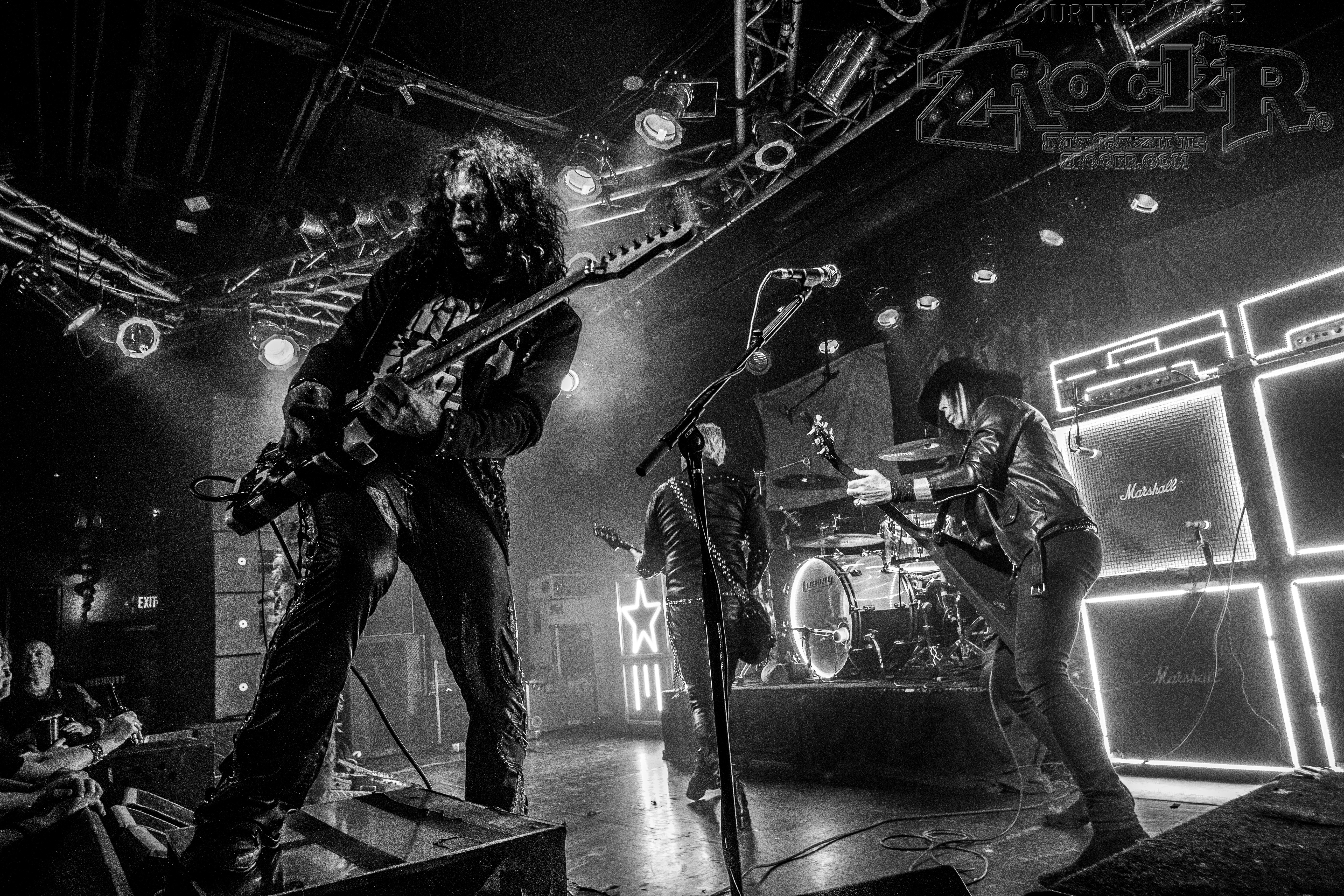 –
After reading what I just declared the number one show of the year, you're probably in state of shock. Adam Bomb and his band over an epic Randy Rhoads tribute show? Over a Tracii Guns/Phil Lewis reunion gig? Over Ringo Starr? Over the Todd La Torre-fronted Queensryche?
If you weren't at this show, you don't have the right to complain.
This was relegated to being the opening gig of the evening, and I unfortunately even missed the first few songs due to arriving late. But when I arrived, I wasn't just rocked.
I was taken who a whole different world.
The first thing I noticed was that the stage was awash in surreal lighting, with amplifier cabinets and all stage elements covered in these lights. Morpheus Blak on guitar throughout the evening, and Johnny Rude on a transparent drum kit that looked like a piece of alien technology. These musicians had killer chemistry, with an unparalleled level of energy that would have been more at home in a punk rock show than a venue typically associated with 80s metal. Towards the end of the gig, Adam Bomb was on fire… literally! His guitar was actually awash in flames, completely catching everyone in the audience off guard, this fan included. Adam Bomb is underrated as hell, and at this frustratingly short gig, audiences saw why. I have absolutely no reservations in declaring this the best rock and roll show of the year in Las Vegas in 2017.
(NOTE: In the months following this show, I was approached by Adam Bomb to proofread/edit his second autobiography. I want to make it clear that my decision to make this the number one show of the year came BEFORE he approached me to do so; I am in no way biased.)
–
–
And it has been another fantastic year of rock and roll in Las Vegas, with local, national, and international talent. Will the rock and roll excitement be matched and rivaled in 2018? Only time will tell. But one thing is for certain… I will certainly be along for the ride, looking forward to whatever comes our way!
For prior Best of the Year lists, check the following links: 2016 2015 2014
DISCLAIMER: All opinions given in this article are exclusively those of the author, and do not necessarily represent those of ZRock'R Magazine or other writers/staff.